Cute Kitten Stowaway Clings to Life in Ocean Freight Container
Imagine importing a cargo container of goods from China and opening it to find a kitten inside who's clinging to life.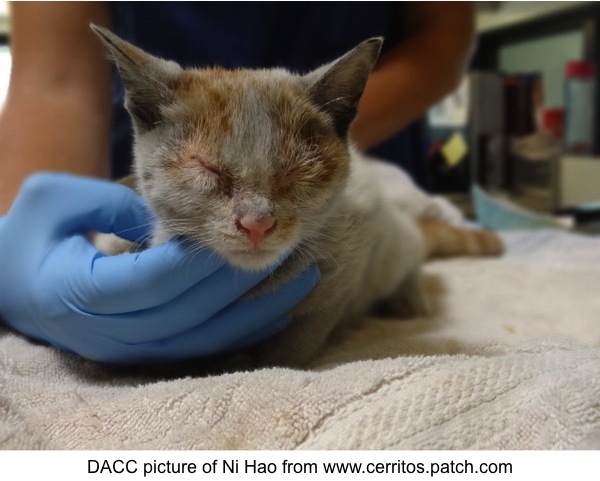 That's exactly what happened to a Compton business according to an article on Pet Patch of Cerritos-Artesia Patch.
Somehow, the small kitten managed to sneak into the freight container, apparently, while it was being loaded in Shanghai, China.
No one must have noticed and the cute, little, orange and white kitten was sealed inside the shipping container.
What's incredible about this story is that the kitten survived the nearly 2,700 mile ocean voyage from China to the United States with no food or water.
The Compton business whose freight container the kitten stowed away on called the County of Los Angeles Department of Animal Care and Control (DACC).
The DACC wasted no time in showing up to care for the kitten.
As of July 12th, when the Pet Patch article was published, this Domestic Short Haired kitten was in guarded condition at Carson Animal Care Center's medical unit.
Because it entered the United States from another country, the kitten had to be put into quarantine and carefully monitored from there.
The article quoted DACC Director, Marcia Mayeda as saying the kitten "ate a good meal last night and slept soundly." The article went on to say, "DACC veterinary staff reported that the kitten woke up this morning 'bright, alert, and responsive.'"
They named the kitten Ni Hao. It means "hello" in Chinese.
If you'd like to say hello to the kitten and are interested in adopting little Ni Hao, you can e-mail carson@animalcare.lacounty.gov or call (310) 527-5146.
Cerritos-Artesia Patch provides comprehensive local coverage of Cerritos and Artesia, CA. They feature news and events, business listings, discussions, announcements, photos, and videos.
The Pet Patch column features local adoptable pets, pet tricks, tips, and information from a local animal professional.