A Windshield on a Container Ship?
How can carriers reduce CO2 emissions, consume less fuel, and add extra protection on their container ships? How about a windshield?
That's right, a windshield on a container ship.

According to an article by Mike Wackett on The Loadstar, the ocean carrier MOL tested a windshield on a container ship and found that it provided all the above mentioned benefits.
The biggest surprise to most is the thought that a windshield on a container ship could reduce CO2 emissions.
The international shipping industry, and the ocean shipping side in particular, is often criticized for its CO2 emissions. Even so, the ocean shipping industry has worked hard to clean up its act.
The World Shipping Council hails maritime shipping as the world's most carbon-efficient form of transporting goods. Likewise, the International Chamber of Shipping released a fact sheet around a year and a half ago called Delivering CO2 Emission Reductions: Shipping is Part of the Solution while using the graph below to show just how container ships stack up against other forms of transportation.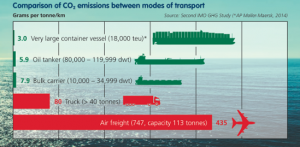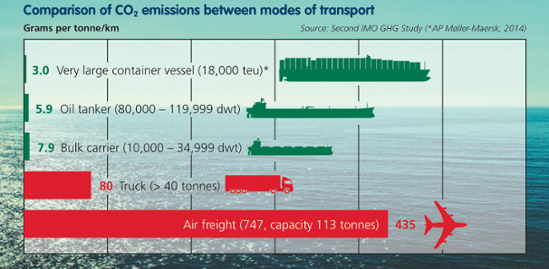 While these responses from the ocean shipping industry in response to the criticism of its environmental impact are perfectly legitimate, the sheer volume of ocean shipping makes its CO2 emissions very significant indeed.
CO2 emissions worldwide and fears over Global Warming are serious issues, giving good reason for container shipping on cargo ships, along with the rest of the shipping industry, to continue to work on CO2 emission reduction.
The industry certainly has been working on the problem, becoming greener and reducing its pollution. Resources have been put into new technologies and practices to reduce to CO2 emissions in ocean shipping. While most think of new technologies in ship engines and greener fuels as the answer, container ship windshields reducing CO2 shows that there are places to look for emission reductions that have been sitting right in front of us years.
The idea seems so simple. You can just imagine someone driving down the street, looking through the windshield of their car, and saying, "Why don't we put one of these on our container ships?"
Perhaps it took an engineer to think a windshield would help reduce CO2 emission on a container ship. However, it makes sense that reduction of air resistance could reduce fuel consumption and CO2 emission when slow steaming also produces such results.
But just how effective is the windshield at CO2 reduction?
Wacket's article gives illumination on the study and its results:
Data was accumulated by comparing the operational performance of two sister ships on the same route, one with a windshield and one without….

…

MOL said the test results confirmed "about 2% average CO2 reduction, sailing at 17 knots… compared with an identical vessel at the same speed without the device installed".
2% CO2 reduction is significant.
Obviously, windshields are not the whole solution for green house gases being emitted by the shipping industry, but it does appear to be a piece in the puzzle.