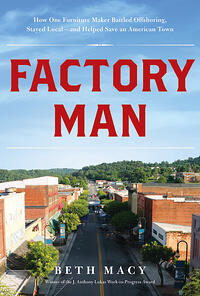 Factory Man: How One Furniture Maker Battled Offshoring, Stayed Local – and Helped Save an American Town
This book is the story of the Bassett family in south western Virginia from just after the civil war until now.  It is the story of the U.S. Furniture Industry and how it started, how it grew, and was eventually switched to China and South East Asia in the late '70's and '80's.
For those of us in the Shipping and Logistics business it is a fascinating study of an industry that is very near and dear to us, as Furniture is the largest export from China to the U.S. in terms of ocean freight containers.
But what makes this story so interesting is the study of one man, John Bassett lll, who defied all odds and is now an American hero for keeping his company as now a 100% made in the USA Furniture Manufacturer, and had set the trend for other U.S. Furniture Manufacturing occurring as we speak.
The Author Beth Macy did a lot of research in that she spent a lot of time in the inner circles of the many related "furniture family" members in that region which gives the reader a good taste of what life was like and still is to this day.
It is true Americana and would make for an interesting movie with Clint Eastwood playing John Bassett lll.
Beth's Blog
Beth's Facebook
Beth's Twitter
Purchase on Amazon
My rating is 5 out of 7 stars.