Emerging Technological Trends in Maritime Shipping
This is a guest post by Josh Darnell.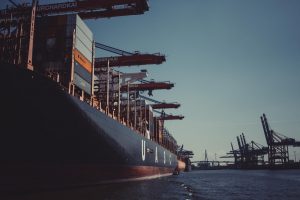 The forward strides being made in the technology used in maritime shipping are coming from two different kinds of necessities: commercial and environmental. With 90% of the world's cargo being shipped by sea, it is not odd that the maritime shipping industry is the site of some major technological advancement.
The advancement of technology with commercial success as its aim is a story as old as time. However, the environmental policies that the international community is bringing about have influenced developments towards sustainability that have been shaping the shipping industry for some time now. The Global Marine Technology Report 2030 by Lloyd's Register outlines these emerging technological trends in maritime shipping and how they are expected to benefit the industry.
Shipbuilding
Some of the emerging technological trends in maritime shipping have to do with the vessels themselves. The technologies being developed have two main aims – operational efficiency and the reduction of environmental impact.
The shipbuilding process is becoming more green with the increasing use of additive manufacturing. Ship propulsion and power generation are also areas to watch. Here, new green technologies will make more efficient use of alternative energy sources and reduce the industry's dependence on fuel.
Additionally, countries like Japan, Norway, and the UK are conducting final tests for the first completely digitized, autonomous vessels. These sailor-less ships are meant to enhance sea safety by making human error a thing of the past.
Advanced Materials
A particularly rich area for improvement in shipbuilding comes in the form of advanced materials. These are meant to have multiple functions and even some self-cleaning and self-repairing properties. The use of these materials will further improve the operational efficiency of the ship while making it safer and easier to maintain.
Robotics and Sensors
Robotics have been among the emerging technological trends for decades now, inside and outside maritime shipping. Onboard ships, robots are to help with control, inspection, communication, and maintenance. As everything is interconnected, the development of robots is linked to the development of other technologies, such as sensors and remote controls.
The use of sensors is meant to improve the operational efficiency as well as the safety of vessels. In one way, sensors will collect data which will help optimize and even extend a vessel's life cycle. They are obviously required for any kind of autonomous operation. For the time being, however, the information they collect allows humans to better understand the behavior of a ship and make better and better informed decisions. So, in essence, sensors are allowing for better communication between the ship and the human, but also between different parts of the equipment.
Communications
Other emerging technological trends in maritime shipping come in the area of communications. Ships are able to generate, collect, and transmit an ever-increasing amount of data. So far, different kinds of wireless communications have been used for this purpose. WiFi, satellites, and marine VFH installations will soon be integrated with 5G and new generation satellites.
It is likely that this will transform the communications of maritime shipping in a huge way. The report states that it will allow for a speedier transmission of data, which, in turn, will allow for better control and management. RFID tags (radio frequency identification) will support asset management, tracking cargo as well as structural and machinery components.
Big Data and Analytics
The advancement of big data and analytics is another of the forward technological strides with great impact on the maritime shipping industry. As mentioned above several times, vessels will be generating as well as collecting information from a variety of sources. The improvements in big data will allow for that information to be processed in real time.
Cognitive systems are expected to act as interpreters, creating an interface between humans and machines. When it comes to the storage of data, it could either be stored on board or on land thanks to the developments in communications.

This was a guest post by Josh Darnell.
Author Bio
Josh Darnell works for Los Angeles Transfer and Storage and has extensive prior experience in the shipping industry. He continues to follow the emerging trends in maritime shipping and awaits the first autonomous vessels with bated breath. He is also a freelance writer who mostly covers the intersection of technology and shipping.