Freight Rates Falling – But How Far & How Long?
Ocean freight rates are falling. Yes, they're still extremely high, but they're moving in the right direction. Greg Miller reported this week in Freight Waves that global spot rates for ocean shipping is more than quadruple pre-pandemic levels. However, it wasn't that long ago that I was writing about shipping a container across the ocean costing more than five times pre-pandemic rates.
Falling Freight Rate Trend
This isn't just a blip on the screen of a momentary dip. We really are seeing a trend of falling freight rates.
Miller writes, "… rates are now materially lower than they were a few months ago — and falling by the week. The Shanghai Containerized Freight Index (SCFI) logged its 15th consecutive weekly loss on Friday."
While there have been mixed signals about freight rates coming down, Miller reports, "As of mid-May, indicators are much more aligned: pointing down."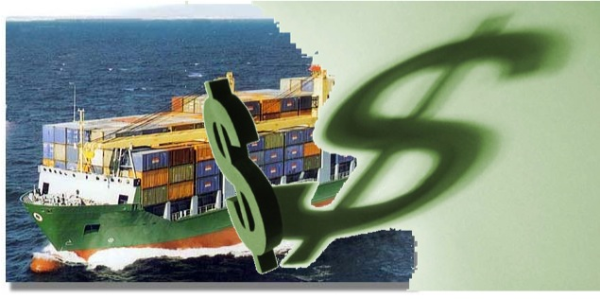 All Indices Pointing Down
His article shared several indices showing significant drops in freight rates: the FBX Asia-West Coast assessment from May 2nd to 11th showed rates down 25%, and even after a little rise afterward is still down 33% from late September's all-time high; the Drewry Shanghai-Los Angeles assessment as of last week was down 23% from the third week in January and 30% from its record in September; the FBX Asia-East Coast rate assessment dropped 15% between May 2nd and 13th, 28% down from its record high in late September; the Drewry Shanghai-New York rate assessment fell 22% from mid-January and 32% from its all-time high in September; and even the Platts Container Rate Index, which had been showing Asia-USEC rates rising while other indices showed decline, now shows rates to the East Coast down 11% per FEU from highs in April and to the West Coast, down 16% since its all-time high in February.
Yeah, that's a lot of data to pack into a sentence, but it all adds up to the long-awaited falling of freight rates. But will it last?
Inflation Took Longer But Hit Harder
Since 2020, when lockdowns and stimuli first hit and freight rates started skyrocketing, I've been predicting that reopening spreading spending back to include travel, services, and entertainment again; stimulus checks running out; the damage of lost businesses; and inflation from massive, massive governmental spending would eventually hurt demand and make freight rates drop. It took longer than I expected for our damaging response to COVID-19 to really start taking its toll. I thought inflation would arrive sooner. But even as it took longer to hit, the inflation is worse than I expected. That's partly because I also underestimated the amount of irresponsible spending, including stimuli, and money printing Washington would execute.
It's unlikely we're even close to seeing the worst of the economic fallout from our actions yet.
Factors that Could Prop Up Freight Rates
Freight rates have a great deal more falling to do. However, there are factors that threaten to stop the fall, even make rates surge again, before resuming the downward trajectory that it's said all things that go up must have.
ILWU Contract Negotiations
The biggest and nearest threat to falling freight rates is contract negotiations between the International Longshore & Warehouse Union (ILWU) and the Pacific Maritime Association (PMA). There has been a great deal of worry that the issue of automation will make these negotiations, which have only just begun, contentious. When negotiations between the West Coast dockworkers and their employers got contentious in 2014-15, the resulting port congestion was extremely costly for everyone. A repeat could clog the ports that are still recovering from horrendous congestion that came with all the months of surging imports that a lack of automation helped make too much for ports to handle.
Lately, I am starting to see more optimism that the current negotiations won't interrupt port operations like the 2014-15 ones did, leaving agricultural exports rotting on the docks and keeping imported goods from reaching store shelves in time for the Christmas shopping season. For example, Bill Mongelluzzo wrote an article for the Journal of Commerce (JOC) last month with the headline, "Stakeholders growing confident ILWU contract talks won't disrupt port operations."
On the other hand, just before negotiations opened, the PMA released a study that claimed automation created jobs at the ports. The ILWU called the study self-serving and denied PMA's claim. Obviously, here at Universal Cargo, we'll be monitoring the contract negotiations and any labor strife slowdowns or interruptions that may ensue.
Peak Season
Another thing that could slow the fall of freight rates is the fast-approaching peak season. The peak season may be dampened some by inflation and the fact that some shippers imported early out of fear that ILWU contract negotiations may choke up ports when shippers import the most in preparation for the back to school and holiday shopping seasons. However, it's still the time of year that demand is at its height for importing goods, and it's hard to imagine there won't be enough demand to make an impact.
China's "Covid Zero" Lockdowns
The peak season is further complicated by China's lockdowns, particularly in Shanghai, from the country's insane "Covid Zero" policies. The disruption to Chinese manufacturing and exporting has some industry experts fearing a surge in exports there once the lockdowns are lifted. That could coincide with peak season, as China is reportedly aiming for June to lift lockdowns. Of course, any reported details of what the Communist Party of China is planning should be taken with a grain of salt.
Still, the interruption to factories and ports in China is massive and sending waves through global supply chains. Usually, a result of large disruptions to the supply chain is higher freight rates.
Conclusion
There are enough factors to put upward pressure on freight rates that we probably won't see them fully implode in the upcoming months. However, the heights they've reached cannot be maintained forever. Additionally, inflation is hurting U.S. demand, which had been artificially inflated during the pandemic. Even if there's a pause on this trend of falling freight rates – and there could even be some increase in the upcoming months – there is much more falling for the rates to do. We're just seeing the beginning.
Of course, it's hard to get too excited about that with the dollar becoming weaker and weaker under the weight of trillions in government debt. There does come a point when inflation's downward pressure on the value of the dollar outweighs its reduced demand that creates downward pressure on freight rates. We do seem to be on a dangerous path toward that outcome.