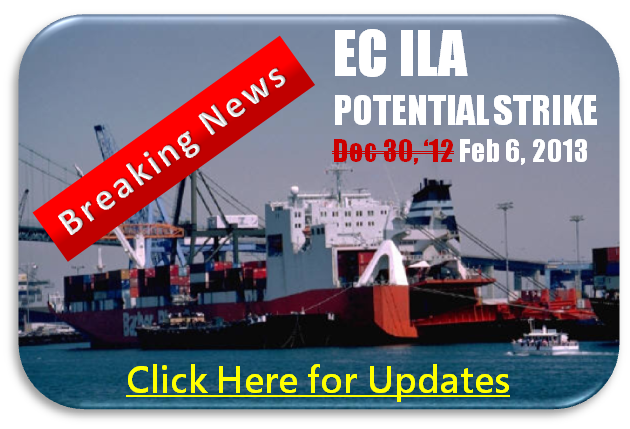 We are 11 days away from another possible blow to the U.S. economy.
The International Longshoremen's Association (ILA) have reached the end of their contract with the United States Maritime Alliance (USMX) and are prepared to close down the east coast and gulf ports with a strike.
Originally, this strike was scheduled to start back in October, but thanks to the work of the Federal Mediation & Conciliator Service (FMCS), the contract was extended until December 29th. This allowed the economy not to take a hit going into the fiscally important Christmas and holiday season.
ILA President Dennis Daggett has been given authority by the union to call for a strike if a new agreement has not been reached by December 29th. That schedules the strike to start on December 30th.
This would effectively stop imports and exports from moving through the ports all along the east coast of the nation.
We just saw an 8 day strike by the International Longshore and Warehouse Union Local 63 Office Clerical Unit ("OCU") on the west coast of the nation that shut down terminals at the ports of Los Angeles and Long Beach.
Estimates put the impact of that strike at $8 billion.
This threatened east coast strike is far more sweeping and could hit the economy even harder.
ILA and USMX resumed talks just over a week ago in Delray Beach, FL. So far, no word has come of resolution.
On the 14th, USMX posted the following on their website:
Members of the USMX Bargaining Committee met with ILA Wage Scale Delegates on December 10, 2012, and presented a comprehensive proposal for a new contract. Although the proposal was quickly rejected by the Wage Scale delegates and a strike vote was taken, other small committees met during the week. At one of the small committee meetings, the ILA presented a counterproposal, which was taken under advisement by USMX. While several issues were discussed, no agreements were reached.
A major sticking point in the negotiations is container royalty payments.
The day after talks resumed, ILA Local 1588 put the following up on their website about the contract USMX offered and the negotiations:
USMX Proposes a 6 year contract with only a $2 wage increase within the 6 years.
Put a cap on current Container Royalty (supplemental wages) and end your Container Royalty in 25 years. All new longshoremen will not be eligible to receive any royalties. USMX is also looking to eliminate all blow systems and implement a shift system. This means when you are not on the terminal you will not get paid.  No matter how many years you have in the industry or have left in the industry you will only get a Container Royalty (supplemental wage) check for the next 25 years then it will be a thing of the past. After the entire Wage Scale delegation (200 plus members) denied USMX's proposal for cuts USMX walked out.
President Daggett asked the ILA's 200-member wage scale committee for a strike authorization after he delivered a speech accusing United States Maritime Alliance of trying to reverse gains the ILA has made in previous contracts. The roll call vote in favor of the strike authorization was unanimous. We are still in the process of negotiating and the days are numbered so brace yourself for a hell of a ride. Remember that Local 1588 set a budget for one hundred thousand dollars to send pickets where ever our cargo is diverted to. We have the federal mediators in Del Ray Florida [sic.] with us and continue to try and make progress.
President Harold Daggett of the ILA is refusing to settle for less then [sic!] what is due, what is ours by right, what is ours by the sweat of our labor and effort.
I.L.A. WILL CONTINUE TO STAND STRONG!!!!!
We have your back President Daggett!!!
If other factions of the ILA are planning to spend similar money on the strike that the Local 1588 is, the ILA is poised to spend hundreds of thousands of dollars on a strike that could cost our country's economy billions.
It's a scary prospect. A strike would hurt businesses throughout the country, cost people jobs dependent upon the flow of the supply chain, and hurt our nation as a whole.
In 2002, a strike occurred that forced President George W. Bush to use the Taft-Hartley Act to end. Many are hoping President Obama will act before the strike begins and the Taft-Hartley Act becomes necessary.
Yesterday, the National Retail Federation (NRF) sent a letter to President Obama urging him to do something before this strike happens and the nation experiences another disaster. A press release on their website included this:
"A strike of any kind at ports along the East and Gulf Coast could prove devastating for the U.S. economy," NRF President and CEO Matthew Shay wrote to the president. "We call upon you to use all means necessary, including Taft-Hartley, to keep the two sides at the negotiating table and head off a coast-wide strike."[1]
Here at Universal Cargo Management, we're hopeful that the parties will reach an agreement amicably and no strike will happen.
However, we are committed to helping shippers take care of their import and export needs no matter what happens.
We are ready to handle your logistics needs and challenges whether that means diverting your shipments or expediting our truckers to get to your shipping containers earlier.
We know the timely and safe delivery of your goods is vital to your company and we'll do everything possible to make sure your business' import and export needs are met no matter what the strike picture looks like.
We'll keep watching the strokes made on that picture and keep you updated with our ILA Strike Watch. In the meantime, let us know any concerns or questions you have about your international shipping needs.