ILWU Labor Action Creates Disruption at the Ports of Los Angeles & Long Beach
The Pacific Maritime Association (PMA) released an images to the media of trucks backed up on Friday from a terminal at the Port of Los Angeles. Labor action by the International Longshore & Warehouse Union (ILWU) Local 13 has been causing terminal gate delays at both the Port of L.A. and the Port of Long Beach.
Bill Mongelluzzo reported on the situation in the Journal of Commerce (JOC):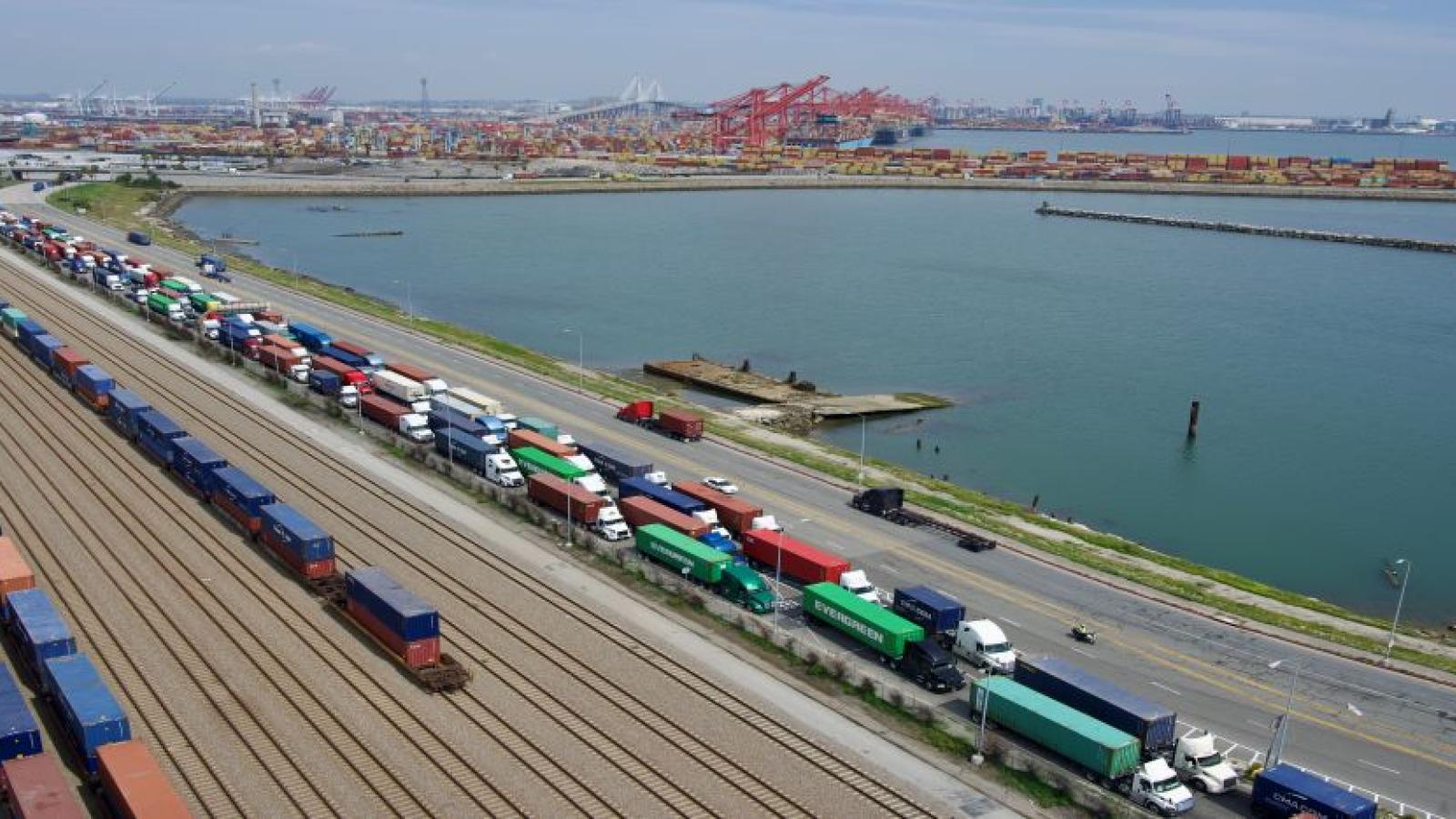 "Significant delays" have hit some marine terminals at the ports of Los Angeles and Long Beach since the middle of last week, the [PMA] said Monday, in the latest job action by dockworkers linked to ongoing West Coast contract negotiations.

PMA, which represents terminal employers in the talks that have dragged on for more than 10 months, said longshore workers represented by Local 13 of the [ILWU] have since last Wednesday refused to stagger their meal breaks as required, resulting in periods when no work is being done on the docks.

"As a result, longshore workers at the Ports of LA and Long Beach are not working the terminals between 12 pm-1 pm and 10 pm-11 pm, creating significant delays," PMA said in a statement. "Because the contract is not in place, there is no option for PMA to arbitrate the matter and require the union to man the terminals continuously without interruption."
This sort of thing is exactly why many shippers have been diverting cargo from West Coast ports to East and Gulf Coast ports whenever possible for the last year.
When contract negotiations happen between the ILWU and PMA, they're almost always accompanied by port disruption and costly delays for shippers. Though the current ILWU contract negotiations have really dragged on, the labor disruptions seen so far have been mitigated by reduced cargo volume moving through the ports. That decrease in volume comes not only from shippers diverting discretionary cargo but also from economic downturn.
Just because damage has been mitigated doesn't mean there hasn't been labor action and disruption during this extended negotiation (and often suspended negotiation) period. We've posted a few times here in Universal Cargo's blog about labor action and disruption that has taken place since the contract expired.
For shippers, there is much worry that as cargo volumes increase, particularly in a few months when peak season arrives, disruption and congestion could be disastrous if negotiations still aren't resolved. So far, there have been no indicators that contract negotiations between the ILWU and PMA are anywhere close to reaching a new contract. This situation at the Ports of Los Angeles and Long Beach certainly doesn't make anyone feel better about negotiations.
It wouldn't be surprising to see shippers importing their peak season cargo early to ensure labor action during peak season doesn't keep their goods from hitting store shelves in time for the holiday, particularly Christmas, shopping season.
It's important to note that the "lunch break dispute," as Edwin Lopez dubbed it in a Supply Chain Dive article, is being executed by a single local chapter of the ILWU rather than the larger union as a whole. However, that is typically how disruptions during contract negotiations work.
The idea is labor continues working as if under contract after one expires until the next one is negotiated and ratified, but that obviously doesn't always happen. When there is no contract in place, PMA loses its ability to bring in arbitration on ILWU labor action. It makes it easy for local factions of the ILWU to cause large disruptions at ports. As Lopez puts it, "the lunch hour issue highlights how the lack of a longshore contract has left the door open for small disputes to raise national attention, alter shipper behavior, and escalate into targeted disruptions."
Speaking of small disputes rising in attention and coming with risk of escalation, the lunch break dispute has not only gained media attention as the PMA claims it is action in violation of contract terms, but the ILWU's International President gave support to the Local 13 by refuting PMA's claim that the action would be in violation of the previous contract. In his Supply Chain Dive article, Lopez laid out the argument from the two sides' statements:
"The West Coast longshore contract provides employers the right to assign staggered shifts during meal periods to ensure labor is available at all times to deliver and receive containers. Beginning last week, ILWU Local 13 has stopped complying with that contract provision," the statement reads.

Willie Adams, ILWU's International President, responded directly to those claims in his own statement, saying: "The ILWU-PMA contract allows dockworkers to take a lunch break just like everyone else. Longshore workers in Los Angeles and Long Beach are working every day according to the terms agreed upon with the PMA."
One of those statements is untrue. Which one doesn't really matter that much to shippers. For them, it's port disruption either way. Ultimately, it gives more reason for lost market share from West Coast ports to stay at East and Gulf Coast ports.