More ILWU Port Disruption & Terminals Cutting Man-Hours as Contentious Contract Negotiations Drag
More International Longshore & Warehouse Union (ILWU) disruption is happening at West Coast ports, particularly at the Port of Oakland, as contract negotiations don't appear to be getting anywhere.
Diverting Cargo from West Coast Ports Was a Good Choice
This was, of course, a predictable outcome, as labor slowdowns and disruption at the ports has been a typical part of the contract negotiation process over the last couple decades. Among the strategies we, here at Universal Cargo, recommended shippers take when negotiations were still on the horizon was routing cargo through East and Gulf Coast ports.
Yesterday (Wednesday, November 2nd), an article in the Journal of Commerce (JOC) by Bill Mongelluzzo validated the decision many shippers indeed made to route away from West Coast Ports:
Cargo-handling operations were disrupted at the Port of Oakland Wednesday, providing fresh vindication for importers who are diverting growing volumes of cargo to the East and Gulf coasts amid contentious longshore contract talks on the West Coast. That shift is likely to continue until a labor deal is reached, which some believe won't happen anytime soon.
The Latest Labor Disruption
Mongelluzzo goes on to detail the fresh disruption we're seeing: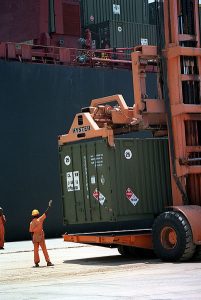 In the latest disruption linked to the contract talks, marine clerks from the International Longshore & Warehouse Union (ILWU) picketed at Oakland over a travel pay issue for dockworkers who come into the port from outlying locations. That forced three of Oakland's four container terminals to halt operations for Wednesday's first shift, a port spokesperson told JOC.com.

Terminal operators that shut their facilities for the entire first shift intend to reopen for the evening shift Wednesday. "Our international marine terminals are closed today and will try to reopen tonight," the spokesperson said.
This can be added to a long and growing list of labor slowdowns and disruptions happening at West Coast ports. I've written about the slowdowns in this blog with posts like ILWU Slows Oakland & Seattle Port Operations and ILWU Labor Action Occurs as Contract Negotiations Look Bad. Last week, we even saw contract negotiations get suspended over the union jurisdiction issue happening at the Port of Seattle as a hearing on the issue takes place.
Work-Hours Falling, Pressurizing Situation
News outlets have pointed out that the ILWU hasn't been getting much pressure from its members to quickly reach resolution with the contract negotiations because work hours have generally been up. Surprised to read work hours were still up and worried that trend would soon change because of the economic downturn and decrease in shipping demand, I wrote:
Amidst an uneasy economy, shipping demand is rapidly falling right now. Let's hope that doesn't cause labor hours to start falling, turning the situation ugly at West Coast ports.
Well, work hours are falling. Partially because of the decrease in demand and, according to Mongelluzzo's article, because of the labor slowdowns and work stoppages:
Such ad-hoc work stoppages and slowdowns, which have hit all West Coast ports since the previous contract between the ILWU and the Pacific Maritime Association (PMA) expired on July 1, are contributing not only to declining cargo volumes, but also to a large drop in man-hours worked by West Coast longshoremen this fall.
Judging by the information, including current data and a projection, Mongelluzzo shares in his article, it's reasonable to expect man-hours to continue to fall.
According to the PMA, despite declining cargo volumes at West Coast ports, ILWU paid man-hours this year were running about 3 percent higher than last year until September. In September, man-hours turned negative, declining 3.9 percent from September 2021. The drop in man-hours has accelerated since then, falling 7.6 percent in the first three weeks of October year over year. Terminal operators say they are being told by carriers to expect cargo volumes to continue moving lower through the first quarter of 2023.
Combine falling man-hours with contentious negotiations that by all reporting look very far away from resolution, I would expect labor action and disruption to continue to worsen at West Coast ports.
Market Share Shifting
As happened during the contentious 2014-15 ILWU contract negotiations, East and Gulf Coast ports are gaining market share from West Coast ports. Mongelluzzo provided numbers on that as well:
The West Coast's market share of US imports from Asia fell to 57.5 percent through the first nine months of the year, down from 61.2 percent in the same period last year. The share for East Coast ports increased to 35.1 percent from 32.8 percent, while the Gulf Coast's share ticked up to 7.1 percent from 5.7 percent, according to PIERS, a JOC.com sister product within S&P Global.
If things continue as they have been going, I would expect East and Gulf Coast ports to continue making gains in the market share department. It also is likely that a portion of that market share gained could be kept even after a new agreement between the ILWU and the PMA is reached.