Inflation: Margin Killer Affects Cargo and International Shipping Part I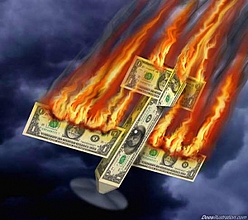 Continuing to detail the effects of inflation on the American families who are the end client of those in the import/export international shipping business is becoming ever more important. These families are being squeezed as are we, but their situation speaks to our economic sustainability. The more financial pressure brought to bear on the families we serve, the more we need to find some way to bring relief and make a profit. It's with this in mind that we look at inflation and the "tax man."
Another insidious effect of inflation is "tax creep".  This is where Americans' salaries eventually have to respond to the rising prices. People demand and are granted cost of living increases, wage increases, etc. to try to keep up with escalating costs, soon to be "run-a-way costs."  Though it might seem good to the individual, as increases in wages take effect as employers and the whole economy succumb to the need to "chase inflation," it relieves pressure on family budgets in the short term, yet the long term effect can be devastating to their future.
As costs increase and wages follow the upward spiral, American families will soon find themselves in higher and higher tax brackets. This may come as a shock to some when tabulating federal and state tax obligations.  The entrance into a new tax bracket really puts a squeeze on family budget margins. So, in addition to costs escalation, families are now paying a greater percentage of their incomes to greater tax obligations.  It wasn't that long ago that someone making $100,000 each year was considered upper class.  Now, if you live in one of the major metropolitan areas like Los Angeles or New York, making $100K a year is average, but the tax obligations are huge, comparatively speaking. Those making $250,000 are now considered to be rich. What, so a fireman and a teacher who have worked hard for 20 years in one of these metropolitan areas, so as to send their kids to college and save a little money for retirement, are "rich" and deserving to be called "filthy" and are undeserving? So the answer is that as a society we need to punish them by taking a larger percentage of what they earn. After all, "it's their fair share", right?  No.
All of society is hurt as we embark on a course that systematically destroys the value of the dollar, ushering in spiraling costs – instituting and institutionalizing "run-a-way inflation" (remember that term) that injures our end customer – the American individual and family.  Families that have the currency and wages they worked for yesterday and the money they saved has devalued, and what they are working for today subject to higher taxation by 5%, 7%, 8%, or 10%. This takes away the wage gains the family thought it received when the employer decided to cut his margins to give more to his ailing employees only to have that effort nullified in the end.
So as we look to fulfill and grow in our niche in life and in our place as those who contribute to the value of the lives of our clients, let us work to become more responsive to their life considerations: what they look for, spend on, what concerns them, what they think about, and how to best meet the needs they may have not yet discovered. Our goal is to be pro-active in the way we ship and transport goods; goods that so many lives rely on to survive and depend on for a livelihood.
Key Takeaway- We must  become a greater and more significant benefit to those we serve, who are getting "served up" in the world of diminished and eroding life returns – for those blanketed by the insidious effects of inflation – Hyperinflation- coming to a town near you.
To find out more about how we can help you transport your goods in the most efficient and ecnomically-friendly way, please don't hesitate to contact us. 
Dave Stover