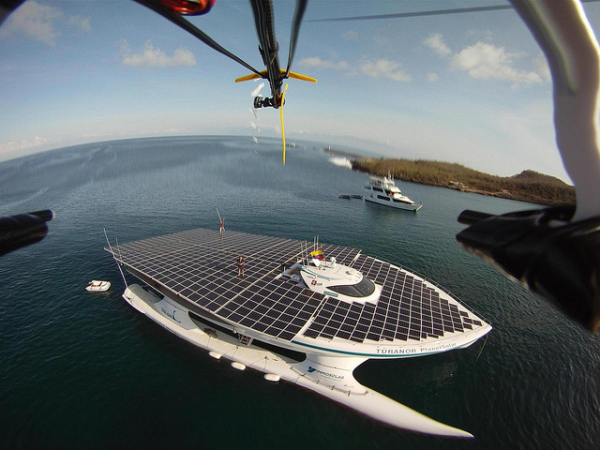 Another world record will be created…The world's largest solar-powered ship, Turanor PlanetSolar, has arrived on the Galapagos Islands (Santa Cruz and Puerto Ayora) off the coast of Ecuador on January 30, 2011.
One of the goals of expedition is to show us the use of plentiful supply of solar and demonstrate that "the economy and ecology can and must work together." It's another green technology deployment demonstrating how future energy (solar) applies on ocean transportation. If such a small size of catamaran (TÛRANOR) can be free of using yesterday's energy (oil), it's definitely possible for our container shipping vessels to become hybrid, which combine solar and/or wind and low-sulfur fuel so as to reduce 30% of the current world's nitrogen-oxide emissions.
Below is the planned route for the trip: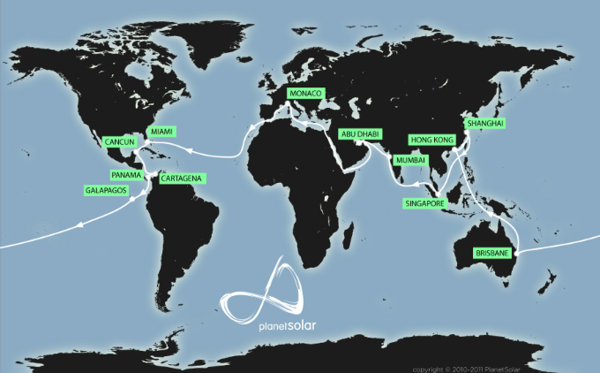 Click on the link below to view the current location of the trip.
http://www.planetsolar.org/be-part-of-it/follow-the-boat.html
Check Out Some of Our Other Green Posts:
Carbon Emission and Carbon Footprint Calculation
Brian Chan