Is Another Global Recession About to Hit?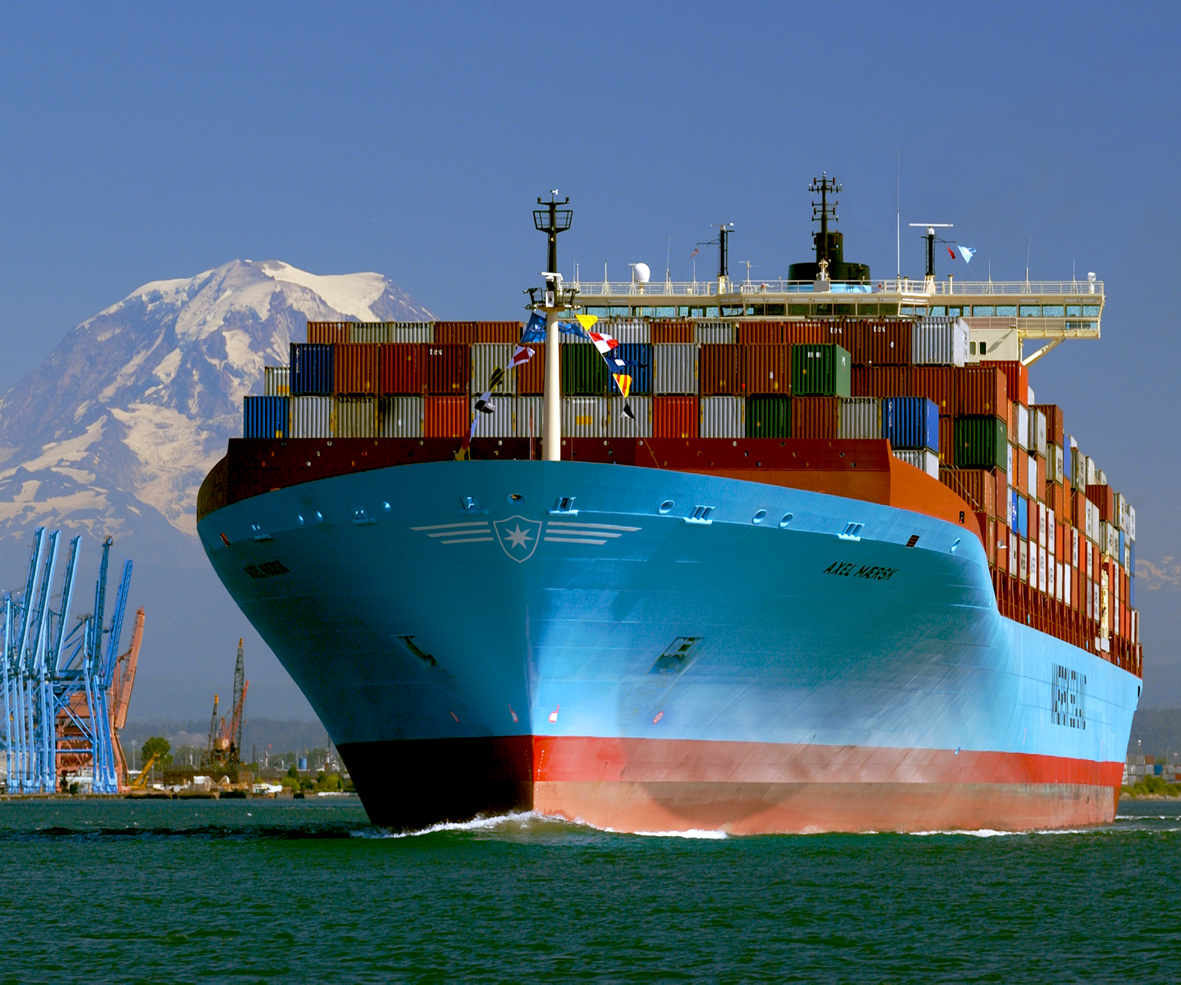 A.P. Moeller-Maersk, the world's largest shipping company, is in the news this week for saying the global economy is growing slower than widely forecasted.
Actually, it was the shipping company's CEO, Smedegaard Andersen who technically said it, as reported by Christian Wienberg on Bloomberg Business:
"We believe that global growth is slowing down," [Andersen] said in a phone interview. "Trade is currently significantly weaker than it normally would be under the growth forecasts we see."
…
"We conduct a string of our own macro-economic forecasts and we see less growth — particularly in developing nations, but perhaps also in Europe — than other people expect in 2015," Andersen said. Also for 2016, "we're a little bit more pessimistic than most forecasters."
The Bloomberg article states that the International Monetary Fund (IMF) lowered its 2015 global gross domestic product (GDP) forecast from 3.3% to 3.1%, "citing a slowdown in emerging markets driven by weak commodity prices." IMF lowered its 2016 forecast, as well, from 3.8% to 3.6%.
Are these lowered numbers more in line with Maersk's projections? No. "…even the revised forecasts may be too optimistic, according to Andersen"
The IMF is not the only "global economy expert" organization lowering its expectations for global economic growth.
The Organisation for Economic Co-operation and Development (OECD), which already had a lower GDP forecast than the IMF, also cut its GDP forecast.
According to BBC News:
A "deeply concerning" slowdown in trade, particularly with China, will lead to lower global economic growth this year, says the [OECD].
Global GDP is now expected to grow by 2.9%, down from 3% forecast in September, but will hit 3.3% in 2016.
The OECD said trade had dropped to levels perilously close to those "associated with global recession".
We're dangerously close to GDP numbers associated with global recession? Does that mean another recession is about to hit? History would suggest it's a strong possibility.
The Organization for Economic Cooperation and Development says trade figures are worrisome because the stagnating or declining rates of trade seen this year "have, in the past, been associated with global recession."
…
In only five years of the past 50 has global trade grown at 2 percent or less, and each time has coincided with a world economic downturn, said Angel Gurria, the OECD's secretary-general.
Well, the GDP numbers and projections haven't dropped all the way to 2%, right? And with 2016 projections back above 3%, aren't we safe?
Safe would be a very strong word. Keep in mind that GDP projections are in a downward trend. This drop from 3% to 2.9% is not the first time this number has been lowered.
"The OECD has repeatedly cut its 2015 global growth outlook from the 3.7% it initially forecast last November," according to the BBC article.
The article goes on to say that at the center of all this is China:
China, the world's largest trader of goods, seemed to be "at the heart of this" as its economic slowdown had hit other Asian economies and commodity exporters, [OECD Chief Economist Catherine Mann] said.
The Columbian article expands upon this:
The [OECD] says that in contrast to two years ago, when sluggish trade was blamed on advanced economies, the fault now centers on emerging markets such as China. As China transitions from massive infrastructure investment and manufacturing toward consumption and services, commodity prices have fallen, hurting exporters such as Australia, Brazil, Canada and Russia.
New figures released Monday in China highlighted the extent of the downturn: the country's imports fell by 18.8 percent in October from a year earlier, while exports shrank 6.9 percent.
Throwing one more unpredictable element in the mix is the brewing tension between China and the U.S. over the South China Sea, where $5 trillion of goods are shipped a year. With the U.S. sending warships through China claimed waters and China tracking them with guided-missile destroyers and naval patrol ships, how long before an incident happens? Will trade be affected?
Before you get feeling all downcast, know that the outlook is not all gloom and doom.
Interestingly enough, Maersk and its CEO, where we started with a more pessimistic view of the world economic growth than has been projected, gives us rays of hope.
Weinberg reports in Bloomberg:
Still, there are no signs yet that the global economy is heading for a slump similar to one that followed the financial crisis of 2008, he said.
…
"We're seeing some distortions amid this redistribution that's taking place between commodity exporting countries and commodity importing countries," he said. "But this shouldn't lead to an outright crisis. At this point in time, there are no grounds for seeing that happening."
Ironically, it's also to the OECD, from which the warnings of GDP numbers being perilously close to those associated with recession originates, that we also look for more optimism that a global recession like the financial crisis of 2008 is not about to strike.
The BBC article states:
But in [the OECD's] bi-annual outlook, the organisation said stimulus measures in China and other countries would help the world economy speed up next year, before accelerating to 3.6% in 2017.
"Policy actions are already being implemented that will help to address the weak underlying trends," Ms Mann said.
Hopefully, the world has also learned a few lessons from "the Great Recession" that will help us avoid falling back into one so soon. But how many times has the world made the same mistakes over and over again?
What are your thoughts on the global economy? Do you think we're in store for another recession soon? Share your thoughts in the comments section below.

Source: UC Blog