Triple Whammy of October Import Drops in International Shipping!
October is a big month for international shipping. At least, normally it is.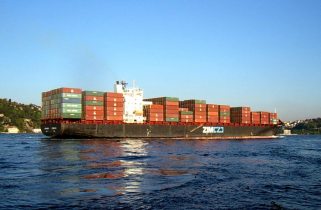 Usually imports see a big bump around this time of year, especially at West Coast ports, as shippers and retailers are stocking up for big holiday shopping. Instead of seeing shipping numbers go up with a surge in imports, the Port of Oakland and the Port of Long Beach both saw imports decline in the month of October this year.
"Oakland saw imports decline by 3.3% in October from a year ago, an unusual drop at a time when shipping volumes usually are at their peak," Erica E. Phillips reported in the Wall Street Journal (WSJ) this week.
The story was posted just a day after Phillips reported a similar article in the WSJ about the nation's second-largest port, "Long Beach volume fell 0.8% in October, a month that normally sees heavier cargo traffic ahead of [the] holiday season."
Here's a look at the numbers Phillips reported.
Port of Oakland October Shipping Numbers Down:
The Port of Oakland received 70,697 loaded import containers in October, down 3.3% from a year earlier. Import volume fell a precipitous 14% from this year's late-summer peak in August….
…
Overall, loaded imports at Oakland were off 0.4% for the year, due largely to the anemic months of January and February, during the worst of the [extreme congestion during labor negotiations at West Coast ports]. Collectively, January and February of this year were down 38% from the same period in 2014.
…
In October, Oakland also reported a steep drop in export volume, which fell 13.7% to 74,293 loaded containers. Including empty container moves, which were flat at 47,294, port volume fell 6.9% year over year.
Port of Long Beach October Import Numbers Down:
The Port of Long Beach, Calif., handled 307,995 loaded import containers in October, down from 310,482 during the same month last year.
The monthly volume, a 0.8% year-over-year decline, also marked a steep drop of 14% in loaded imports since August, a deeper falloff than usual from the year's busiest month.
"That's a double up!" exclaimed Universal Cargo's General Manager Raymond Rau upon seeing October import numbers down at both the Ports of Long Beach and Oakland. But I promised a triple whammy with this blog's title, didn't I?
The third part of the triple whammy comes from China.
BBC News reports, "China saw imports drop for the twelfth month in a row in October giving further cause for concern over the Chinese economy."
Let's take a quick look at the numbers from the BBC article.
China's October Shipping Numbers Down:
Imports by the world's biggest trader of goods fell 18.8% from a year earlier to $130.8bn, a slight improvement on September's 20.4% decline.
Exports dropped 6.9% to $192.4bn, the fourth consecutive monthly fall, as foreign demand waned.
With our last blog asking, "Is Another Global Recession About to Hit?" and today's blog reporting import numbers down at two major U.S. West Coast ports and in China overall, you'd think we were just giving doomsayers ammunition to forecast a global economic collapse.
But as was true in the last blog, things are not all gloom and doom. There is some good as well as mitigating circumstances for some of the bad to go along with these international shipping numbers shared above.
Yes, China sits at the center of the global economy. Negative Chinese trade has a negative effect on many economies besides its own. There are stimulus measures in place there and the last blog got into that a bit, so let's just shift back from China to the U.S.
Good October Shipping Numbers at the Port of Long Beach
In the same article Phillips reported Long Beach's October decline in imports, she also reported, "In August, Long Beach moved 358,262 loaded import containers, up nearly 20% from the same month in 2014."
That is a significantly higher month of growth than the decline of October. And we haven't yet seen the Port of Long Beach's twin port of Los Angeles' numbers quite yet.
While imports were down in October at Long Beach, imports on the year were actually up and exports grew in October. Phillips went on to report:
So far in 2015, loaded imports were up 2.6% in Long Beach.
On the export side, Long Beach saw a jump of 6.5% to 128,308 full containers from last October's 120,445. The expansion came despite a strong U.S. dollar and tepid growth in American exports over all.
Other blogs and articles on the container traffic through the Port of Long Beach focused more on this jump in exports. Taking both numbers into consideration makes October the busiest one in years.
Transport Topics article on Long Beach's October includes:
Container traffic at the Port of Long Beach, California, rose 6.3% last month, with help from increased exports, to post the best October total in eight years.
…
"We had an early peak in July and August, with much of the inventory for the holiday shopping season coming early. On the export side, we've seen increases for the past two months, as shipping lines choose Long Beach for its reliability and service," said Port of Long Beach CEO Jon Slangerup. "Year to date, we're up more than 5%, so 2015 is shaping up to be one of our best years ever."
That early peak is something to keep in mind. After all the congestion and failure to receive cargo last year in time to get goods on shelves for the holiday season, many shippers stocked up their inventories early and used alternative routes to importing through West Coast ports.
The peak season is suddenly looking weak with this triple whammy, but international shipping is a fluid and volatile industry. Things change and often change fast. Rather than thinking that the peak season is bad in 2015, a proper view might be to say that the peak season came earlier.
This can also be supported by Phillips's article about Oakland's October drop in imports when she writes about previous months:
From March through September of this year, however, import traffic in Oakland was healthy with volumes well above their 2014 levels. October was the first month since February that Oakland saw a decline in import volume. In a statement, the port attributed the declines to a "lighter-than-usual" peak season, as ocean carriers have reported falling demand for space on their vessels.
Ports would be wise to consider the idea that the peak season shifted after all the problems shippers experienced during last year's peak season due to labor disputes and excruciating congestion.
The peak season may move back to its more "traditional" months, including October, next year with another year removed from the problems of 2014 and into 2015. But shippers may have learned importing earlier is a good business practice that they will continue to incorporate in their strategies.

Source: UC Blog