Japan Sets Guidelines for Radiation Measurements at Container Ports
The Ministry of Land, Infrastructure, Transport and Tourism (MLIT) of Japan provides guidelines for measuring the amount of radiation on export containers and ships. Since the catastrophic events of the Great East Japan Earthquake and following tsunami, concerns of radiation on containers and ships have increased. To help relieve some of the concerns, guidelines were developed to help port authorities access the radiation levels in the most accurate way.
Below is an outline of the radiation measurement on containers and ships in ports.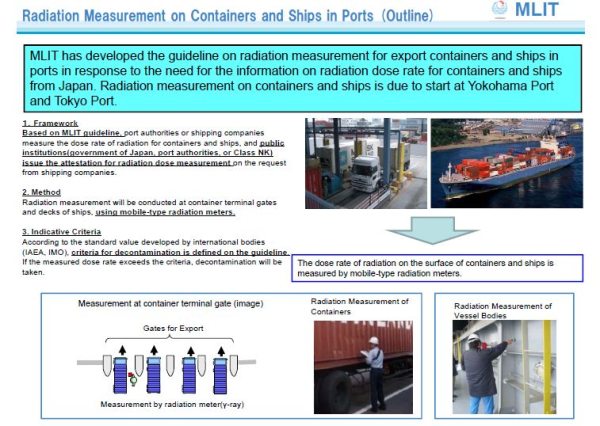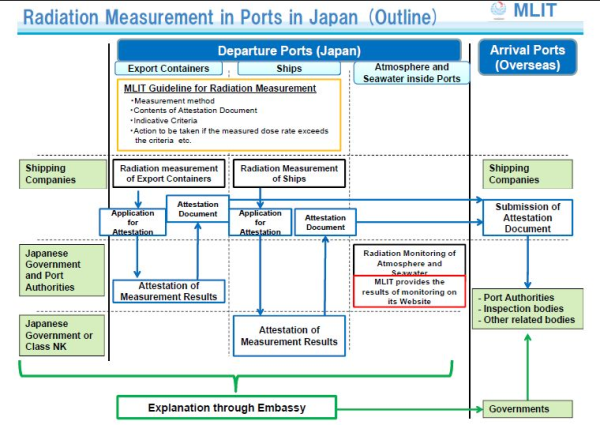 All port authorities are advised to use these guidelines as a reference when conducting the measurements at the port. Detailed guidelines can be found here.
Not only shipping containers and ships are being inspected for safe levels of radiation, but the atmosphere around the ports and seawaters are also being monitored. With these guidelines set in place, customers should now feel safer when exporting cargo from Japan.
For any other additional information regarding this issue, please visit here.

Source: Global