LA Dodgers Shipping Service Sets Example to Increase Your Business Profits
Read to the end for a tip that could make your business stand out from the competition and increase your profits.
For those of you who don't know, Universal Cargo's headquarters is located in Culver City, which is part of the Los Angeles metropolitan area. That means we're not too far away from the best baseball team in MLB, the L.A. Dodgers.
For those of you who would like to debate the Dodgers' baseball supremacy, just check out the team's league leading 74-31 record (as of 7/31/17).
Magic Johnson even went so far as to guarantee the Dodgers win the World Series this year according to a story from the L.A. Times.
Granted, Magic Johnson might have some bias when it comes to the Dodgers as co-owner of the team. However, he does know a little something about championships, having won five with the L.A. Lakers, and he's ready to see another trophy shipped to the city.
All of that taken into consideration, what better way to do a little team building and bonding than for the Universal Cargo team to take a trip to Dodger Stadium for a little Dodgers baseball?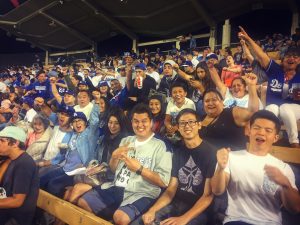 Last Wednesday (7/26), Universal Cargo did just that as evidenced by the picture to the right. Uh, Ray and Wesley, I think you're supposed to have your fists in the air.
If you ever go to Dodger Stadium, take a moment to check out the little merchandise shops. No, I'm not trying to get you to buy Dodgers gear, but if you decide to do so, you can ship your merchandise home directly from the park.
Yes, this blog post does have something to do with shipping after all.
According to an expert friend who loves to play any game that actually pays you, The L.A. Dodgers partnered with UPS to offer fans the service of shipping the gear they buy on game day home instead of having to carry it around the stadium. Imagine that, shipping as a customer service.
There's actually a video on MLB.com about the Dodger Stadium "Ship it Home" service. In the video, Los Angeles Dodgers Executive V.P. and Chief Marketing Officer Lon Rosen says the Dodgers "lead the league in attendance."
That's just one more area the Dodgers lead the league, I guess.
Los Angeles ranks as the second biggest market in the U.S., behind only New York. Certainly, that helps the Dodgers have such high attendance. Maybe the fantastic weather of Los Angeles also helps the Dodgers beat out other teams for that number one attendance spot, but a focus on customer service also must be a huge factor in allowing the Dodgers to edge out even the New York Yankees, over in the number one market, for the top attendance around the league.
Dodger Stadium's "Ship it Home" service is an example of that focus on customer service.
For Universal Cargo, shipping and customer service have always been linked. As a freight forwarder, our business is completely about customer service and shipping. For an MLB team, however, a shipping service is going above and beyond the standard operations of teams around the league. This shipping service is the Dodgers recognizing a need, or at least desire, from its fans or customers and then meeting it.
Providing a service that allows customers at Dodger Stadium to buy merchandise without having to lug it around the stadium or worry about spilling something on it, damaging it, or forgetting it creates the opportunity for the Dodgers organization to not only take better care of their customers, but also sell more merchandise. Win-win doesn't just describe a typical pair of games for the Dodgers right now, it describes the results of this shipping service the organization has created.
The Dodgers' shipping service sets a good example that all businesses could follow. Is there a need or desire your customers have that your business could create a service to take care of? There probably is. Think outside the box. Taking an extra step in customer service usually is not only beneficial for a business' customer base but is also profitable for the business.
That's the challenge Dodger Stadium shipping presents for all businesses: finding that extra area, need, or desire of customers that creates opportunity to provide new, improved, or increased customer service.