Maersk is No Longer #1 Carrier
Maersk No Longer Number One - Universal Shipping News (Funny Blooper at the End)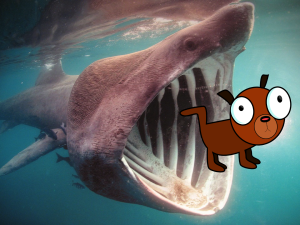 The leviathan just ate the top dog.
Perhaps that's a bit overdramatic, but China Cosco Shipping Corporation (Cosco), China's international shipping leviathan, is now the world's largest carrier by cargo TEU shipments, knocking Maersk, international shipping's top dog, off its top spot.
Mike Wackett reported in the Loadstar:
A 23% increase in containers lifted allowed Cosco to steal the top spot from Maersk Line in the third quarter.

The Chinese carrier loaded 5.49 million teu, compared with the Danish carrier's 5.26m.
Maersk has been number one for so long, it was generally assumed that the company would always sit at the top. The news of Maersk being displaced has many saying, "What happened?"
A major cyber attack did hit Maersk this year. It appears that did negatively impact Maersk's numbers, but according to Wackett's article, Cosco would still have beaten out Maersk even without the cyber attack:
According to Alphaliner's liftings league table, the Chinese line loaded 23% more containers in Q3 than in the same period of 2016, whereas Maersk carried 2.4% fewer, its booking systems temporarily stymied by a cyber attack in the summer that caused a 12-day IT shutdown.

…

Nevertheless, even allowing for a loss of say 200,000 teu, Maersk would probably still have been toppled from its long-held position as the biggest carrier by volume.
It will be interesting to see if Maersk makes moves to regain its number one position.
Maersk is acquiring Hamburg Süd, but Cosco's acquisition of OOCL should outpace Maersk's TEU growth through the buyout according to the Loadstar article:
… adding soon-to-be-acquired OOCL, which carried 1.6m teu in Q3, suggests 2018 could see the Chinese liner as a permanent fixture at the top of the liftings league.

Even Maersk's upcoming takeover of Hamburg Sud will only add about 4m teu a year to the total, and that figure could even be lower depending on the impact of the regulatory restrictions in certain trading regions.
That certainly makes it appear that Cosco topping Maersk is not merely an anomalous quarter, but the new pecking order of ocean freight carriers.
In actuality, it is a possibility that Maersk is not even number two but number three.
Wacket points out in his Loadstar article that MSC does not disclose how many TEUs of cargo it moves and could be in the number one position:
… all the carriers could be relegated by one place if MSC, second only to Maersk Line in terms of deployed capacity, was to disclose its liftings.

The privately owned MSC, has always declined to reveal any operational or financial numbers. However sources suggest that it could have carried close to 6m teu in Q3 as it benefited from its 2M alliance relationship with Maersk.
It's not a surprise that these carriers—MSC, Cosco, and Maersk—are the final three companies I chose to survive if Maersk is correct in its prediction that carrier competition will shrink to just 3 global companies.
Obviously, I would not change that list to take Maersk out of it, but this does change how many would view the industry's top carriers. Maersk was thought of as the untouchable leader of ocean freight shipping. Now we know the company is not so untouchable.