This blog is the third part in a series about the G6, P3, and CKYH carrier alliances. Check out Part 1: Hunger Games of the Sea: G6, P3, & CKYH Alliances Fight for Shipping Dominance and Part 2: Catching Fire on the Sea: International Shipping Moves & Counter Moves.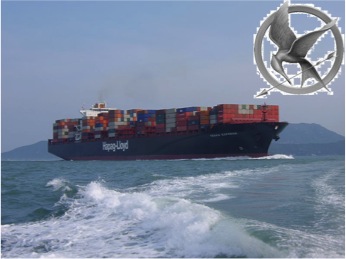 The Mockingjay became a symbol for the people of different districts in the Hunger Games series to unite against their oppressive government. There's no such symbol for real life shippers; however, shippers from the U.S. and China are uniting to oppose the P3 Network.
As shipping lanes are becoming more and more controlled by carrier alliances instead of being filled by ships from different competing carriers, worries are springing up about how these powerful alliances, especially the P3 Network, will negatively affect shippers.
With the P3 Network and G6 Alliance expansion approach approval, there seem to be positive and negative effects they will have on international shipping and shippers. Before we outline the negative effects of the alliances that have shippers worried, let's take a look at the positive.
Positive Effect of Alliances on Shippers – Increased Shipping Service Frequency
International shipping service does have room for improvement.
Carriers in the international shipping industry have been known for being inconsistent, even bad, when it comes to keeping cargo ships on schedule. And if a shipper's cargo containers miss a ship loading deadline, it could cost the shipper several days or even a week and beyond to get their cargo delivered.
The P3 Network and G6 should both create serious increases in sailing frequencies from port to port, supplying considerable improvement to international shipping service. Even Evergreen joining the CKYH Alliance could cause some sailing frequency increase.
For example, an article from Hellenic Shipping News reports:
Assuming that the future G6 network will be the sum of the current New World Alliance and Grand Alliance services, frequencies between major ports will reach record levels. This means five direct weekly sailings from Shanghai to Los Angeles and four direct weekly services from Rotterdam to New York.
To US inland destinations such as Chicago, which can be reached from Asia via Los Angeles/Long Beach or via Pacific Northwest ports and can be reached from Europe via New York, Norfolk or Montreal, there will be even higher frequencies of sailings.
Increased sailing frequencies is a big win for shippers. With it, shippers should have more flexibility on cargo shipping combined with better schedule reliability from carriers.
Potential Negatives Outweight Potential Positives of Carrier Alliances
Unfortunately, most of the potential ways carrier alliances like the P3 Network will affect shippers are negative. That's why The Asian Shippers Council, the China Shippers Association, the Hong Kong Shippers Council, the US Shippers Association, Med-America Shippers Association, Gemini Shippers Association, Fashion Accessories Shippers Association, and the International Longshoremen's Association are all opposing the P3 Network.
Cargonews Asia caught the feeling many shippers have over the P3 Network:
"With 255 vessels totalling 2.5 million TEUs, the P3 will be dominant in the east-west trade – 42 percent of Asia-Europe trade, 50 percent Asia-Mediterranean and 24 percent transpacific."
[Asian Shippers' Council] chairman John Lu said: "Such concentration of capacity is untenable. We fear for the worst should the P3 get regulatory approval."
Negative Carrier Alliance Effect on Shippers – Competition Crushing
It's not likely the savings the alliances create in underlying operating costs will translate to lower freight rates for shippers.
It has been suggested that lower underlying costs for carriers will result in more stability in the international shipping industry. But as this whole series paralleling carrier alliances with the Hunger Games has suggested, the results are more likely that many weaker carriers will die, being driven out of business by the stronger.
With fewer carriers controlling huge chunks of the market while improving their operating costs through these alliances, the ability to drive competition out of business drastically increases.
If the competition shrinks to near monopoly levels, freight rates are likely to increase while service suffers.
Negative Carrier Alliance Effect on Shippers – Freight Rate Collusion
Carrier Alliances are supposed to be strictly operational while the carriers in the alliances still compete for customers. The alliances are not pricing cartels.
Yet, there is much worry that there will be or even is already communication between carriers about freight rate pricing. That international shipping carriers are already under investigation for freight rate collusion doesn't help matters.
Shanghai Shipping Freight Exchange's article sums up this legitimate concern well:
"Shippers can never be sure whether [A P Moller-Maersk, MSC and CMA CGM, the P3 Network carriers] have talked about rates or not. Shippers are suspicious whether these shipping lines are just service sharing, or consolidating all the operations," the Hong Kong Shippers Council said. "If they have such a big market share, they will easily come up with very unfavourable freight charges; they may even demand double freight rates during the peak seasons."
Even without collusion, freight rates could easily hike from the smaller competition pools created by the alliances.
Negative Carrier Alliance Effect on Shippers – Increased Risk
This one is more for larger shippers. Spreading out shipments between different carriers supplies risk mitigation from cargo damage by having their cargo containers on different ships. It's kind of like the old platitude of not having all your eggs in one basket.
With alliances sharing ships, this strategy becomes difficult as the two carriers could easily sail the shipments together. Despite the shippers attempt to separate her eggs into different baskets, the carriers dump them all together. Then if something happens to that basket…
Negative Carrier Alliance Effect on Shippers – Additional Fears
There are more issues shippers are worried about.
These fears include transit times increasing from increased use of transhipment hubs, alliances growing to include feeder services like inland rail from hubs, powerful carriers being able to put pressure on terminal operators, and carriers having increased influence on jobs all across the supply chain.
Conclusion
If the carrier alliances keep moving forward as planned, it seems inevitable that smaller carriers will be pushed out of the market.
The international shipping industry and its freight rates have always been volatile. With bigger carriers taking control of more of the market and sharing resources through alliances could bring more stability and increased service.
With the decrease in service, freight rates may be driven up while service eventually suffers.
Time will tell how all the moves made by the various carriers as they fight for dominance in the Hunger Games of the Sea, but there's plenty of room for speculation now.
What are your thoughts on the carrier alliances?
Click Here for Free Freight Rate Pricing
—
Sources/Further Reading:
http://www.hellenicshippingnews.com//News.aspx?ElementID=a61cf558-5bf2-445d-8b9b-e11a512b090d
http://www.cargonewsasia.com/secured/article.aspx?id=3&article=32327
http://www.ssefc.com/english/html/News_Center/Market_News/2013/1213/1592.html
http://www.seanews.com.tr/article/worldship/116923/P3-Alliance-competition/
http://www.cslexp.com/us-dockworkers-union-voices-opposition-p3-network/
http://www.cargonewsasia.com/secured/article.aspx?id=3&article=32327
https://www.universalcargo.com/blog/bid/100164/Holy-Cargo-Collusion-Batman-Shipping-Companies-Under-Investigation