MSC's C-TPAT Suspended After Drug Bust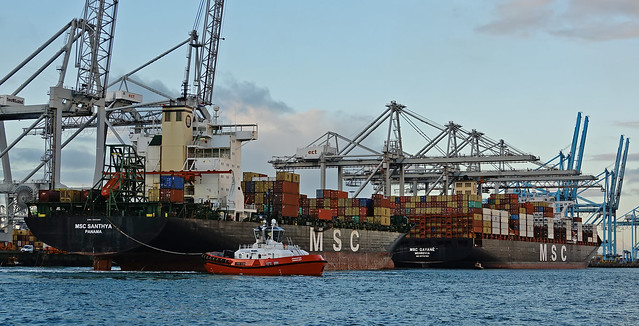 The U.S. Attorney broke the news via Twitter last week on Tuesday, June 18th that 16.5 tons of cocaine was seized from a large ship at the Packer Marine Terminal at the Port of Philadelphia. It was a historic seizure, being the largest ever for the Eastern District of Pennsylvania, according to the tweet.
It turned out, the large ship was the MSC Gayane.
Obviously, the story quickly hit mainstream media outlets, as you would expect a huge drug bust seizing 16.5 tons of cocaine to do.
According to the couples rehab California, there's no shortage of news outlets to quote for the details surrounding the fallout of this historic bust; however, let's go with a fellow online international shipping focused resource, the Maritime Executive. In an article about MSC's C-TPAT being suspended, the Maritime Executive highlights that this is the second large drug bust involving an MSC ship this year while giving further details:
Six crewmembers from the MSC Gayane have been charged in connection with the seizure of 15.5 tonnes of cocaine at the port of Philadelphia on Monday. The record-setting haul has an estimated street value of $1 billion. It was the second bust involving an MSC ship at the port since March, when authorities seized about 1,200 pounds of cocaine from containers aboard the MSC Desiree.

According to Fonofaavae Tiasaga, a crewmember from the Gayane who has pleaded guilty to smuggling charges, the container ship's crew brought the cocaine aboard in high-seas transfers involving 14 separate boats, which met up with the boxship while she was under way between Peru and Panama. These waters are known as a hotbed of smuggling activity, and they are the primary geographic focus of the U.S. Coast Guard's at-sea interdiction campaign in the Eastern Pacific.
Of course, MSC had to do some damage control and reach out to their customers regarding this whole mess. Therefore, last week, MSC sent out the following customer advisory:
MSC GAYANE

MSC CUSTOMER ADVISORY

20 June 2019, Geneva, Switzerland

As you may be aware, the container ship MSC Gayane was recently involved in a law enforcement operation while calling the port of Philadelphia, in which a large quantity of contraband was discovered onboard.

MSC takes this matter very seriously and is grateful to the authorities for identifying any suspected abuse of its services and operations.

As a consequence of these events, U.S. Customs and Border Protection (CBP) has temporarily suspended – not revoked – our Customs Trade Partnership (C-TPAT) certification.

MSC has not been restricted from doing business in, or suspended from operating in, the US market and this action does not prevent customers doing business with MSC.

Furthermore, customers should only expect minimal disruption as a result of the C-TPAT certification issue. For example, there could possibly be additional inspections on certain containers coming from South and Central America to the USA. There will be no impact on customs clearance for cargo, which is flowing regularly in and out of the USA.

We are actively seeking to assure the authorities that our certification can be reinstated as soon as possible.

Notwithstanding the suspension of C-TPAT status MSC will continue to comply with the requirements of the program.

MSC has a longstanding history of cooperating with U.S. federal law enforcement agencies and was one of the first carriers to participate in C-TPAT after its inception in 2001. C-TPAT is a voluntary partnership between governments and carriers to ensure supply chain security.

MSC will continue to collaborate with authorities worldwide, to ensure our vessels are secure and can deliver our customers' cargo safely and reliably. We appreciate your patience and continued business, and we will keep you informed as soon as we learn more details.
Here's a little bit more information about C-TPAT from Universal Cargo's C-TPAT page:
C-TPAT is a voluntary government-business initiative that builds cooperative relationships that strengthen and improve overall international supply chain and U.S. border security. C-TPAT is widely recognized as one of the most effective means of providing the highest level of cargo security through close cooperation with international supply chain businesses such as importers, carriers, consolidators, licensed customs brokers, and manufacturers. Through this initiative, U.S. Customs and Border Protection (CBP) is asking businesses to ensure the integrity of their security practices and communicate and verify the security guidelines of their business partners within the supply chain.
Being C-TPAT validated, which Universal Cargo obviously is, is important in the international shipping industry. There are, of course, extra security practices and requirements that come along with C-TPAT certification; however, the additional responsibility is well worth helping protect the supply chain, cargo, ports, and national security.
The CBP's suspension of MSC's C-TPAT validation seems more than justified while it investigates security lapses that would allow the cocaine smuggling on MSC ships to occur.
It's hard to know if these drug busts will end up having much of an impact on MSC's business (most probably doubt it will), but it's obvious the carrier's security standards need tightening as crew members themselves from the major shipping line's ships were allegedly (let's keep things legal here) smuggling the cocaine.
Detention hearings are scheduled in Philadelphia for six crew members of a Swiss-owned container ship following the seizure of more than 35,000 pounds, or more than 15,800 kilograms, of cocaine. The six crew members of the MSC Gayane are scheduled for 1:30 p.m. Monday detention hearings on charges of conspiracy to possess cocaine aboard a ship.

Monday's court hearing will determine if they will remain in federal custody. If convicted, they face life in prison.
No matter the outcome of the MSC Gayane's crew members' hearings or the CBP's decisions regarding MSC's C-TPAT validation, the world's second largest ocean freight carrier will have some trust to gain back as they move forward from these events.