New Suez Toll Hike Significant for U.S. Importers
There are many world events affecting current and upcoming ocean freight rates. Sanctions on Russia with its aggression on Ukraine obviously affects cargo movement to and from that region, rippling across supply chains, and likely increases fuel/oil bunkers. Environmental mandates are set to add upward pressure on freight rates, dampening the effect of demand's return to more normalized levels in the upcoming months and even years. These widely publicized things we'll likely go into some depth on in future posts, but there's another event happening right now that seriously impacts ocean shipping that is flying under the radar.
The Suez Canal is upping its tolls. In double-dip fashion. This is the second toll increase within about a month's time at the crucial passageway for the international shipping industry. For U.S. shippers, it's not just those who import to the East Coast who are likely to feel the impact. Let's get the details…
How Big Is the Suez Canal Toll Increase?
Lori Ann LaRocco reports in American Shipper:
The increase for both full and empty vessels will be either 5%, 7% or 10%, depending on carrier type, and become effective Tuesday.

This is the second toll increase on all vessels, with the exception of LNG and cruise ships, in the last month. Those two vessel classes were spared when the Suez Canal Authority (SCA) announced in early November that it would increase transit tolls through the canal by 6% beginning in February.

…

… According to [Xeneta Chief Analyst Peter Sand], for a large container ship, this hike means a one-way transit goes from $625,000 to $675,000.
If you know anything about shipping lines, when they get hit with fees and cost hikes, they pass them on to their customers, the shippers.
Why Should West Coast Shippers Care?
Many of Universal Cargo's customers import from Asia through the U.S. West Coast. If your importing practices are similar, you may be thinking why should I care about this toll increase? I don't ship through the Suez Canal.
Well, if you're a regular reader of this blog, you know that the International Longshore & Warehouse Union (ILWU) master contract expires this year. Because of that, there's a high level of risk that there will be disruption at West Coast ports from contentious contract negotiations with the dockworkers' union there.
One of the top ways to mitigate this risk is using alternate importing routes that will bring goods in through the East Coast. If the risk turns into reality, many will find themselves needing to divert their cargo to alternate ports. Either of these situations would lead to shippers who wouldn't normally ship that way being forced through the Suez Canal and paying these heightened tolls.
For shippers who look to keep their imports on transpacific routes, going through the Panama Canal to Gulf and East Coast ports, disruption at West Coast ports could have a trickle effect to increased traffic and delays down there at the gateway through Panama too.
No doubt, carriers will likely increase rates and fees on transpacific shipping if the ILWU negotiations add another level of port congestion, which has already been a major problem for more than a year. Of course, as demand for East and Gulf Coast ports rises from shifting market share, freight rates will rise on those routes too.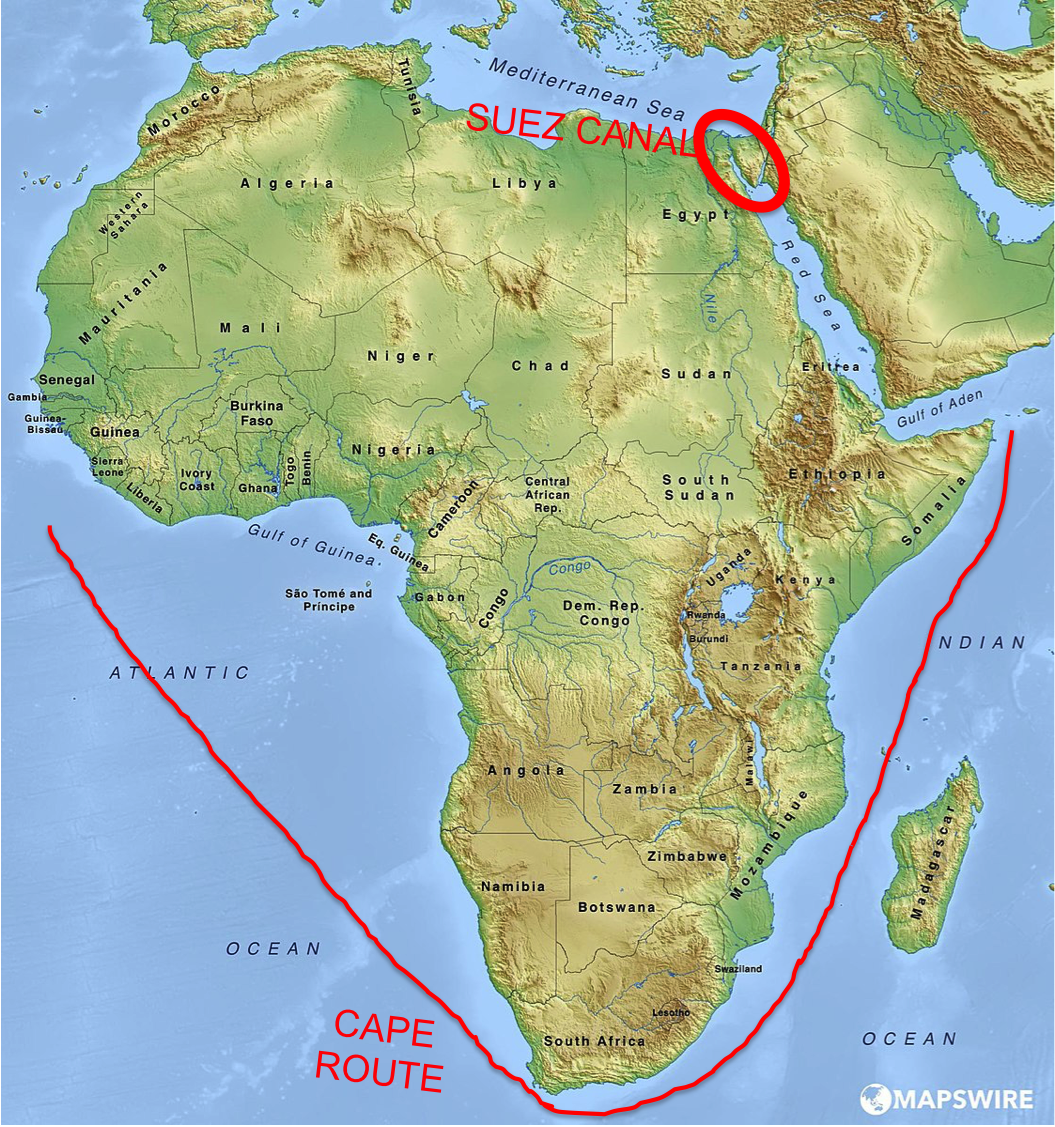 Because of the long-standing port congestion at the Ports of Los Angeles and Long Beach, as well as other West Coast ports, there has already been a significant amount of the shipping market that has shifted to East and Gulf Coast ports, so some shippers are now already newly using this toll-increase route and have one more cost increase to add to their calculations.
Going the Long Way?
There's another potential option for U.S. shippers whose goods look like they're about to go through the now more expensive Suez Canal: going the long way around.
When the Ever Given turned sideways and ran aground, blocking the Suez Canal, many ships were rerouted to go down and around the Cape of Good Hope. Obviously, going all the way around the continent instead of cutting across along the north of Africa, as the Suez Canal allows, is a much longer trip that requires more fuel.
The trip around Africa is more than 10,000 nautical miles. It adds more 4,400 nautical miles to a cargo ship's trip.
Does the longer time and higher fuel cost make it so this option of avoiding the increased toll cost of the Suez Canal worth it? According to LaRocco, "The Suez will be a less costly option." For now, I'll take her word rather than do the complex research of trying to average out the likely cost difference for shippers.
The increased time and fuel costs upping the freight rates shippers would pay is also a moot point, as ocean freight carriers would have to offer the sailings around the Cape of Good Hope. It's not only shippers who are negatively impacted by longer transit times. The longer a ships' route, the fewer sailings it can make to convert its capacity into dollars. However, if ocean freight carriers do the calculations and see there is a financial benefit to going around the continent, perhaps adding an African port or two to ships' berthings, more such sailings could be offered to shippers as an alternate option.