This is not a blog to make international shippers excitedly bust out their Bob Marley records. In the world of ocean freight transport, reefers are refrigerated shipping containers.
The last blog we posted about reefers was bad news. Reefer explosions had taken the lives of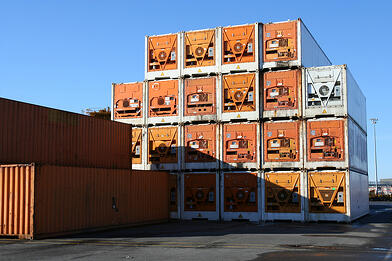 dock workers and a panic had hit the international shipping world about reefer safety.
We're happy to now see a good announcement in ocean freight news concerning reefers.
Demand has been increasing for the international shipping business to get greener and greener. It is no secret there is often criticism concerning the environmental impact from big companies in ocean and air freight transportation.
However, there are strides being made in the world of ocean and air cargo to go green. Among them is this good announcement concerning reefers.
A new reefer model is hitting the market that, according to an article from Food Logistics, "meets carrier and shipper demands for low energy consumption and greenhouse gas emissions while providing precise cooling performance for chilled and frozen cargoes."
This new reefer unit is the LX10F. Does that seem hard to remember? Then instead, remember its brand name, Zestia.
The Zestia, when compared to reefer models already on the market, provides approximately a 45% energy savings.
Not only is the Zestia designed for energy savings, it has a backlit LCD monitor for easy use and, not to be redundant, monitoring.
The company releasing this breakthrough reefer container for ocean shipping is Daikin Reefer, part of Daikin Industries, Ltd. Daikin first entered the refrigerated container market in 1968 and the company has seen much success. Throughout the 1980's, they became the leading manufacturer of container refrigeration equipment.
As there always seems to be a shortage of reefer containers, and there is especially one now with the recent reefer scare of containers that received repairs in Vietnam, success for Daikin with Zestia is quite likely.
Universal Cargo Management recognizes the needs many shippers have for refrigerated freight containers and are happy to help meet those needs.
Click here for a freight rate on your reefer import or export shipment.