Section 301: You Might Be Eligible for a Tariff Exclusion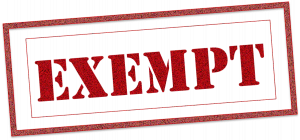 At Universal Cargo, we help many businesses import goods from China. This means many of our customers are being affected by the tariff increases President Trump is imposing on Chinese imports. However, many of those clients may be eligible for exclusion from these tariffs.
We're ready to help our clients apply for these much needed exemptions.
Right now, the window is open for importers of Chinese goods to apply for exemption on items in tariff lists 1 and 2. For list 1 items, shippers have a little under a week left to apply. For items on list 2, there are about two and a half months left.
Exclusion procedures for the now finalized list 3 should be coming soon.
Partnering with our house customs broker INLT, Universal Cargo is offering a service to draft a statement written to defend our clients' right to continue importing their products as is, with no additional duty.
We talked to a few customers who were getting quotes from attorneys ranging from $5k to $25k for this service. INLT is helping us provide this service for a fraction of the cost: around $1k-$2k depending on the amount of work required around the products being imported.
Below is a bulletin we've put together about the requirements that need to be met for a product to be exempted. Please contact your Account Manager about this service or call us at 866.826.2276.
Section 301: You might be eligible for an exclusion
During the notice and comment process, a number of importers asserted that specific products only were available from China, that the imposition of additional duties on those products would cause severe economic harm to U.S. interests, and that the products were not strategically important or related to the ''Made in China 2025'' initiative. In light of such concerns, the Trade Representative established a process by which U.S. stakeholders may request those particular products classified within a covered HTSUS subheading be excluded from the additional duties.
What merits an exclusion and how to get one
The criteria is simple, but subjective: (1) only available from China, (2) severe economic harm to U.S. interests, and (3) not strategically important or related to the "Made in China 2025" initiative. So how do we prove this?
Identification
This is no ordinary description. Using a range of physical characteristics, we'll define the product as narrowly as possible. Remember that the USTR already determined, after weeks of comments and testimony, that this product, at the 8-digit subheading, merits an additional duty under Section 301. What separates your product from every other product in this subheading?
HTSUS
The 10-digit HTSUS of the product.
Enforcement
This isn't required and it's not your job to tell U.S. Customs how to administer the exclusion, but it could help.
Statistics
Provide the annual quantity and value of the Chinese-origin product that the requestor purchased in each of the last three years.
There are deadlines
At this time, the USTR has not indicated whether parties may also request exclusions from the additional tariffs. However, we expect procedures for exclusions requests to be published soon, conducted similarly to the way it was done with Lists 1 and 2.
Importers wishing to request exclusion from the now final List 3, or Lists 1 and 2, should contact your Account Executive. The deadline for requesting an exclusion from List 1 is October 9, 2018 and the deadline or requesting an exclusion from List 2 is December 18, 2018.
FIND OUT MORE BY CALLING 866.826.2276