Will Chassis Tariff Increase Costs for Shippers Or Benefit U.S. Manufacturers?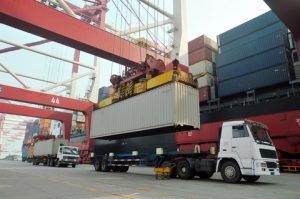 For obvious reasons, U.S. shippers who import from China tend to be against the tariff increases President Trump is imposing on China. There have been hearings over items listed in the new tariff increases, and some of those items even got exempted. However, there is a particular item that remains on the list that can have a significant impact for shippers as a whole.
That item is chassis.
Ari Ashe reported in the Journal of Commerce (JOC):
Marine terminals were spared a multimillion-dollar tariff that could have placed a crimp into projects to expand US ports, but chassis providers and users didn't get a reprieve amid a dispute between US and Chinese equipment manufacturers. Shippers will ultimately suffer since chassis lessors will pass along these extra costs by raising prices on daily rentals or long-term leases.
The tariff that Ashe writes terminals were spared is on port cranes. Certainly, that is a sigh of relief for port operators and would impact the shipping industry. However, the tariffs remaining in place on chassis from China may have a more direct impact on shippers than the one on port cranes would have had.
Chassis are crucial in the moving of shipping containers. It's impossible to imagine an increase in the cost of chassis wouldn't increase shippers' movement of goods.
How big will the increase in costs be? Well, in a separate JOC article about the hearings over the tariffed items, including chassis, Ashe writes:
Chassis lessors believe a 25 percent tariff could cost $100 million to $150 million to purchase 45,000 new units to replace the aging fleet, a cost that would ultimately be passed onto cargo owners and consumers. DirectChassis Link Inc. (DCLI), for example, spent $140 million in new Chinese-made chassis in the past four years, so a tariff would have cost an additional $35 million.
However, there is debate over this chassis tariff, just as there are debates about protectionist policies in general. The other side of the argument is that chassis can be bought from U.S. producers instead of Chinese manufacturers, mitigating the financial impact of this tariff while supporting, possibly even creating, U.S. jobs.
Cheetah Chassis, a U.S. producer of container chassis, argued for the tariff on chassis. In fact, Cheetah Chassis wrote letters petitioning to get chassis on the tariff list when at first chassis were omitted.
Julia Horowitz wrote a CNN article back in June about Cheetah Chassis and its president Garry Hartman seeking chassis to be added to the tariff list before chassis were included. The article highlights how Cheetah Chassis suffered due to China's entrance into the U.S. chassis market:
At its peak in the 1990s, Cheetah had more than 500 workers and produced about 240 trailers a week. But over the past 10 years, Cheetah has steadily been pushed out of the US market by a Chinese state-backed company, which Hartman believes gets unfair support from Beijing. Now Cheetah only makes 60 chassis a week.
The CNN article does a good job of highlighting the U.S. manufacturer's view of this issue.
Chinese government subsidized steel, intellectual property theft, and pushing out U.S. chassis manufacturers through unfairly low prices highlight the ways Cheetah Chassis claims Shenzhen-based equipment giant China International Marine Containers (CIMC) managed to dominate the US container chassis market after entering it in the mid 2000s to the point of Cheetah losing all of its large orders.
Hartman sees the tariff on chassis as a way of leveling the North American playing field between U.S. and Chinese producers of chassis and possibly a chance at saving his company. In the CNN article, Ashe includes quotes from a letter Cheetah's lawyer sent to Trade Representative Robert Lighthizer:
"Cheetah Chassis has already been forced into a small portion of the market," the letter said. "If CIMC's unfair practices are left unchecked, it is likely that CIMC will quickly take over the entire US market for container chassis, effectively creating a virtual monopoly of the domestic chassis market controlled by Chinese [state-owned enterprises]." The letter added that "the very free flow of commerce within the United States is at risk."
Now we'll see what the results of the tariff on chassis is. Will chassis costs increase with those costs being passed on to shippers or will U.S. manufacturers of chassis benefit, growing as chassis buyers and lessors turn to them to avoid the tariff?
My money is on the results landing somewhere in the middle.