Shipping Strategy Tips for E-Commerce Businesses
This is a guest post by Dakota Murphey.
Note from the editor: While most of our blog content is focused on international shipping itself, many of Universal Cargo's blog readers and customers import to sell online. Not only that, but Universal Cargo also helps businesses with e-commerce needs like warehousing, domestic shipping, and additional services. Therefore, we believe the following e-commerce shipping focused article from Dakota Murphey will be beneficial for many people within our readership.
Introduction
E-commerce and shipping go hand in hand. For the customer, the ability to order online is only as convenient as the satisfactory delivery of the purchased goods. According to a recent industry study, two-thirds of UK online shoppers make cross-border purchases (54%  of U.S. digital shoppers and 67% of global consumers make cross-border purchases according to Invesp), while excessive shipping costs and slow delivery times are the two main reasons why transactions are aborted. Further frustration is caused by poor packaging, wrong shipments, and unclear return policies.
For the online retailer in an increasingly crowded market, this makes order processing, fulfillment, and shipping business critical drivers for sales and returning customers. With that in mind, here are some valuable strategy tips for e-commerce businesses to consider.
1. Shipping as a Marketing Technique
Place information about delivery, shipping and returns front and centre on your website so they grab attention and positively influence the visitor to make a purchase. That way, your shipping strategy can be used as a marketing tool as well as the first step of an e-commerce transaction. Childsplay Clothing is a great example of how this might look: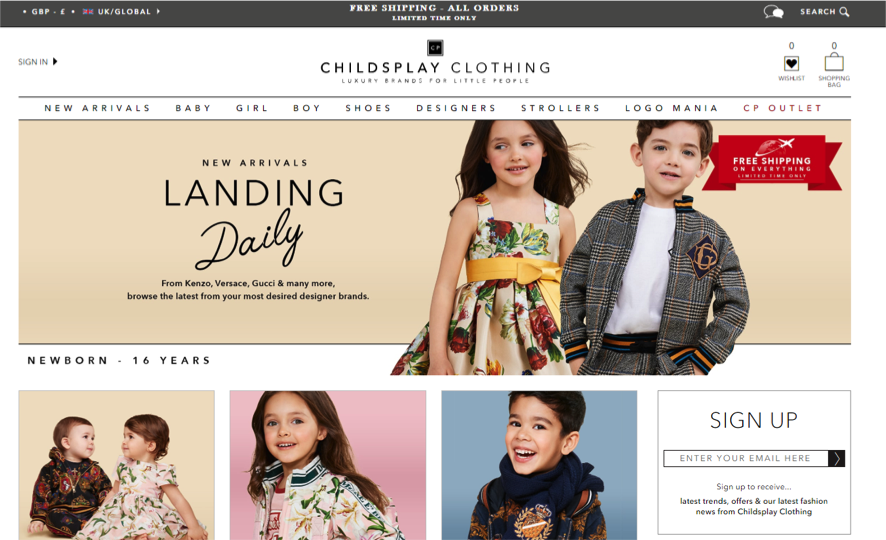 Delivery and shipping options offered on the site should be flexible to best serve your customers' needs and might include:
With 9 out of 10 online customers prepared to abandon their shopping cart if fast and free shipping is not available, this shipping option also acts as a powerful marketing technique. Experiment with different ways to use it and see how it affects sales. Set a spending threshold for free shipping to apply and gently encourage consumers to spend more. Use free shipping as a promotional, time limited offer, or for special products only. Offer free shipping for standard delivery times and charge extra for next day delivery.
With this option, a flat rate shipping cost is applied for each order, regardless of its value, dimensions, or physical weight. The advantage to the customer is that they know the exact cost upfront and can budget for it. Though not quite as popular as free shipping, it does encourage the purchase of bigger and bulkier items. With fixed rate shipping, the merchant sets the amount required to cover the cost of packaging and shipping.
A fully customizable shipping solution, table rate shipping is the exact opposite of flat rate shipping. Here, the retailer can set different shipping cost levels, taking into account a large variety of factors. These will typically include the delivery destination (e.g. radius from warehouse location), the order value, number of items ordered, the product size and weight, and specific product types.
Live shipping rates from a carrier
Though not typically used as a promotional strategy, obtaining exact shipping costs direct from carriers such as UPS, FedEx, or DHL has the advantage of letting customers know that they are getting the best carrier and most competitive price for their order. Live shipping rates can be a great strategy for B2B shipments where rates are calculated precisely according to size, weight, quantity, location, and value. Packaging and order fulfillment costs can be added as a surcharge.
2. Use of shipping software and tools
Streamlining your e-commerce order processing, fulfillment, and shipping processes to be most efficient is going to involve the use of business shipping tools. Basic postal services such as UPS or FedEx will schedule pickups and track orders, so that your customers know where their order is in the delivery journey and when they can expect to receive it. A business account, either direct or via a broker can offer the retailer discount shipping, and often includes free packaging supplies too.
More in-depth tools are available via shipping software that integrates with your e-commerce site and provides a much more tailored solution to your shipping needs. There are many platforms available via subscription, all of which also offer a wealth of support via live chat and email helpdesks. Here's a good example of different plans available for both small businesses and larger online stores:
3. Packaging as an Unboxing Experience
A successful shipping policy in place, it's time to turn your attention to preparing the purchased goods for shipping. In today's mature marketplace, packaging has come a long way from a humdrum functional object that protects goods in transit.
How will the items be introduced to the customer? It is important not to neglect the right design for your packaging as a golden opportunity to stand out from your competitors and make a strong brand statement. Many online customers, having been deprived of the traditional high street retail experience, are really looking forward to receiving and unpacking their order. Unboxing can be an emotional experience that leaves a lasting impression and forms a loyal bond with the customer.
While designed packaging may be less important than practicality for B2B transactions, the discerning retail customer, particularly at the designer end of the market, will definitely respond to well crafted packages, ideally with some personal touches. Here's an excellent example of how branding and packaging can complement each other perfectly:
This was a guest post by Dakota Murphey.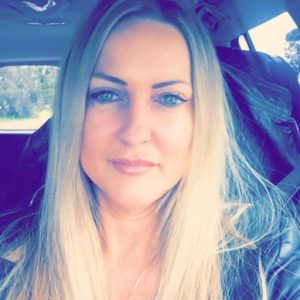 Author Bio
Dakota Murphey has a wealth of knowledge within the international shipping industry and enjoys incorporating her experiences of travel and marketing in her writing.