Shrinking Carrier Competition: Cosco Buying OOCL
Cosco Buying OOCL - Universal Shipping News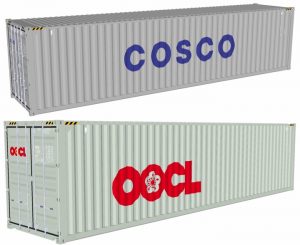 On Sunday (July 9th, 2017), Cosco Shipping Holdings Co., Ltd. (Cosco); Shanghai International Port Group Co., Ltd (SIPG); and Orient Overseas International Limited (OOIL) announced jointly that Cosco and SIPG have made an offer to acquire OOIL.
If it wasn't clear enough that OOIL is accepting the offer by the fact the company jointly made the announcement, the press release states, "The controlling shareholders who currently holds 68.7% of OOIL has irrevocably undertaken to accept the Offer [sic]."
In other words, this is happening. The deal is subject to regulatory approval, of course, and approvals of Cosco's shareholders, according to the release. However, it's hard to imagine anyone thinking those conditions will not be met. So, yeah, this is happening.
The approximately $6.3 billion deal is one more item in a long stream of events shrinking the pool of carrier competition in the international shipping industry.
OOIL is the parent company of the ocean carrier Orient Overseas Container Line (OOCL). Those of you who are avid readers of this blog know this carrier buyout has to go onto my already insane Carrier Craziness Bracket.

It's gotten to the point that it's hard to read the Carrier Craziness Bracket because of all the shrinking of competition through buyouts, mergers, bankruptcy, and groupings into alliances. In fact, I called this bracket busted long ago. However, it does help to see just how much action has happened over the last few years in consolidating the ocean shipping industry.
This particular consolidation move is obviously big for Cosco.
On Monday, Cosco, SIPG, and OOIL followed up their initial press release with another release that illuminates just how big Cosco will be after buying out OOCL:
Post-closing, the combined COSCO SHIPPING Lines and OOCL will become one of the world's leading container shipping companies with more than 400 vessels and capacity exceeding 2.9 million TEU (including orderbook). The outstanding management system and service capabilities, as well as established global shipping network, of COSCO SHIPPING Lines and OOCL can provide customers of both COSCO SHIPPING Lines and OOCL with more diversified product offerings and better service experience.
This puts Cosco firmly in the number three spot in the world ranking of carriers by size according to capacity, behind only Maersk and MSC.
Despite Cosco buying out OOCL, shippers will still see both carrier names when they look at the market, as the companies made it clear in both press releases that Cosco will maintain OOCL's listed status.
To that effect, here's what the carriers said in the initial press release:
Post closing, COSCO SHIPPING Lines and OOIL will continue to operate under their respective brands, providing container transport and logistic services. By leveraging the strengths of each company and achieving synergies, the businesses will enhance their operating efficiencies and competitive positions to achieve sustainable growth in the long term. Both companies are members of the Ocean Alliance, and will continue to work together under this framework.

"We respect OOIL's management team and its expertise, not to mention its people, brand and culture," said Mr. Wan Min, Chairman of COSCO SHIPPING Holdings. "Our company remains committed to enhancing Hong Kong as an international shipping center. Following completion, we will continue to invest and strengthen our industry leadership, providing a more extensive platform for the employees of OOIL to excel."
Cosco and SIPG are paying cash for this deal. In the end, the split up of OOIL's stock will have Cosco holding 90.1% and SIPG holding 9.9%.