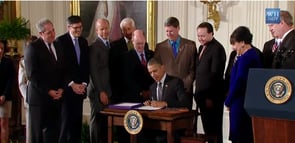 In the last blog, we discussed Congress passing and President Obama signing into law a bill that extended the U.S. Generalized System of Preferences (GSP) program retroactively. The president actually signed two bills into law that had more effects on international shipping than just allowing shippers to get duties back on GSP eligible imports.
In today's blog, we lay out the White House's summary of the trade laws passed and make some comments on them:
Law #1:
TRADE PROMOTION AUTHORITY
Traditionally, trade promotion authority, or TPA, lays out a blueprint for the kind of trade deal the President can negotiate and secure with other countries. Trade negotiating authority has been granted to all but one of our 13 presidents since President Franklin Roosevelt.
The authority Congress is granting to President Obama today is an upgrade — not only does it give him the leverage he needs to close out negotiations on the TPP with 11 countries in the fast-growing Asia-Pacific region, but it ensures that the TPP [Trans-Pacific Partnership] will include the strongest protections in history for our workers and our environment.
Thanks to TPA, here's what you'll find in TPP:
This is all about the Trans-Pacific Partnership (TPP). The protections listed above both showing up in the TPP and being enforceable will have to be seen.
Perhaps the best thing this bill does is create transparency in that American people and businesses will be able to see and examine the negotiated deal.
Making this TPP deal is extremely important to the Obama administration. It is why the president fought so hard for these bills, even losing some support from party members and unions along the way. Now the president has the power to negotiate international trade deals like the TPP without the risk of Congress making changes. While Congress does not have the right change or delay trade agreements negotiated by the president, the power for Congress to approve or reject the agreements made is granted by the bill.
President Obama's goal with the TPP is to strengthen the United States' position in international trade while leveling the playing ground with labor and environmental protection rules.
The effectiveness of the TPP will have to be seen. I'm sure we'll get into the topic more in future blogs.
Law #2:
TRADE ADJUSTMENT ASSISTANCE
Trade Adjustment Assistance, or TAA, provides vital job training, income support, and other employment-related benefits to American workers displaced by the forces of globalization. It's a critically important lifeline that has helped 2.2 million American workers, including more than 23,000 veterans, find a new, often better-paying job.
The program was set to expire on September 30, 2015, but thanks to the bill President Obama is signing, we will not only extend TAA, but restore key provisions that will help support tens of thousands more workers each year by:
Making service workers eligible for the program once again, who represented nearly half of the applicants for TAA in 2014
Covering service workers retroactively, allowing more than 17,000 workers to reapply for benefits
Expanding eligibility to anyone who is impacted by trade with any country, whether we have a trade agreement with that country or not
Extending the number of weeks workers can apply for income support by 26 weeks
Offering wage insurance for workers over 50
Providing career and training support for workers searching for a new job
Glabalization presents a number of challenges. Shippers who import goods tend to know how to take advantage of the world economy. At the same time that importing goods supports jobs and helps build competitive businesses, other businesses struggle to compete.
TAA creates federal assistance for manufacturers, workers, and farmers negatively impacted by import competition or globalization in general.
This part of the bill goes toward extending TAA benefits.
THE AFRICAN GROWTH AND OPPORTUNITY ACT
For 15 years, the African Growth and Opportunity Act (AGOA) has provided tangible economic benefits and opportunities to sub-Saharan Africa by helping African companies improve their competitiveness and invest in building a strong private sector. Also set to expire in September, today's bill extends AGOA for 10 years and reflects our shared values by providing incentives to adopt good governance and pro-growth/pro-development policies, including on workers' rights and human rights. The bill also gives the Administration the ability to withdraw, suspend, or limit benefits if designated AGOA countries do not comply with our eligibility criteria.
Helping African countries grow economically through international trade is laudable. Creating opportunity in African countries also creates opportunities for American businesses.
There has been criticism over how enforceable human, worker, and environmental rights are and will be in the above TPA and TPP section. Here we see provisions created for enforcing such policies in the ability to withdraw, suspend, or limit benefits to African countries that do not comply with our criteria.
It will be interesting to see if criticism pops up over how easy it is to dump an African country from the AGOA program.
HOPE FOR HAITI
Haiti is the poorest country on the Western Hemisphere. The Haitian Hemispheric Opportunity Through Partnership Encouragement Act (HOPE II) ensures that Haiti's apparel industry receives support by increasing access to consumers. In 2013, total export revenues from the textile and garment industry accounted for 91 percent of Haiti's national export earnings and 10 percent of national GDP. The apparel industry is also among the largest employers within Haiti, creating jobs for nearly 30,000 people, and 65 percent of these workers are women. What the President is signing today extends duty-free benefits on apparel exports from Haiti until September 30, 2025. The HOPE II program has had a clear and direct role in supporting the creation of thousands of jobs in the textile and garment sectors, while providing important protections to workers.
Like the GSP program talked about in the last blog, the HOPE for Haiti program creates duty free imports in the U.S. on selected goods from a specified country, namely Haiti.
Haiti's struggles have become more recognized by U.S. citizens in recent years, and this program not only aids the country but creates benefits for the U.S. economy as well.
GENERALIZED SYSTEM OF PREFERENCES 
Though it has a wonky name, the Generalized Systems of Preferences program (GSP) is the oldest trade preferences program in U.S. history. Instituted in 1974, GSP is designed to promote economic growth in the developing world by providing preferential duty-free entry into the U.S. market for nearly 5,000 products form 122 designated beneficiary countries and territories. In 2012, the year before the program expired, the U.S. imported $20 billion worth of products, helping developing countries to increase and diversify their trade with the U.S. and grow their economies. U.S. businesses have also paid a high price after this program expired, over $1 billion in fact, on tariffs that previously entered the U.S. duty-free. Its renewal today will help some of the poorest countries in the world, U.S. businesses, and consumers alike.
I'm skipping making comments on the GSP portion of the bills as we did a whole blog on the topic last week.
THE LEVEL THE PLAYING FIELD ACT
American manufacturers, especially those competing against Chinese imports, and American workers need a level playing field to compete and win in the 21st century global economy. The Level the Playing Field Act will help protect our industry by closing loopholes and strengthening the Administration's ability to respond to foreign companies that try to undercut our domestic production. It will also enhance tools we use to assess and help prevent injury to American companies that are hurt by unfair trading practices.
This is an important area. There has been much criticism over the ability to enforce human rights, environmental, worker, trade, and other protections around the world. If such issues cannot be effectively addressed, regulated, and enforced, U.S. businesses sit at a disadvantage.
Making U.S. requirements less stringent is certainly not the answer. Looking at the effectiveness of these bills to "level the playing field" will certainly be a primary concern of many. Can this bill actually perform in this area?
What do you think of these bills passed by Congress and signed by the president? Let us know in the comments section below.