The Role of the Supply Chain in Healthcare
This is a guest post by Melissa Sorano.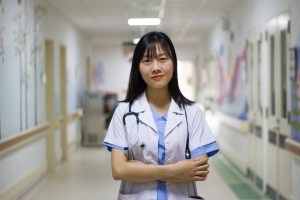 Cutting healthcare costs is an ever-present goal that hospitals and physician practices are striving hard to reach. One of the strategies that might lead to the successful completion of this mission is certainly a detailed analysis of healthcare supply chain management and the introduction of some new innovative practices.
As you might assume, the term supply chain refers to all those resources that are necessary to deliver particular services or goods to a consumer. When healthcare is in question, managing this chain is very demanding and challenging due to its complexity and an immense number of parties included in the process. The delivery of a certain product or service involves manufacturers, insurance companies, providers, hospitals, purchasing organizations, and regulatory agencies as the necessary participants.
So, how do some healthcare organizations succeed in reducing the costs despite this situation? What does healthcare supply chain management actually involve? Here is a comprehensive answer.
What does healthcare supply chain management precisely refer to?
Healthcare supply chain management refers to obtaining and organizing all the necessary products which enable proper functioning of a healthcare organization like LAC and providing patients with the necessary treatment. This does not only include medical products. Medical care providers do not only need syringes and medicine, but computers, papers, and pens, for example, as well.
The healthcare supply chain starts all the way down at the medical product manufacturer. Some products are obtained directly from these manufacturers, while others involve a more complex purchasing procedure. Sometimes it is necessary to contact and hire a group purchasing organization that will handle all the details and sign a purchasing contract with the manufacturer on behalf of the health center or hospital.
When products arrive at the healthcare organization or to any affordable walk-in clinic, they are stocked carefully into inventory by the staff involved in the healthcare supply chain management.
Regulatory agencies are also important participants in healthcare supply chain management. Their task is to examine and then confirm that the resources are fit for use. Also, these agencies decide on whether medical care providers should be reimbursed for using certain resources on particular patients.
What makes healthcare supply chains so complex?
The healthcare supply chain is so unique and complex because there are many stakeholders involved in the process and each of them has its own interest to protect. For example, very often, medical care providers prioritize certain products or medical brands because they are well trained to use them.
On the other hand, hospital executives, who always make the final decision, seek to cut costs whenever possible so they opt for affordable quality products. Also, patients too have their own opinion and vote regarding healthcare supply chain management. This is clearly evident when they are in need of some specialized medical products due to their condition. All these circumstances can even lead to a complete disruption of the supply chain for some healthcare organizations, which can have serious consequences.
How to overcome the challenges in healthcare supply chain management?
There are many steps a healthcare organization can take to reach supply chain efficiency and effectiveness. Cost transparency has proven to be a very good practice for eliminating the challenges in healthcare supply chain management. By keeping detailed records on the price and utilization data, organizations in the healthcare industry can be more efficient in tracking and managing their inventories. In addition, this strategy also guarantees an opportunity to establish more informed purchasing contracts when obtaining medical products from manufacturers.
Inventory visibility is also a major change compared to standard practice in the past. Instead of frantically stacking medical supplies without any particular order, now we can track a product from the moment it leaves the manufacturer until it is eventually used on a patient. The focus has been switched from the purchasing to the consumption activity because demand and consumption are what we should analyze and be interested in. This is a viable solution for at least one of those numerous supply chain management issues.
Finally, inventory visibility is the approach that enables healthcare organizations to reduce waste and completely eliminate product expiration. Avoiding unnecessary stacking of medical products will inevitably reduce costs, and this is what successful healthcare supply chain management is all about.
At present, there are various automated tools that can increase cost and inventory transparencies. Some healthcare organizations use computerized provider order entry systems, while others use Radio Frequency Identification Technology.
Besides the above-mentioned factors, it is highly important for all the departments in a health organization to be on the same side, follow the same principles, and insist on both efficient cost reduction and improved performance.
Involving the clinical staff is also a must when steering your aims towards reducing costs. These people will eventually be able to include the cost concerns in their minds as well when delivering the necessary care to patients. Physicians will get involved in this process only if they understand the principles underlying them. They are willing to participate in finding favorable solutions that are reasonable and a good option for them to stick to.
Conclusion
The supply chain is the core of the healthcare industry and its importance will yet increase once a value-based care model becomes dominant. Due to a large number of parties involved, the supply chain is very complex and fragmented. To be able to reduce their costs and yet offer top quality treatment to their patients, healthcare organizations will have to introduce some new practices and take risks in order to achieve results. It is essential that all the departments in an organization are on the same side, that they cooperate and take their share of responsibility in the healthcare supply management process.
This was a guest post by Melissa Sorano.
Author's bio
Melissa Sorano is a copywriter who usually writes about the moving industry, shares moving tips, and cooperates with respectable and professional movers like Zippy Shell Columbus. Currently, due to the situation with the coronavirus pandemic, she is focused on the healthcare industry and its issues.