Trade War Watch: Is Trump Misunderstanding China?
U.S. & China Spiraling Into Trade War? - Universal Shipping News
Judging by President Trump's remarks, and of course that includes tweets, there's been a turn for the better in the potential trade war between the US and China.
After tariff threats between the countries escalated all the way to $150 billion worth of penalties from each side on imports from the other country, good news on the trade war threat is very welcome.
Here's what President Trump tweeted on Tuesday:
"Very thankful for President Xi of China's kind words on tariffs and automobile barriers… also, his enlightenment on intellectual property and technology transfers. We will make great progress together!"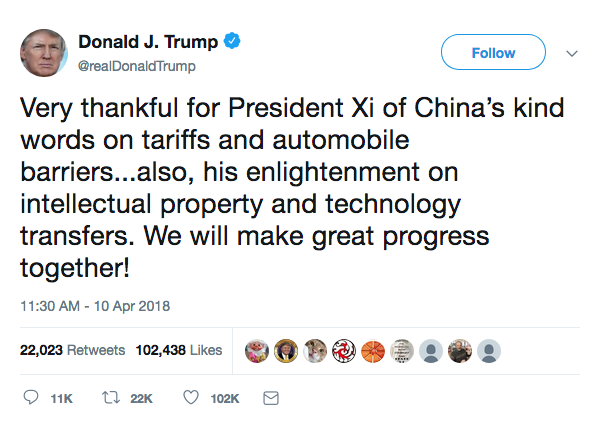 A Bloomberg article by Justin Sink reported on a meeting President Trump had this week with Republican governors and lawmakers from farm states, during which the president referred to the same speech by Chinese President Xi Jinping that Trump was referring to in the above tweet:
"He's going to get rid of a lot of taxes and tariffs," Trump said of Xi.

Xi pledged a "new phase of opening up" Tuesday in a keynote address to the Boao Forum for Asia. While the speech offered little new policy and made no mention of Trump, Xi affirmed or expanded on proposals to increase imports, lower foreign-ownership limits on manufacturing and expand protection to intellectual property — all issues central to the U.S. president's trade complaints.

Trump clearly regarded the remarks as conciliatory, and said again Thursday that it was a "good speech."
According to the article, President Trump went so far as to say, "Now we're really negotiating and I think they're going to treat us really fairly. I think they want to."
While President Xi Jinping did address issues "central to the U.S. president's trade complaints," as Sink's article says, not everyone sees this as a sign that China is making concessions relating to US demands.
A Himanshu Goenka written article on International Business Times says President Trump is completely misunderstanding the situation after President Xi's speech:
… Trump appears to have misread the situation completely, a fact highlighted Thursday by Gao Feng, a spokesman for China's Ministry of Commerce, who reiterated the Asian country was prepared and unhesitating to retaliate if the U.S. decided to escalate the trade war with China. Gao also stressed that nothing in Xi's Tuesday speech was meant to be a concession to the U.S., and that China already had a retaliation plan in place, which would be put into action if needed.

Xi's announcement of the strategy to open up the Chinese economy was completely independent of the current trade situation with the U.S., and would be carried out irrespective of the relations between the two countries, Gao clarified. He also added that U.S. actions so far were unilateral and typical trade protectionism, and that any allegations of forced transfer of intellectual property were without any basis.
Whether President Trump is misreading President Xi's words or not may not ultimately matter.
If the US sees China as addressing the concerns President Trump has raised, it may be enough for the US to relent on imposing tariffs and to continue with conciliatory signals instead.
Despite words from the Trump administration saying the US is not afraid of a trade war, there are reports that the Fed is afraid of one. Matthew Boesler reports in a Bloomberg article entitled "The Fed is really worried about a trade war":
Minutes of the U.S. central bank's March 20-21 policy meeting, published Wednesday, showed "a strong majority of participants viewed the prospect of retaliatory trade actions by other countries, as well as other issues and uncertainties associated with trade policies, as downside risks for the U.S. economy."

For Fed officials, those concerns seem to far outweigh the one-time increase in prices that tariffs would bring.
Opposing points of view and responses from the US and China on and to the Chinese president's speech might be a good thing.
China addressing Trump's concerns could be enough to keep the administration from levying tariffs without it looking like giving in to fear of the consequences of such tariffs while claiming success to the tariff threat strategy.
China saying its actions toward increasing imports, lowering foreign-ownership limits on manufacturing, and expanding protection to intellectual property are just part of China's already ongoing plans, independent of US demands, postures strength of not conceding to the US and allows the Asian country to claim success of tariff retaliation threats in keeping the US from levying its threat of $150 billion worth of tariffs.
There would probably be some truth to both sets of claims.
Ultimately, the trade war may be able to be averted with both the US and China saving face. But we'll see if that's actually what comes to pass.