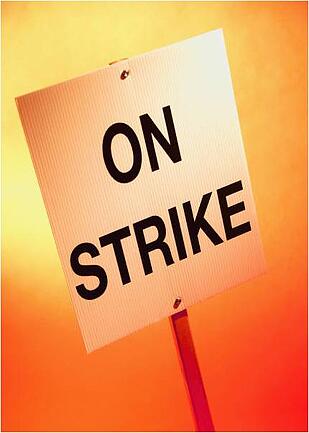 Just when the Ports of Los Angeles and Long Beach seemed to be making headway in the major congestion problems there, another issue pops up which threatens the delivery of shippers' cargo from the nation's busiest sea port.
Truckers went on strike Monday against drayage companies at the Ports of Los Angeles and Long Beach.
Once again, truckers are picketing Pacer Cartage, Harbor Rail Transport (HRT), Pac 9 Transportation, and Intermodal Bridge Transport (IBT).
According to NBC Los Angeles, about 200 of the estimated 500 drivers associated with the companies were on picket lines Monday that extended from the four drayage and logistic companies to Los Angeles and Long Beach port terminals.
Independent Contractors Vs. Employees
Truckers at these four logistics and drayage companies are classified as independent contractors instead of employees. The truckers say this is a misclassification and is resulting in stolen wages. Being reclassified as permanent employees would give the truckers better pay, workplace protections, and benefits.
It's hard to argue that the truckers should be deemed independent contractors.
KPCC quoted the a spokeswoman from the strike:
"[The truckers] do not set their own rates, and they can't refuse loads," says Barbara Maynard, spokeswoman for the organizing effort. "They also cannot go and work for other companies. They cannot take the truck that they are leasing, drive it over to another company and work for them if that company is willing to pay a higher rate."
While the fight is obviously not over, truckers have already won some battles in this misclassification fight.
Back in February, we posted a blog titled International Shipping Fought the Law & the Law Won which featured truckers winning a lawsuit against one of the four drayage and logistics companies truckers are striking against.
Steve Gorman reported in KFGO that seven truckers won a $2 million claim against Pacer Cartage for classifying them as independent contractors and charging the truckers to lease the international shipping company's trucks.
In a decision with implications for hundreds of companies and thousands of truckers in Southern California alone, a San Diego County Superior Court judge held that the seven plaintiffs should have been defined as employees of Pacer Cartage under California's labor law, not as independent owner-operators.
Judge Jay Bloom ruled the seven drivers, who were Hispanic and spoke little English, were entitled to reimbursement for the money California-based Pacer deducted from their wages for the truck leases, insurance, vehicle maintenance, fuel and other out-of-pocket expenses.
Port Terminals Continue Operating Despite Strike
There is good news for shippers in that so far, the truckers strike does not appear to be causing any major disruptions at the Ports of Los Angeles and Long Beach.
KPCC also reported a quote from the perspective of the ports on the truck drivers strike:
Jon Slangerup, CEO of the Port of Long Beach, said the truck drivers' action would not [affect] operations at the port.
"The Port of Long Beach does not employ or contract with the drivers involved in this informational action, but we respect the rights of the drivers to picket," Slangerup said. "Our Harbor Patrol officers and Long Beach Police are monitoring the situation and they are keeping the roadways accessible to all who want to do business at the Port.
"Dockworkers have reported to work and truckers have been able to enter and exit the affected terminals without delay. We do not expect that there will be any adverse impact to Port terminals or our ability to continue the outstanding progress that everyone has made in recent weeks to clear the congestion backlog and return to normal operations."
An article today from the L.A. Times on the second day of the strike reflects the words of Slangerup above with, "L.A. and Long Beach port officials said Tuesday morning there was no noticeable impact to cargo flow."
Dockworkers have continued going to work, but it is possible they could decide to honor the picket lines from the truckers. However, when the truck drivers went on strike before and the ILWU walked off the job in support, they were ordered back to work within an hour.
Previous Posts on Truckers Strikes
As mentioned above, this is not the first time truckers have gone on strike against Pacer Cartage, HRT, Pac 9 Transportation, and IBT at the Ports of Los Angeles and Long Beach.
To catch up on the history of their battle, check out these previous blog posts: