Universal Cargo Wins Best Freight Forwarder 2017 Award from TFG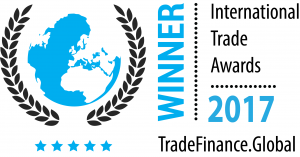 Trade Finance Global (TFG) just announced its 2017 International Trade Awards, recognizing innovative practice in international trade.
The 2017 TFG International Trade Award for Best Freight Forwarder went to Universal Cargo.
In describing why Universal Cargo was selected as Best Freight Forwarder, TFG said, "Universal Cargo is helping grow the industry through awareness, creating excellent content for those looking for freight forwarding services, and a huge growth in guides and videos on their site."
In a press release, TFG gave background on the awards and how the selections are made:
With the recently announced $1.5tn trade finance gap, primarily due to lack of SME finance and trade financing in Asian countries, the international trade awards looked at those stepping in to bridge and address this shortfall, along with ancillary products and services helping businesses trade internationally.

Each category of the TFG International Trade Awards was judged by a panel of professional judges and 2017 was the biggest awards to date, choosing from over 100 companies across 5 markets.
"We are extremely thankful to receive this honor," Universal Cargo CEO Devin Burke said upon receiving the award. "We are thrilled and feel very grateful to be recognized as the Best Freight Forwarder of 2017 by TFG. Our heartfelt thanks also go out to our amazing staff of super smart and talented people that we get to work with!"
More about the International Trade Awards:
The International Trade Awards are totally independent, judged by a panel of leading experts.

The TFG Awards are presented each year, recognising businesses in the structured trade and commodity finance space, as well invoice and trade finance, and those ancillary services facilitating trade.

Tradefinanceglobal.com editor James Sinclair, said: "2017 has been a tough year. With Brexit causing nervousness in markets and amongst businesses, and SMEs looking to drive efficiencies and grow the bottom line; trading overseas has been far from easy."

"We were proud to nominate fintechs and disruptors who are using technology to accelerate the use of paperless trade, automation and eKYC. It's been a pleasure for the judging panel reading independent reviews, talking to experts in the sector, and reviewing websites."
TFG is the leading authority and information hub for businesses seeking trade finance, export finance, and supply chain finance.
Here is the full list of the 2017 TFG International Trade Awards and winners:
Best Trade Finance Company – Ultimate Finance (Winner), Woodsford TradeBridge (Runner Up)
Best Supply Chain Financier – Greensill Capital (Winner)
Best Alternative Financier – Ebury (Winner)
Best Business Finance Provider, Europe – Funding Circle (Winner), Working Capital Partners (Runner Up)
Best Business Finance Provider, Asia – Asian Development Bank (Winner)
Best Business Finance Provider, Australia – Scottish Pacific (Winner)
Best Business Finance Provider, North America – BlueVine (Winner)
Best Business Finance Provider, South America – BBVA (Winner)
Best Freight Forwarder – Universal Cargo (Winner)
Best Trade Finance Recruiter – Johnson Associates (Winner)
Best Foreign Exchange Provider – Smart Currency Business (Winner)
Innovator in Global Trade – TradeIX (Winner)
Disruptor in Mobile Banking – ipagoo (Winner), Atom (Runner Up)