US & China Call Trade War Ceasefire then Tensions Escalate
Good & Bad News on Trade War w/ China - Universal Shipping News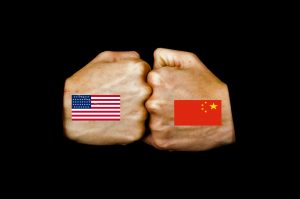 In one country, President Donald Trump and President Xi Jinping ate dinner together and worked out a ceasefire on the trade war between the U.S. and China. In another country, an arrest was happening to escalate that war. Saturday was an interesting day.
Despite the second event listed above, this weekend brought great news for U.S. shippers who import goods from China. Tariffs on $200 billion worth of product will not jump from 10% to 25% on January 1st as previously scheduled.
This news does not mean the tariff increase will not happen at all—especially in light of the arrest that we'll come back to later—but the duty increase has at least been postponed as the U.S. and China called a ceasefire on the trade war to conduct negotiations.
The dinner between President Trump and President Xi happened in Argentina. And after it was over, the White House said the following in a statement:
On Trade, President Trump has agreed that on January 1, 2019, he will leave the tariffs on $200 billion worth of product at the 10% rate, and not raise it to 25% at this time. China will agree to purchase a not yet agreed upon, but very substantial, amount of agricultural, energy, industrial, and other product from the United States to reduce the trade imbalance between our two countries. China has agreed to start purchasing agricultural product from our farmers immediately.

President Trump and President Xi have agreed to immediately begin negotiations on structural changes with respect to forced technology transfer, intellectual property protection, non-tariff barriers, cyber intrusions and cyber theft, services and agriculture. Both parties agree that they will endeavor to have this transaction completed within the next 90 days. If at the end of this period of time, the parties are unable to reach an agreement, the 10% tariffs will be raised to 25%.
There was a big push from U.S. shippers to get their importing from China completed before the new year to beat the tariff increase. For those who didn't make it, there are at least three more months before this tariff escalation could hit.
Following two previous tariff hikes in the trade war with China, the list 3 duties scheduled for January were not only a major concern for shippers but raised fear of a "list 4" tariff hike hitting all remaining import goods from China.
"Our Man in DC" Peter Friedmann says that the ceasefire "delays perhaps indefinitely implementation of the feared 'List 4', the 'everything else list' … which would include footwear, apparel, consumer electronics, etc. So, at least for now, List 4 is off the table."
But that table is going to be a tense place to sit because of the arrest that I told you we'd get back to.
The arrest happened in Canada and may have a major impact on how fruitful the negotiations between the U.S. and China will be over this 90-day period. To say that impact is not likely to be positive would be a significant understatement.
CFO of Chinese tech giant Huawei, Meng Wanzhou, was arrested in Canada on Saturday with the U.S. seeking extradition. Coverage all over the world on this story is similar in its outlook. Headlines read like this one from the UK news source Express: Huawai arrest shatters truce in US-China trade war.
Jethro Mullen wrote the following in an article for CNN Business:
The arrest of a top executive at Chinese tech giant Huawei at the request of the US government has angered Beijing, alarmed investors and raised new doubts about the fragile truce that the leaders of the world's top two economies reached just days ago.

"You have to see this as a significant escalation in the trade war," said Christopher Balding, a China expert at the Fulbright University Vietnam in Ho Chi Minh City.
China is demanding Wanzhou's release.
Only a quick glance at Twitter shows how intensely political this arrest is.
People's Daily, China tweeted:
China's embassy in Canada on Thursday demanded the immediate release of Chinese national Meng Wanzhou, who was arrested by Canadian police at the request of the US, even though she hasn't violated any US or Canadian laws, calling the move a serious violation of human rights.
On the other extreme is a tweet from Senator Ted Cruz:
Huawei is a Communist Party spy agency thinly vieled as a telecom company. Its surveillance networks span the globe & its clients are rogue regimes such as Iran, Syria, North Korea & Cuba. The arrest of Huawei's CFO Wanzhou Meng in Canada is both an opportunity & a challenge.
Does the truth lie somewhere within or between those statements? Are both false? How largely did trade factor into this arrest? Is there a thought process that this arrest could create leverage within the trade negotiations between China and the U.S.? Will China make a retaliatory move?
The situation is complex and raises many questions. But as trade markets around the world reacted with big drops at the news of the arrest, there's no denying this move has an impact on trade.
From the CNN article, trade violations are likely—to no one's surprise—the reason for Wanzhou's arrest. Mullen writes:
The US and Canadian governments haven't specified what charges Meng faces, but her arrest follows reports this year that the US Justice Department was investigating whether Huawei violated American sanctions on Iran.

"Under the Obama administration, the US indicted Chinese personnel on similar charges, but was reluctant to take more drastic action such as arresting the individuals in third countries, over fear that Beijing would retaliate against US interests in China or in other countries," Eurasia Group political risk analysts wrote in a note.
And so, we wait and watch after an eventful weekend how the trade war will progress.