What Is New With Maritime Business in 2019
This is a guest post by Emily Marchant.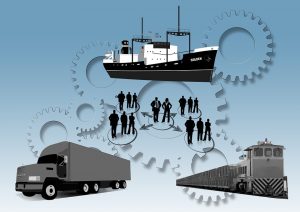 Because of the international shipping industry's volatility and the surge of shipments that happened in July of 2018 and lasted until the end of the year, there are many questions on what's going to happen as 2019 continues hurtle toward 2020. There are some general expectations for the year continuing ahead of us, and some of the trends will continue in 2020 as well.
Here are 7 of those trends:
1. Switch to Southeast Asia accelerates
China is steadily moving away from being a factory for the world on various goods and turning into a consumer while Southeast Asia takes over. China's GDP indicates a slowdown, and there is a shift of labor intensive productions like textile, apparel, footwear, and furniture production.
Western China still provides for cheaper labor, but the coastal area does not. Being so far inland, though, causes more expensive transit rates and longer times.
Vietnam is one of the biggest winners in this switch along with other countries like Indonesia and Thailand. They have good infrastructure and can accept larger vessels.
Other countries like Myanmar, Cambodia, Bangladesh, and so on are also in this game, but their issues like reliability and politics are stopping them from being at the top of the market. India is still going strong but there are also issues with instability.
2. Rate levels will be based on US-China trade talks
The US-China trade war has affected many companies but probably none moreso than importers who have to pay higher tariffs on imports from China.
Many carriers cancelled services while expecting June to be a slow season, but the US implemented tariffs and importers started shipping faster to get past the high taxes. This placed pressure on freight rates and they ended up being the highest in eight years. Freight rates are shaky indeed, and it's almost impossible to predict what they will be like in the future. However, we do know the US-China trade deal will factor into rates while supply and demand, obviously, will remain a very large factor.
3. Industry consolidation will affect supply chain operations
There might be some vessel sharing agreements between carriers which will change how supply chains operate. It's unlikely, but not impossible, that there will be any big mergers this year. However, the trend of carrier competition shrinking in the ocean freight because of mergers, buyouts, and other issues is not finished. Smaller carriers that operate independently will be targets for large carriers.
Consolidation can result in fewer costs and better efficiency for carriers. However, shippers should worry about less competition having a negative impact on service and increase freight rates in the long run.
4. There will be more use of blockchain
Blockchain is already widely used across the globe for many different operations, but it will grow even more in 2019 and 2020.
The embrace of technology, in general, will grow in the shipping industry and there are many developments on the way. People in established companies and in startups will use technology more in their operations.
However, some people say that big maritime companies will invest more in automation, big data, and cloud services than in the Internet of Things (IoT) and blockchain. All of these technologies could be effective and useful to maritime businesses.
5. NVO market share will grow in transpacific trade
Many companies have figured out that low rates are not the most important thing in international shipping. This is because low rates can come with poor service and low reliability, both of which can be very costly.
Carriers have been notoriously unreliable in their quest for more profit maximization per vessel. They are looking to take advantage of the strong market available to increase their revenue and maximize their margin, but often fail to focus on service.
In 2018, we were able to see that there was a 1.7 % growth in the non-vessel operating (NVO) share of the transpacific market where mid-sized beneficial cargo owners (BCO) moved towards non vessel owning common carriers (NVOCC), dividing some of their volumes to get better service and better protection.
BCOs are likely to continue moving further toward NVOCCs.
The market dictates rates, as usual. Fixed rates and lower rates from carriers don't mean that much in a strong market in high demand situations where lower rates are not sustainable.
Carrier alliances or vessel-sharing agreements have caused some issues for BCOs. Additionally, many vessels arrive at different terminals where equipment issues often arise on a daily basis. These issues often mean additional costs for BCOs, who are finding NVOCCs offer services that can help them mitigate or avoid costs and delays.
6. Shift to meet customer demand
To keep up with demands for better service, some carriers have started offering some premium services that will improve their operations. Some of those services involve guarantees with loadings, faster unloading, guaranteed transit times, and so on. In order to meet more customer demands, streamlined service demands will extend to carriers in 2019.
7. Decrease of environmental impact
Beyond the obvious cleaner fuel use in ocean freight shipping because of the IMO 2020 mandate, there will be more focus on protecting the environment rather than further damaging it in 2019 and beyond.
Marine biotechnology will focus on developing new ways to still transfer goods but in a way that doesn't damage sea animals. Energy management will help protect the air and water. The materials will also be more environmentally friendly.
Conclusion
This year will be somewhat of a turning point and transitional year for the maritime market. However, there are many big unknowns when it comes to this industry. Fuel costs, trade discussions, entrants, and consolidations will change many things.
This was a guest post by Emily Marchant.
Author Bio
Emily Marchant is a marketing manager at Academic brits and Origin Writings. She is responsible for renewing and retaining existing subscribers through campaigns that involve newsletters, sponsored content, partnerships, ads, and events. She's also an excellent project manager, team player, and blog contributor at PhD Kingdom.