Carriers Expect To Recoup IMO 2020 Fuel Costs Through Shipper Contracts
We're finally seeing news on how carriers will pass higher fuel costs, which are on the way, to shippers.
IMO Cleaner Fuel Mandate Histeria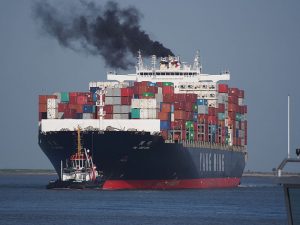 It seems that all the news around the International Maritime Organization's 2020 cleaner fuel mandate (IMO 2020) has been gloom and doom for carriers. You know, things like MOL President and CEO Junichiro Ikeda saying, "We're all going to go bust."
Comments like that almost made it feel like carriers were trying to create hysteria over IMO 2020. How could these (giant) companies that already struggle with profitability possibly survive the higher cost of meeting a 0.5% sulfur cap on their fuel starting next year? All the carriers will go out of business and the world's ocean freight industry will collapse!
Thanks for the commentary, Chicken Little, er, Mr. Ikeda.
Yes, carriers have often made poor business management decisions that helped them achieve years with losses measured in the billions of dollars (enough to make some question if carriers are just bad at business), but did anyone really believe these companies would just sit back and take the higher fuel costs coming in 2020 all on themselves?
Shippers knew these costs would trickle down to them.
Still, carriers seemed scared. And not without reason. Carrier competition in the international shipping industry has been shrinking over recent years. Poor capacity management and rate wars from carriers created an overcapacity plague and such downward pressure on freight rates to not just unhealthy but unsustainable levels for carriers. Over and over again, carriers tried to bolster rates through things like general rate increases (GRI) only to be unable maintain them (often from undercutting each other).
Therefore, it would not be hard to imagine some carriers floundering in the wake of IMO 2020's higher fuel costs. In fact, there's little reason to think carrier competition won't continue to shrink (even though it feels a little bit more stable than a couple years ago). Still, no one seems to think 2020 will be the year Maersk's prediction that carrier competition shrinks to just 3 global companies will come to fruition.
Carriers Will Pass Increased Fuel Costs to Shippers
Now we're seeing our first positive headlines concerning carriers and IMO 2020 as Bill Mongelluzzo writes an article in the Journal of Commerce (JOC) titled "Carriers gaining confidence in low-sulfur fuel negotiations."
The article spotlights how carriers think they will recoup not just some of their cost increases from the more expensive cleaner fuel but all of those costs:
Container lines are expressing growing optimism that they will be able to fully recoup the higher operating costs caused by a global low-sulfur fuel mandate in annual trans-Pacific service contracts.

…

Container carriers and beneficial cargo owners (BCOs) tell JOC.com they are separating fuel and freight costs in annual service contracts, despite a historical preference for "all-in" contract rates. Even more importantly, carriers and shippers are developing bunker fuel adjustment factors, either proposed by the carrier or the shipper, leaving the actual cost of low-sulfur fuel as the only variable to be plugged in later this year.
Carrier Fuel Cost Recoupment Actually Good for Shippers?
Shippers always like the idea of paying less money on their imports and exports, so initially, fuel costs being separated out and passed on to shippers doesn't sound like a good thing. However, thinking about the problems caused by these increased costs being shouldered by carriers gives reason to think of this as not only good for carriers but beneficial for shippers too.
Mongelluzzo also wrote in his JOC article:
[Carriers fully recouping higher operating costs is] a positive sign not just for carriers, but also for shippers, who could see increased blank sailings and even canceled service strings if the container shipping industry is forced to slash capacity because it can't shoulder the billions in extra annual costs to meet the International Maritime Organization's (IMO's) mandate.
We just posted a couple weeks ago about the expectation of increased transhipment expected in the upcoming year because of IMO 2020. Shippers hate transhipment because of the costly delays and increased risks of cargo loss and damage that come along with it.
If carriers are fully recouping their higher fuel costs, that eliminates the need to so through fewer direct port calls, which was to be the cause of increased transhipment.
Conclusion
Maybe all the IMO 2020 carrier hysteria was designed to make shippers to see a need for carriers to recoup these higher fuel costs. Even if it was, that doesn't make the recoupment any less necessary.
Though it sometimes feels like the way of the international shipping industry is carriers versus shippers, it should not be viewed that way. Carriers provide the service importers and exporters need to be, well, importers and exporters. In any industry, healthy service providers are optimal for consumers of that service.
Shippers thought record low freight rates were great. However, those low rates became costly when they played into Hanjin's collapse — delaying cargo for many, many shippers — shrunk carrier competition, or decreased sailings.
Similarly, shippers don't like seeing these fuel costs fall to them. However, avoiding the decreases in service and carrier competition and likely increases of costly issues on shipping container moves probably makes this cost worth it for shippers in the long run.