Are You in Compliance With New TSCA Requirements, Shippers?
New TSCA Title VI Import Certification Requirements and Who It Affects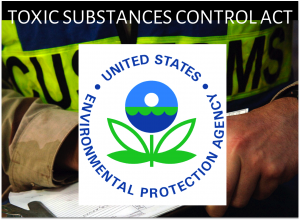 There's a new import certification requirement of which U.S. shippers of goods containing composite wood need to be especially aware. It is actually worth it for all importers to be aware, as there are forms for shippers in general to certify that their goods are either in compliance with applicable rules or not subject to them.
What rules are we talking about?
Well, on March 22nd, 2019, Formaldehyde Emission Standards for Composite Wood Products final rule pursuant to Title VI of the Toxic Substances Control Act (TSCA) went into effect. Yes that's a mouthful, so let's cover what it means.
The final rule creates requirements on three composite woods:
hardwood plywood
medium-density fiberboard (MDF, which includes thin-MDF)
particleboard
There are many, many goods commonly manufactured with one or more of these composite woods. In an article by Chris Reynolds of INLT, Universal Cargo's house customs broker, Reynold's lists examples of such goods: furniture, kitchen cabinets, flooring, picture frames, and wooden children's toys. However, products containing composite wood are certainly not limited to these.
This new final rule requirements affect many Universal Cargo clients as we serve a great deal of importers in the furniture industry. Of course, our furniture importing friends are not our only customers we are making sure are in compliance during the import process.
The big thing to know is that the final rule subjects products with composite woods to labelling and certification requirements.
Determining If Your Product Falls Under New TSCA Formaldehyde Final Rule Requirements
On a page the EPA posted on its website titled Frequent Questions for Regulated Stakeholders about Implementing the Formaldehyde Standards for Composite Wood Products Act, the following products are listed as not being covered by the final rule:
Hardboard
Structural plywood
Structural panels
Structural composite lumber
Military-specified plywood
Curved plywood
Oriented strand board
Prefabricated wood I-joists
Finger-jointed lumber
Wood packaging, such as pallets, crates, spools, and/or dunnage (this exempts wood packaging from the TSCA Title VI emission standards even if the wood packaging might otherwise, in the absence of the exemption, be regulated);
Composite wood products used inside a new vehicle other than a recreational vehicle [Note: Mobile homes and/or trailer homes are considered manufactured housing and are regulated under TSCA Title VI]
Composite wood products used inside new rail cars, boats, aerospace craft, or aircraft
Windows that contain composite wood products, if the windows contain less than 5% composite wood product by volume
Exterior doors and garage doors that contain composite wood products, if the doors are made from composite wood products manufactured with NAF or ULEF resins, or the doors contain less than 3% composite wood product by volume.
Even with the above lists of the three composite woods covered and the products not covered by the final rule, there is still room for many shippers to wonder whether the product they're importing falls under the new requirement or is exempt.
The U.S. Customs and Border Patrol (CBP) website has a Tips for Trade when filing an EPA TSCA Certification in ACE page that gives the following instructions to receive help determining if you fall under the new labeling and import certification regulation:
To determine if you need to file the TSCA Section 13, ODS, or TSCA Title VI Import Certifications, please contact the TSCA Hotline at (202) 554-1404. The TSCA Hotline operates Monday through Friday, from 8:30 a.m. to 5:00 p.m. Eastern time. You can also send an email to tsca-hotline@epa.gov.
Another option is using INLT's HTS lookup tool to check whether your product is subject to these regulations. Reynolds gives the instructions: "If the HTS is flagged as EP7, a positive certification statement is required. It cannot be disclaimed."
Of course, if you ship through Universal Cargo, we always work hard to guide you through the import and export process to make sure you meet all requirements with your cargo, so its shipment goes as smoothly as possible.
What Does the TSCA Title VI Import Labelling Require?
Reynold's INLT article sums up the final rule import labelling as follows:
On March 22, all composite wood panels manufactured in or imported into the United States must be TSCA Title VI compliant and the label on composite wood panels must include the panel producer's name, lot number, an EPA-recognized TSCA Title VI Third-Party Certifier number, and a TSCA Title VI compliance statement. Prior to this date, the CARB ATCM Phase II label satisfied the requirement.

Similarly, the labels on finished goods imported into the United States must include the fabricator's name, the date the finished good was produced (in month/year format), and a TSCA Title VI compliance statement.
Leila Nourani, in an article on the National Law Review website, breaks down the labeling a little further, especially in relation to products' California Air Resources Board (CARB) requirements, which, of course, is very important for those importing to California:
… composite wood products must be labeled as TSCA Title VI compliant, and just having a label indicating California CARB II compliance is no longer sufficient.

In order to be compliant with the new TSCA Title VI labelling requirements, fabricators of finished goods that contain composite wood products must label every finished good they produce, or every box or bundle containing finished goods.

Finished goods that comply with TSCA Title VI and are labeled as TSCA Title VI compliant will be accepted as being compliant with California CARB's standards, because the TSCA Title VI and CARB standards are identical. However, CARB recommends labeling panels and finished goods offered for sale in California as being compliant with both sets of regulations, because retailers and consumers are familiar with the CARB Phase II label already.

In order for a label to be both California CARB II and federal TSCA Title VI Compliant as of March 22, 2019, it is recommended that both the finished good and/or its box is labelled as follows:

The label may be applied as a stamp, tag, or sticker;

The label must include, in legible English text:

Fabricator's name;
The date the finished good was produced (in month/year format);
A statement that the finished goods are TSCA Title VI compliant, i.e. "TSCA Title VI Compliant" or similar;
A marking to denote that the finished goods are CARB Phase II Compliant, i.e. "California 93120 Phase 2 Compliant for Formaldehyde" or similar;
If all of the composite wood product used in the finished good was made with no-added formaldehyde-based resins, or ultra low-emitting formaldehyde resins it shall be labelled as such, e.g. "Produced with all NAF-based products" or "Produced with all ULEF-based products."

The regulations specify the minimum information required for a label, but do not specify the format, color, size, or font for the label.
What Does TSCA Certification Look Like?
Shippers, and not just those importing products falling under the TSCA formaldehyde final rule, have forms in their paperwork certifying TSCA compliance.
If importing wood, there's a form where the shipper fills out information, including a bill of lading or reference number and product description; check a box stating either "I certify that the regulated composite wood products, component parts or finished goods imported in this shipment comply with all applicable rules or orders under TSCA Title VI" or "I certify there are no composite wood products, component parts or finished goods in this shipment"; and sign.
Then there's the TSCA chemical certification form.
This form is similar to the wood one explained above, requiring importers to check a box stating either that all chemical substances in their shipments comply with all applicable rules or orders under TSCA or that all chemical substances in their shipments are not subject to TSCA before signing.
About TSCA
TSCA, administered by the EPA, regulates chemicals, both new and existing. It's designed to protect the public from "unreasonable risk of injury to health or the environment" by regulating the manufacture, shipping, and sale of chemicals, affecting importing and exporting requirements of many goods.
Although the final rule discussed in this blog just went into effect on March 22nd, TSCA has been around since 1976 with additional sections being added over the years.