What's Shipageddon & Do You Need to Know About It?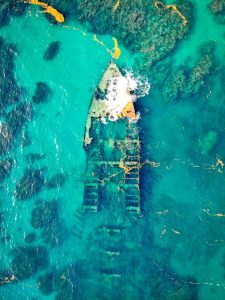 There's a new 2020 doomsday word floating out there: shipageddon.
NBC, New York Times, and the Washington Post – none of which is my favorite news source – have all been throwing the word into headlines and articles. The word has started catching on elsewhere as well. So what is shipageddon? Is it something the media is inventing to create fear, get clicks, and drive an agenda, or is it a dramatic name to spotlight something we actually should pay attention to?
Basically, shipageddon is the already much increased online shopping as it began to hire a company to increase online sales but because of the pandemic meeting the holiday season and potentially resulting in a large logjam of shipping goods and shortages on store shelves.
Despite its appearance in the Washington Post and it sounding like an excuse for why Amazon won't be delivering your Christmas orders on time, shipageddon is not a completely manufactured story to push Jeff Bezos's agenda. That's not to say the media won't use or isn't using shipageddon to drive agendas; I have already seen it used as a reason to vote for one presidential candidate over the other when whom you vote for in the upcoming election isn't going to impact shipping this holiday season.
Shipageddon in International Shipping
While shipageddon mostly refers to a potentially bad shipping situation within the U.S., combining last-mile shipping and general domestic shipping with inventory shortages in stores, the term has also started getting use in the international shipping realm. Here, it mixes an increased demand and panic from American businesses with worries about port congestion, shipping issues from ports to warehouses, and shipping demand outstripping ocean freight capacity and shipping container availability.
A Greg Miller-written article in American Shipper with shipageddon in the title starts in something of an alarmist way:
"The ships are 100% full. The containers are 100% full. You can't get a container built. You can't pick up a ship from the spot market. The whole container-shipping cycle is at absolutely full pelt," exclaimed Jeremy Nixon, CEO of Ocean Network Express (ONE), the world's sixth-largest container line.

October's ocean container market is "unbelievable," said Nixon during an International Chamber of Shipping (ICS) virtual event last week. "We are sold out," he revealed.

"Our job now is to keep the network going from an operational standpoint," Nixon continued. "The ports are getting jammed up now. We're starting to see bottlenecks in the supply chain. That's another challenge going into this winter."
October is indeed holding strong when it comes to international shipping, particularly in terms of eastbound transpacific shipping. I would call Nixon's "unbelievable" description a bit strong, but understandable if the Ocean Network Express (ONE) is sold out when it comes to shipping for the month. However, international shipping's peak season in 2020 has been strong, and it is by no means unheard of for the peak season to extend into and even through October.
Growing and growing freight rates have leveled off through October while cargo volume has seemed to actually hold pretty stable since August. Universal Cargo's shipments are almost identical between August and September, and October is looking like it could end with official numbers right in line with those previous months'.
Nixon's words notwithstanding, ocean freight carriers as a whole do have the ability to add capacity to shipping lanes if needed. Carriers have flexed their ability to control capacity throughout the year. Adding shipping containers, on the other hand, is trickier. There has been much made about a shipping container shortage this year, with a number of factors, mostly related to the pandemic, playing into that.
The word shipageddon doesn't really come into play in Miller's article until after all of the above, when it brings the issue back to American stores:
Inventories are historically low. There is rising concern that companies will not be able to import and deliver enough goods to meet consumer demand during the holiday season.

The New York Times cited rising concerns over the so-called "shipageddon" scenario, in which the retail supply chains and parcel shippers descend into chaos as Christmas nears.

A report released Monday by investment bank Jefferies warned of "empty shelves and raided storerooms," noting that "it's not just local grocers running out of essentials."

"The summer and fall stages of the U.S. recovery have been marked by incredibly strong retail and housing sales, which have both surpassed pre-COVID levels by a wide margin," wrote Jefferies. "Due to the torrid pace of sales and virus-related supply disruptions, inventory-to-sales ratios have plummeted to record lows."

The Evercore ISI survey found that none of the consumer-business respondents thought inventory levels were "too high" or "a little too high." Only 10% said they were "about right," with 30% believing they were "a little too low" and 60% answering "too low."
The implication is that retailers still need to bring in a lot more goods, primarily from China. If so, that is bullish for ocean container lines and concerning for U.S. shippers in terms of transport timing and availability, and spot and contract pricing.
Still, shipageddon is an extreme potential outcome within the U.S. with ramifications on international shipping. 60% of responding businesses (assuming they are a good representation of U.S. businesses overall) saying inventory is too low versus 40% saying it is a little too low or about right does give evidence that international shipping demand should remain strong for the moment. However, it is a long way from creating an apocalyptic outlook. It also says something good about the demand that is out there in the American marketplace.
Increase of Alarming Words
Shipageddon is an incredible intense word. Armageddon is the final battle between good and evil before Judgment Day. It marks the end of the world. To call the potential logjams in shipping we could see this year the end of the world is extreme to say the least.
We're seeing an increase in words like this from the media. In 2014, when contract negotiations became so contentious between the International Longshore & Warehouse Union (ILWU) and the Pacific Maritime Association that cargo piled up at the ports, crops rotted there instead of being exported, and stores didn't receive goods in time for holiday shopping, we didn't call that shipageddon, portageddon, or uniongeddon. The economy lost billions. Foreign business contracts and relationships were lost. There were businesses that folded. However, we didn't compare it to the end of the world.
The "descent into chaos" type of language accompanying the made-up doomsday word shipageddon is designed to sound frightening. Especially with this being an election year, language use is nauseatingly nyperbolic right now. People are called evil based on whom they vote for and existential threats apparently lie behind every policy or any phrase uttered by the wrong political party. However, no matter how bad shipping looks in the lead-up to Christmas, it is not the end of the world.
There may be inventory shortages around the holidays. There likely will be additional holiday shipping charges from the likes of UPS, FedEx, and others. Longer delivery times on Amazon orders are likely. However, it is unwise to become fearful or panicked when hearing a word like shipageddon.
Think about anytime you've heard these kinds of end of the world predictions in the past: Y2K, the verified gross mass (VGM) rule, carmageddon. Let me explain that last one for those of you who didn't live in L.A. in 2011. A stretch of the 405 freeway was going to be shut down for a few hours to fix a bridge. The local radio, television stations, papers, politicians, homeless people in the streets went on and on about how traffic would be backed up for days and stranded motorists whose cars ran out of gas would be aimlessly wandering the streets and begging themselves. People got scared. They stayed off the roads. And I've never gotten across the city faster in all my years living there.
If you're planning to do Christmas shopping online, sure, doing it early would be a good idea to make it more likely the presents will arrive on time. Be prepared that there could be some increases in prices and shipping around the holidays. And, yes, know that it's possible you could see some shortages at stores. However, let's not let the media panic us into making a run on toilet paper this Christmas. That won't go well with plum Christmas pudding or fruitcake.