Container Shortages, Record Freight Rates, & Fees, Oh My!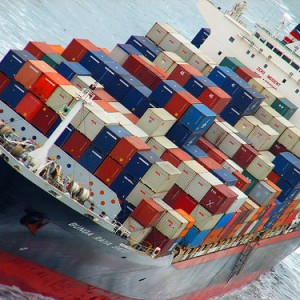 The peak season continues to be strong, especially for transpacific ocean freight shipping. And surprise, surprise, equipment shortages are reported to have come with the strong peak season.
Mike Wackett writes in a Loadstar article:
All the major carriers are experiencing equipment shortages at Asian ports with popular 40ft high cubes in particular short supply at Chinese depots.
Experts are now expecting the strong peak season, and shortages along with it, to continue into October, past Chinese Golden Week (October 1st-7th), when the peak season often, though certainly not always, slows down.
Wackett adds later in his article:
And with surprising robust export demand, particularly on the transpacific, expected to continue into the traditional slack season and beyond the Chinese Golden Week holiday, the equipment shortage looks unlikely to improve for some time.
I'm not as bullish on October volume numbers as many of the experts are. That may seem surprising as I was predicting we would have a peak season when many of the experts were saying 2020 would not see a peak season at all. Or maybe it's not surprising that I'd go against the grain. My expectation of decreased volume in October, however, is largely based on the anecdotal evidence of Universal Cargo seeing much less demand and far fewer sales for importing and exporting cargo in October so far as compared to what we saw for September in the lead-up to this month.
That is not uncommon demand behavior for this time of year. However, with expert expectations seemingly being higher than what I'm seeing, it is possible there could be a demand drop higher than many in the industry are expecting. If this takes carriers, which have been adding capacity to ocean freight lanes lately, by surprise, it could cause some relief from the record high freight rates shippers are currently seeing.
However, U.S. shippers shouldn't expect to save money on shipments, especially imports from China, yet. More fees are being implemented by carriers. Yes, on top of record high rates, all the general rate increases (GRIs) carriers have implemented in recent months, and the no-roll premiums they've added for shippers to purchase to ensure their cargo doesn't get rolled back to later sailings. Many shippers feel they have no choice but to pay these additional no-roll premiums, adding fire to accusations that carriers are profiteering off the pandemic.
The new fees some carriers are charging now are "box priority fees." Yes, that sounds much like the no-roll fees. Pay more money to not exactly guarantee but prioritize your goods for getting a shipping container right away. Add that to the list of things shippers feel suspicious about in the middle of a pandemic when ocean freight carriers are managing enormous profits instead of the gigantic losses that were projected at the beginning of the year.
That suspicion from shippers, and freight forwarders as well, is clear when Wackett introduces box priority fees in his article:
… one Chinese forwarding source said equipment availability was more about "what you are prepared to pay", with some lines introducing a "box priority fee", payable at the time of booking.
Going all the way back to March when the novel coronavirus was just starting to hit America, U.S. shippers have been dealing with fees related to the pandemic and equipment. Then it was detention fees as carriers cancelled sailings and it was made extremely difficult for shippers to return containers to ports.
At the moment, freight rates are still climbing. I do think the peak is finally almost here. October will be an interesting month watch.