Why Air Freight May Be a Better Option for Many Shippers
For more than a year, many shippers who have always shipped by sea have turned to air freight for their heavy lifting.
Air Freight, Ocean Freight Price Gap
There's a reason 90% of goods are transported around the world by ship. It's cheaper. Well, let's say more cost efficient. There, doesn't that sound better? Actually, it's much, much more cost effective. But lately, that hasn't been as much of the case.
When comparing the two methods of cargo transport, Freightos still has on its site: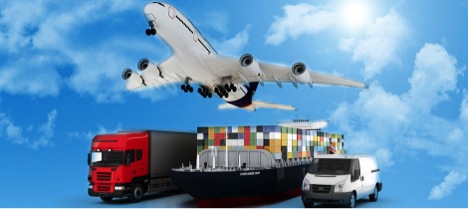 … a medium size 2000 lbs box from Shenzhen, China to Los Angeles, USA, can cost $1,500 by ocean but a whopping $8,000 or more by air.
Skyrocketing Ocean Freight Rates Shrink Gap
However, ocean freight rates have skyrocketed since the COVID-19 pandemic struck in 2020. For a while, we were talking about ocean freight rates at more than 500% what they were prepandemic. Multiply $1,500 by five and you're getting awfully close to that $8,000 number. ($1,500 x 5 = $7,500 in case you really hate doing math)
Suddenly, the price gap is not so pronounced. In some cases, costly delays caused by the basically endemic port congestion seen since the pandemic and unfair detention and demurrage fees caused air freight to actually be the cheaper, ahem, more cost effective for shippers.
It's far from the case that air freight is now the less expensive option all around, but the cost gap is smaller, and in some cases air may actually be more cost effective.
Air Freight Rates Did Increase Too
It is not as though air freight didn't become more expensive too. In late 2021, international shipping news outlets were reporting air freight to be twice as expensive as it was prepandemic. However that was about the time ocean freight rates were starting to average over 5 times more expensive than they were prepandemic.
Here's some crazy data from around that time published in a November, 2021 American Shipper article by Eric Kulisch:
Spot tariffs — for immediate transactions not subject to more favorable long-term contracts — can cost upwards of $20,000 for a forty-foot equivalent unit from China to the West Coast when a host of premiums and surcharges are included. That's 10 times greater than pre-pandemic rates and doesn't even include domestic transportation to move a shipment across the country.

…

Pre-pandemic, the average price to move air cargo was about 13 to 15 times higher than ocean, but now it is only three to five times more expensive, according to the International Air Transport Association and industry experts.
Gap Wasn't Done Shrinking
The gap between air and ocean freight continued shrink in 2022, but there is, of course, plenty of fluctuation.
A great deal of air cargo is moved on passenger flights. Covid restrictions really reduced the number of those flights happening, so it isn't surprising that cost went up in 2020 and 2021 with that decrease in supply, especially as demand was still soaring. All the Covid flight restrictions in the world are not now gone, but there has been a great deal of reduction in that. With the hopefully continuing restriction reduction, there is also a reduction in upward pressure on air freight rates.
Upward pressure on ocean freight rates has finally seen reduction as well. In fact, ocean freight rates did come down some in recent months. However, ocean freight rates have now gone back up again. A Hellenic Shipping News article published today reports August shipping rate growth in both the short- and long-term:
Long-term ocean freight rates climbed yet again in August, edging up 4.1% month-on-month to stand 121.2% higher than this time last year.
This adds up to it still being a good time for shippers to check air freight rates rather than just assuming ocean freight rates are lower enough to make it the best option.
More Factors then Freight Rates
Of course, there's more to compare when deciding between ocean shipping and air freight. Several years ago, Universal Cargo put out calls to ask people what we should cover with our videos and blogs. Jamie Hill inquired about air freight vs. sea freight on Twitter: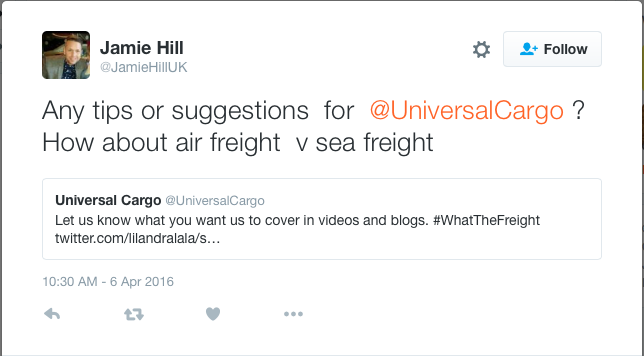 I wrote up a blog and made a video covering 8 things to consider when deciding between air and ocean freight. Here's the now practically vintage video:
The biggest advantage air freight offers is speed. When shippers need their goods fast, that's when they typically look to the skies. But now it's time to look up not only as a last resort.