2 Good News International Shipping Stories in Midst of COVID-19
We could probably all use a little good news right now. Shippers, specifically, who are seeing blank (cancelled) sailings from ocean carriers, operating hours cut at port terminals, and the risk of detention and demurrage fees increase while their businesses may be shut down during shelter-in-place orders across the U.S. in the wake of this pandemic, could use some good news.
Luckily, there are some positive international shipping stories in the middle of this COVID-19 pandemic. And I'm not just talking about projections of surges when we get past this crisis stage.
Here are two such good news stories.
MSC Offers New Storage Service that Could Help Shippers & Reduce Congestion at Ports
Let's give MSC a positive spotlight as its coming off the negative one after being the first major carrier to run afoul of the new IMO 2020.
With a service they call "Suspension of Transit" (SOT), MSC is opening space in some of its terminals around the world for shippers to store containers of goods during this pandemic.
Gavin van Marle reports in a Loadstar article:
As consumer demand in Europe and North America drops off a cliff, fears have grown among logistics operators of an impending container congestion crisis at import destinations as shipments arranged before widespread social lockdowns have continued towards their destinations.
Sorry, sometimes you have to go through the bad news to give the context for the good news. Here's where van Marle gets to the good news:
In response, MSC has introduced a suspension of transit (SOT) programme to help shippers and their freight service providers prevent container exports out of Asia building up at ports, by offering terminal yard storage capacity.

The line has secured capacity at some of its terminals at six ports – Bremerhaven in Germany, Busan in South Korea, King Abdullah Port in Saudi Arabia, Lome in Togo, Rodman PSA Panama International in Panama and Tekirdag Asyaport in Turkey.

Its customers can store laden containers there until port operations at import terminals are able to resume processing them.
Obviously, U.S. shippers would likely want to see U.S. ports where MSC owns terminals on the above list of ports where MSC is offering this service. But there are U.S. shippers who move goods all over the world, who could be directly affected by this.
MSC creating this service may also lead to the company expanding SOT to their U.S. terminals as well as other carriers, terminal operators, and companies with yard space at the ports to offer similar services.
The big thing is that there's potential with this service and others like it if others follow suit to prevent or reduce congestion at ports and save shippers money in demurrage and detention fees, warehousing costs, and trucking costs during this pandemic. And maybe, it could lead to similar services moving forward after this crisis passes.
It should be specifically noted that this is a new service from MSC, not an act of charity; the storage is not being given away free. But that's okay. Businesses seeing a need or problem and coming up with a creative solution is beneficial for both the business and those facing the problem. If you prefer charity to read about charity, keep reading through the second story and you won't be disappointed. But first, here's how MSC says the new service will help shippers on their website:
The MSC SOT programme provides potential cost savings for customers faced with high warehousing storage costs at destination, demurrage, per-diem and other charges. It will also free up space at origin factories and warehouses and avoid excess inventory at site, bringing cargo closer to destination markets and alleviating the risk of congestion or closure at ports of discharge.

The lead time will be reduced once operations resume at destination ports, and the programme will also add storage for beneficial cargo owners (BCOs) and non-vessel owning common carriers (NVOCCs), who would otherwise reach their full capacity.
Elon Musk Shipping Free Ventilators Around the World
We're all in this fight against coronavirus together, doing our part as we social distance and stay home or go out and operate essential businesses. Doing those things are very important in the fight against COVID-19. Many look for additional ways they can help in the fight. Simple things like calling or video chatting with people to lift the spirits of those who are struggling with isolation can be powerful and inspiring. Giving a couple rolls of toilet paper to a neighbor who's had trouble finding any could be an inspiring thing to do. Businesses and businesspeople are sometimes in the position to inspire us on a larger scale.
It's inspiring to see businesses step up and produce the things hospitals around the world desperately need during this pandemic. Ford and GE producing ventilators, the My Pillow guy producing masks…
One I read about yesterday that was a feel-good, international-shipping-related story was  Tesla CEO and billionaire Elon Musk shipping ventilators to hospitals around the world for free. The story is in an article on a site called Futurism.com:
[Musk] has announced renewed efforts to supply hospitals around the country — and internationally — with life-saving equipment amid the coronavirus outbreak.

"We have extra FDA-approved ventilators," he tweeted. "Will ship to hospitals worldwide within Tesla delivery regions. Device and shipping cost are free."

He did, however, have one caveat: the ventilators need to be put to use immediately: "Only requirement is that the vents are needed immediately for patients, not stored in a warehouse."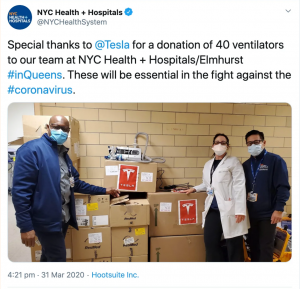 The article goes on to talk about Musk having imported 1,255 ventilators from China that he donated to Los Angeles area hospitals last week.
Ventilators are a big source of focus during the coronavirus pandemic. Since COVID-19 can really hurt people's respiratory system, hindering their ability to breathe, these machines are very important for helping people who get seriously ill from this disease. The federal government is getting ventilators out to hospitals, but President Trump has also been encouraging states, local governments, and hospitals to get them directly from suppliers where possible as well. It's good to see a businessman like Musk step up and get respirators for hospitals as well, and not just here in the U.S. but around the world.