2021 Outlook for Importing From China
International shipping in 2021 continues right where 2020 left off. That sentence sounds obvious, but what it means is an abnormal start to the year when it comes to ocean freight shipping, and transpacific shipping in particular. High demand, high freight rates, and high port congestion can all be expected to start the year.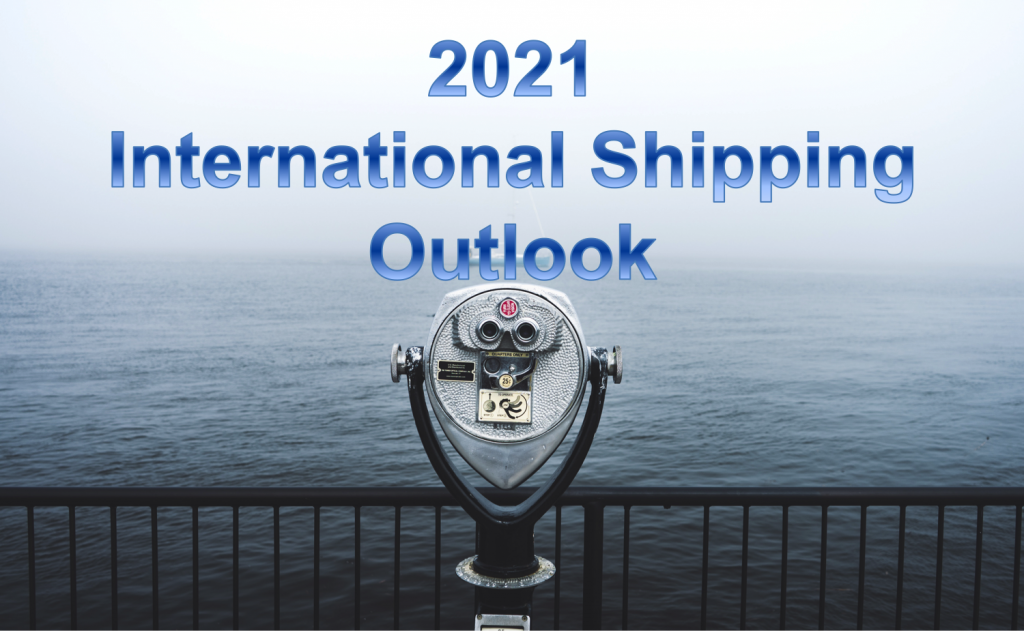 2020's Lead Up to 2021's International Shipping
2020 ended with high demand in ocean freight shipping, severe port congestion, trucker shortages, and shortages of equipment – shipping containers in particular – making things difficult for U.S. shippers. Things got so bad, one of our last blog posts of the year was an alert to shippers, warning them to expect fees and delays.
While 2020 had lower than normal transpacific demand early in the year due to pandemic reactions, demand never dropped as low as initially expected. It certainly did not drop as low as ocean freight carriers anticipated, as they dropped capacity well below market demand with hundreds of blanked (cancelled) sailings. Despite some decrease in demand that was happening, freight rates rose, and then demand boomed, sending freight rates soaring to record highs while carrier reliability sank to terrible lows.
The 2020 peak season that many predicted would not exist turned out to be extremely strong and did not dwindle when the peak season usually wraps up. Looking at Universal Cargo's shipment numbers, which I often use as a barometer for the industry, after a strong October, November and December both saw gains in shipment counts from the previous months. When all was said and done, December's shipment count was almost identical to August and September's counts, which are traditionally the two biggest months of the year for transpacific shipping. September had one less shipment than August, and December had only three fewer than September had. Additionally, if not for the terrible port congestion, December would have had more shipments.
That end of the year demand well outpaced the end of 2018, when shippers who import from China were shipping heavily at the end of the year to beat a January 1st, tariff hike of 25%. Not only is this international shipping demand abnormally high, it's from actual goods demand from American spending rather than preemptive shipping because of a trade war. That means the increased demand does not suddenly end with the new year but should continue on here in 2021.
Continued High Demand in Early 2021
With COVID restrictions continuing and another round of stimulus from the federal government taking place, American spending remains strong when it comes to goods. That means transpacific shipping demand will remain high for the time being. Industry professionals can also see other markers to confirm demand is still strong here at the beginning of 2021. Check out this excerpt from a Bill Mongelluzzo-written article published New Year's Eve by the Journal of Commerce (JOC):
[Alan Murphy, CEO of Sea-Intelligence Maritime Analysis] projected that the growth seen in the "extended peak" of last summer and fall will actually accelerate in early 2021, given the increased vessel capacity carriers are deploying into the new year. "Deployed capacity is dictated by demand," he said in Sea-Intelligence's Sunday Spotlight newsletter.
As mentioned earlier, capacity is not a perfect indicator of demand, as carriers shrank capacity below what market demand dictated in the first half of 2020. However, carriers' recent push to control capacity and discipline to avoid overcapacity makes the increase of capacity they are currently putting in place an even better indicator that demand really is remaining strong, as experts are projecting.
Here's the added capacity Mongelluzzo shares in the JOC:
In order to accommodate the growing cargo volumes and the e-commerce requirements for speed to market, trans-Pacific carriers in the second half of 2020 launched three new weekly services, and these strings continued to operate into the new year. Matson Navigation Co. added a second loop from China to Long Beach, and Mediterranean Shipping Co. launched its Santana service from China to Long Beach. CMA CGM added a premium service from China to Los Angeles.
How Will We Be Able to Tell When Demand Dampens Again?
Normally, U.S. importing demand is fairly weak this time of year, with a small surge ahead of the Chinese New Year in February. With last year's demand starting a bit weaker than usual, this year's unusually strong demand should create incredibly high year-over-year comparisons. If in the first few months of 2021 year-over-year comparisons for a month are only moderately than stronger than 2020, that will be a good indicator demand is slowing back down.
Normally, freight rates are highly volatile in the international shipping industry and respond strongly to increases and decreases in demand. However, carriers proved in 2020 that they can utilize their alliances to control capacity and keep freight rates high even when demand falls. That makes freight rates a poorer indicator of demand than it has been in the past (and conversely, demand a poorer indicator of freight rates than it's been in the past).
While freight rates shouldn't be ignored in conversations about international shipping demand, capacity announcements (like adding or blanking sailings), trends in volume growth or decline, and ordering of shipping containers and other equipment are turning into better factors for predicting demand. Right now, experts are expecting demand to stay strong at least through January and likely through February and March. However, a lot can happen in the first quarter of the year.
Conclusion
It will likely take some time for ports, and the supply chain as a whole, to recover from the congestion and disruption we've been seeing. Continued high demand obviously does not help in these endeavors but neither do COVID-19 lockdowns or protocols that limit hours of operation, numbers of workers, and productivity at points throughout the supply chain.
With the high demand at least through January and very possibly longer, freight rates are expected to remain high. Simultaneously, low availability of truckers and congestion at the ports continues to put shippers at risk of being hit with unfair demurrage and detention fees, something the FMC is investigating and urged to take action to stop.