Congestion at West Coast ports, especially the Ports of Los Angeles and Long Beach, has been a growing problem for shippers and everyone involved in the international shipping industry.
The problem was made much worse when on Friday, carriers began announcing the immediate implementation of Port Congestion Surcharges (PCS). By Monday (November 17th), carriers clear across the board had announced they were charging PCS.
Immediately, there was a backlash from shippers. Understandably frustrated at not being able to get cargo delivered in a timely manner from the ports, angry shippers voiced complaints  that carriers were charging huge fees on shipping containers that already were on the water or delivered to ports.
The average PCS carriers started hitting shippers with were:
$800 per 20′ container
$1,000 per 40′ container
$1,125 per 40′ HQ container
$1,266 per 45′ HQ container
Many shippers went straight to the Federal Maritime Commission (FMC) with their angry complaints about these huge PCS.
The FMC responded with a release titled "Port Congestion Surcharges" on Monday, November 17th in which it states:
The Federal Maritime Commission is receiving numerous inquiries regarding the congestion surcharges for "labor unrest" being implemented by ocean carriers as announced in tariff rules required to be published under the Shipping Act of 1984 and the Commission's regulations at 46 CFR Part 520.
Unless done pursuant to a waiver or exemption, any tariff rule (including surcharges) of a common carrier that results in an increased cost to a shipper may not be effective earlier than 30 days after publication. 46 U.S.C. § 40501(e) and 46 CFR § 520.8. Many carriers previously published in their tariffs advance or conditional notice of an intention to implement surcharges in the event certain conditions are experienced. All such carrier tariff rules, however, must be clear and definite as to the implementation and termination of the surcharge based upon specific criteria related to "labor unrest."
The Shipping Act and the Commission's regulations require that the rules applicable to any given shipment shall be those in effect on the date the cargo is received by the common carrier or its agent. 46 CFR § 520.7. Thus, if any labor disruption were to occur at a port after cargo has been tendered by a shipper, a carrier may only lawfully charge the rates in effect on the day the cargo is tendered.
The Commission continues to review congestion surcharge rules published in carrier tariffs and is gathering information from carriers regarding implementation of these surcharges.
I highlighted the two sections of the release that challenge the carriers in charging the PCS as they have done.
Yesterday, carriers began sending notices out that the PCS they were charging have been suspended. Technically, where we're at is a postponement of PCS, not the cancellation of PCS.
Shipments that have already hit the water or ports will not be charged these huge fees. Again, it should be made clear that while it is possible that these PCS the carriers have been announcing will not go into effect at all now, we are not yet to that point.
The start date of the carriers' PCS has been challenged and changed. Basically, even though carriers filed well in advance for these PCS, implementing the charges after having received the goods is unfair and has been stopped.
The FMC came through big for shippers here.
The Journal of Commerce published an article titled FMC's Cordero questions port congestion surcharges in which FMC Chairman Mario Cordero states the FMC's position:
"The surcharges that carriers have announced do not apply, in our view, to cargo that's on the water already, much less cargo that's already in the ports," Cordero told JOC.com. "If the cargo is was already in transit, the surcharge would not be applicable."
But he said the fundamental question is whether carriers have met FMC requirements for "clear and definite" tariff or service contract provisions for the imposition of a surcharge. Without a clearly defined trigger mechanism, imposition of surcharges would be "rather chaotic," he said.
Cordero said the current surcharges appear to be based on carriers' "observations or findings that there is labor unrest or disruption or slowdowns." He said he has seen "no evidence" that this is the main reason for port delays. "Labor's there, labor's working, there is no stoppage," he said.
Now the start date carriers can begin implementing these large PCS is for shipments departing on November 20th, 2014.
Perhaps the backlash from shippers and continuing investigation/challenge from the FMC will keep carriers from implementing the PCS altogether. Language in the latest carrier announcements concerning PCS includes phrases where the carriers say they have decided to "suspend this surcharge until further notice".
For now, Port Congestion Surcharges are delayed. Here's to hoping they end up cancelled altogether. Otherwise, the below chart lists the amounts carriers announced they would be charging in PCS.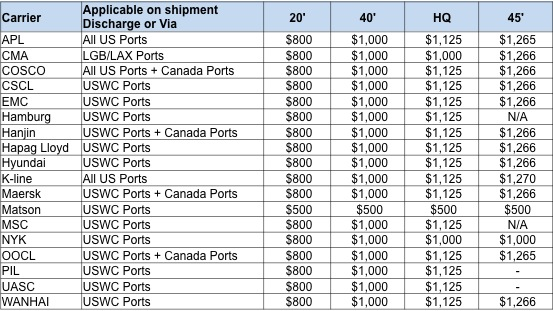 As always, Universal Cargo Management is here as a friend to your business, using our nearly 30 years of experience as a freight forwarder to help your cargo shipping go as smoothly as possible.