Big Change in Freight Rates & How They'll Behave the Rest of 2019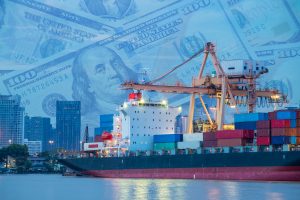 This year, freight rates in the traditionally peak season months have behaved untraditionally. Instead of seeing higher freight rates, this peak season was full of falling freight rates. However, there has been a stark change since the end of October.
Freight Rates Rise
A combination of factors like increased importing to beat the December-15th-scheduled tariff hike, General Rate Increases (GRIs), and capacity decreases from carriers resulted in a period over the last couple weeks of transpacific freight rates rising after that period of them falling.
Last week (on November 4th, 2019), Greg Knowler reported in the Journal of Commerce (JOC):
Spot rates on the trans-Pacific rose strongly last week as capacity withdrawals, general rate increases, and cargo being shipped early to avoid United States tariffs due to go into effect Dec. 15 tipped the supply-demand balance in favor of carriers.

The latest reading of the Shanghai Containerized Freight Index (SCFI) shows the rate from Shanghai to the US West Coast rose 16.7 percent… although the rate is 36 percent below the same week last year.

Shanghai-US East Coast rates rose 8 percent… still 39 percent lower than the year-ago period…
Freight rates continued rising, with Mike King reporting yesterday (November 11th) in an American Shipper article:
The Freightos Baltic China/East Asia to North America West Coast 40-foot container index rose 9.5% week-on-week… on November 10.

And, while rates from China/East Asia to the North America East Coast made only a marginal gain over the week, the Freightos Baltic China/East Asia to North Europe 40-foot container index also recorded a significant jump, up 4.71% week-on-week… November 10.
Freight Rate Outlook for Rest of 2019
Often, carriers have struggled to maintain GRIs and capacity discipline, resulting in freight rate surges being short lived before those rates start falling again. However, international shipping industry analysts think carriers will be able to maintain the increases in freight rates they've managed at the end of October and beginning of November.
Actually, freight rates are not merely expected to be maintained at the current level but to continue to rise, according to the maritime research company Drewry.
King's American Shipper article goes on to outline Drewry's findings on the topic:
Drewry now expects rates to further increase, arguing that capacity cuts by carriers and higher bunker surcharges as IMO 2020 low sulfur fuels are phased in will continue to fuel rate inflation on the key Asia-Europe and trans-Pacific trades.

…

The current idle container fleet has surged to just over 1 million TEU, or 4.5% of the total cellular fleet, as of the first week of November.

"That represents an extra 400,000 TEU added to the inactive fleet in one month, which can be attributed to more ships being sent to dry-dock for exhaust scrubbers in readiness for the new IMO 2020 low-sulfur fuel regulations," said Drewry.

While a bigger idle fleet does not automatically produce higher freight rates, Drewry believes that demand is now strong enough to ensure that capacity cuts translate into "more positive utilization and freight rates."

Adding to the inflationary momentum is the fact that carriers are beginning to transition to higher new bunker surcharges related to IMO 2020.

"This process is expected to ramp up for December and should contribute to a strong end to the year for carriers, running contrary to what was seen at the end of 2018," noted Drewry.
Conclusion for Shippers
These factors (IMO related ship idling and fees) contributing to rising freight rates that Drewry is talking about are very specific, even extraordinary to this year. That makes these freight rates not very indicative of the actual market. Drewry even calls year-on-year comparisons with this one "almost useless" because of it.
Comparing to other years aside, this does give shippers an idea of how the rest of the year should play out in terms of freight rates. International shipping's freight rate market is always volatile, but there are factors that should bolster prices as we head into 2020.