Freight Rates Drop — Is 2019 Outlook Changed?
In case anyone actually needed more evidence for the volatility of freight rates, ocean shipping prices just swung in the opposite direction again. After blogging just a week ago about a surge in freight rates and analysts predicting carriers to be able to maintain the increase in ocean shipping prices through the end of 2019, transpacific freight rates drop again.
An American Shipper article reports:
After a brief November surge, spot rates for ocean freight appear headed lower again as container volumes disappoint. 
End of the Peak Season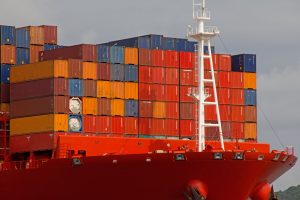 Early November is generally considered the last hurrah of international shipping's peak season. Though some consider the whole month as part of the peak season, goods need to arrive in early November in order to be on shelves in time for the biggest shopping day of the year, Black Friday. Importing volume can remain strong through the rest of November for the continued holiday shopping season, but it's not unusual to see volumes and freight rates fall after the first week or two.
Therefore, seeing freight rates drop right now is not surprising, except, of course, for the fact industry analysts were predicting the higher rates to hold amidst the December 15th tariff increase deadline, reduced ship capacity, and surcharges from carriers.
Forty-foot equivalent unit (FEU) freight rates from China to the U.S. West Coast (USWC) fell by about 5% over the last week according to numbers included in the American Shipper article from the Freightos' Baltic Daily Index. Rates from China to U.S. East Coast (USEC) fell a little over 3.5%.
These aren't astronomical drops by any means, with China to USWC actually being up 13% from the start of October, according to the article. Of course, that was when we saw falling freight rates instead of usual peak season increases, largely due to factors like all the frontloading of cargo by shippers to beat the various tariff hikes. Still, these drops are a good indicator that the peak season's zenith — because we'd hate to say peak season's peak — has passed. The American Shipper article adds:
Freightos Chief Marketing Officer Ethan Buchman said in a statement that peak season prices "hit their zenith in early November." Last year, peak season ocean freight rates dropped 8% between the middle and end of November.
Freight Rate Drops May Be Twice as Big
It's worth noting that the freight rate drops may actually be larger than was reported in American Shipper. In a Journal of Commerce (JOC) article, Bill Mongelluzzo reports larger drops than the ones listed above:
The West Coast spot rate was … down 11.8 percent from … last week. The East Coast rate was down 6.8 percent… according to the Shanghai Containerized Freight Index (SCFI) published in the JOC Shipping & Logistics Pricing Hub.
That's more than double the drop for USWC and not too far off that for USEC.
Is the Freight Rate Outlook for Remaining 2019 Changed?
While the numbers are a little bit different because they come from different data sources, the authors of both articles agree cargo volume disappoints, causing dropping rates and a short-lived peak season. However — and this isn't the first time I'll say this — smaller peak season with less cargo volume should have been expected for 2019 after last year's inflated peak season and all the other moments of frontloading cargo to beat tariffs that led up to it.
These drops probably shouldn't be seen as a negation of the experts' predictions about sustained freight rates for the remainder of 2019. IMO 2020 related fees and capacity shrinkage is still happening, and there is reason to believe a healthy amount of cargo is still moving here in November, with the American Shipper article including:
The National Retail Federation has said container volumes coming into U.S. are expected to reach 1.97 million twenty-foot equivalent units (TEUs) in November, the highest level for the year and up 9% from a year earlier.
Still, this is fast to see drops after predictions of maintained freight rate levels. Of course, freight rates will always fluctuate, even during periods sustained discipline to keep rates strong. Dips and jumps should always be expected in this industry.
Perhaps the biggest takeaways are that freight rates are always volatile and predictions of ocean freight pricing, while helpful in planning, only go so far.