Carrier Alliances Bring Real March Madness for Shippers
Carrier Alliances Bring Real March Madness for Shippers - Universal Shipping News
Shippers are worried about more than just their March Madness brackets right now. What has them so worried? The risk of next month's big carrier alliance reshuffle causing freight disruption.
That the world's ocean carriers are aligning themselves into alliances is no new news. However, who could have foreseen a few years ago when my NCAA men's basketball bracket inspired me to create the Carrier Craziness Bracket for ocean carrier alliances that the alliance bracket would be busted worse than Universal Cargo CEO Devin Burke's typical March Madness bracket?
For those of you not privy to Universal Cargo's March Madness pool, Burke's brackets are pretty bad (I hope I don't get fired after this blog).
Below is a quick visual history, through the busted Carrier Craziness Bracket, of how the changes in carrier alliances have altered the landscape (or oceanscape?) of international shipping.
The original Carrier Craziness Bracket was from 2014. It has been subsequently adjusted time and again to reflect the moves carriers make that affect alliances and competition in the international shipping industry until the latest version of the bracket shows what carrier alliances will look like starting April 1st, 2017.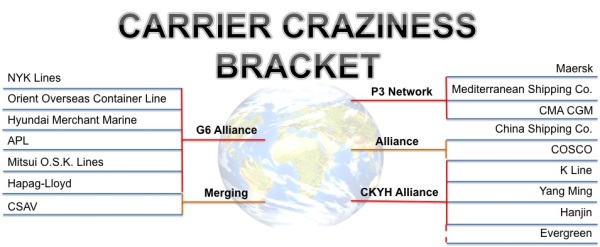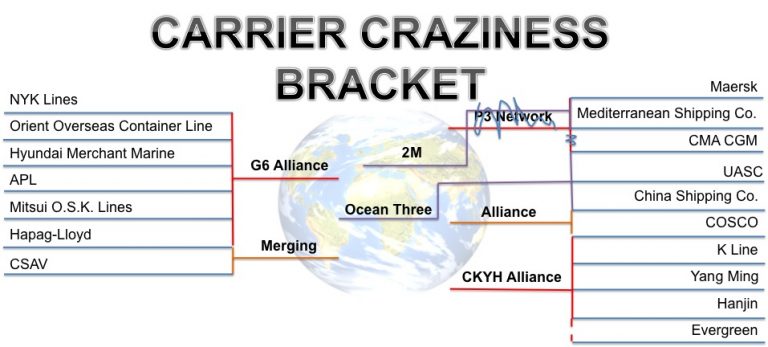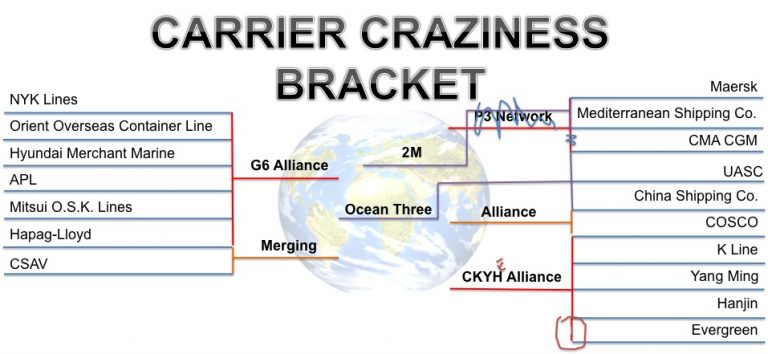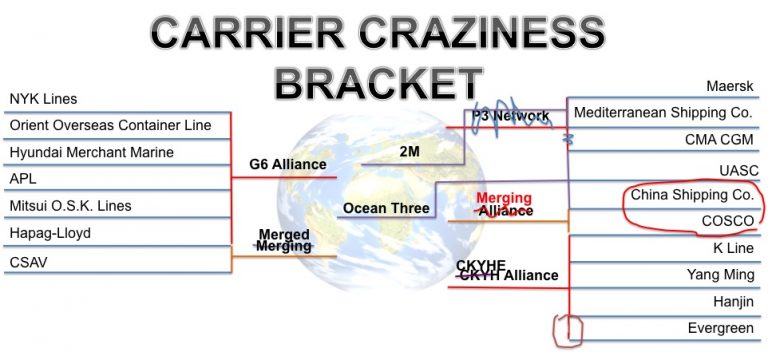 The initial Carrier Craziness Bracket was plenty to show a shrinking level of competition among carriers, but the 2017 version with all those carriers down to just three alliances is downright unnerving for many shippers.
Greg Knowler reported in the Journal of Commerce (JOC):
There is a mounting concern from shipper groups and forwarders that the new mega alliances launching in just over a week will create significant disruption to their supply chains.

…

Sunny Ho, executive director of the Hong Shippers' Council agreed that disruption was on the cards, with fears that capacity management and manipulation could be a major threat to carrier customers.

… "There is also concern of product diversification, such as port calls, routing, network, and frequency."
Splash 24/7 released an article by Sam Chambers that also voices shippers' concerns about the carrier alliances about to go into effect:
According to Carlos Hernández, the co-founder of online freight forwarder iContainers, the effect of this new reshuffle is a reduction of shipping options.

"Given the sharing of vessels and routes, this basically translates into multiple carriers having the exact same schedule. Instead of having seven or eight carriers offering a sailing of their own, we will perhaps only be getting three," Hernández said. Generally, this means having fewer alternatives when customers need to meet certain deadlines, which can be rather frustrating."
While the carriers are making this big shift in services, there is a looming container shortage that many in the industry have been worried about for months.
Another JOC article, this one by Reynolds Hutchins, reports that U.S. exporters are having trouble getting the shipping containers they need, which should be a warning for importers of a possible upcoming global container shortage:
Although Asian importers in the United Staes haven't reported any trouble finding boxes to date, there are signs they soon could. Already container lessors and container lines are predicting a short-lived--but global--container shortage this spring, spurred by the collapse of Hanjin Shipping, a bumper US harvest, increased production of resins along the Gulf Coast, strains on Chinese manufacturing output, and higher-than-usual sailing cancellations during the Lunar New Year.
Shipping container supply is something carriers can actually manipulate. To read that last JOC article, it seems there is some anecdotal evidence indicating that carriers might be doing just that to create an advantage in freight rate negotiations. However, the whole container shortage issue just adds to the anxiety about possible supply chain disruption with the arrival of the new alliances.
On the other hand, these alliances are not sudden and rapidly happening affairs.
It has been about a year since we've known about the upcoming carrier alliance arrangements. Carriers, of course, have known for longer. During that time, carriers should have had plenty of time to plan for a smooth transition to the new alliances.
I would like to alleviate shippers' fears a little by suggesting that there won't be major disruptions to the importing and exporting of goods during this transition.
I am, however, alarmed by the shrinking competition among carriers that's illustrated by the Carrier Craziness Bracket in all its updated mayhem. I think the shrinking of carrier competition has only just begun. And that's bad news for shippers--even worse news than finding out you have to use Mr. Burke's bracket in your March Madness pool.