Coronavirus Update on Global Trade in China & Hong Kong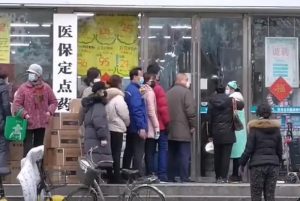 Many returned to work yesterday (February 10th) in China after the Spring Festival Holiday (Chinese New Year) shutdown was extended by the novel coronavirus that quickly spread from its epicenter in Wuhan. Of course, not all are back in offices and factories yet, especially in Wuhan itself, and some had already resumed work last week. But what we're seeing is production in China working on regaining momentum, even as the fight against this terrible epidemic rages on.
The last numbers I saw on the toll of COVID-19 (nCOV), as the new coronavirus is now named, are over 1,000 people dead and well over 40,000 people infected. Word from the World Health Organization (WHO) is that nCOV likely came from bats before finding another host and hitting Wuhan through a seafood market. I don't know if that bat origin is a guess because previous coronaviruses have been linked to bats or if the WHO has actually found a link to bats with nCOV. Even the language I've heard and read from the WHO is not unequivocal about the infection spreading from the seafood market that has since been shut down. That's a problem in general with nCOV right now. There is still much uncertainty surrounding it, its origin, and even its spread.
Not surprisingly, that leaves the Chinese and other governments, airlines that fly people and goods in and out of China, ocean carriers that ship cargo to and from the country, cruise lines, and more to be very cautious right now. And rightfully so. Of course, that has a major impact on international shipping. Airlines are still cancelling flights in and out of China, especially around the disease's epicenter. Shipping lines are doing many blank sailings around their routes in and out of China. There is even worry about importing goods from China.
It's easy for hysteria to spread when there is an outbreak like this. It will take time for fears to be soothed. It will take time for lines of industry and global trade to go back to normal. However, at Universal Cargo, we are hearing from our contacts in China about how things are progressing, and we think sharing that information could help in the process of soothing fear.
Tommy Chan, Ocean Freight Compliance Manager with Seamaster Global Forwarding in China, sent Universal Cargo an update letter on what's happening with Seamaster specifically and the shipping business in general in China, so I thought I'd share some of that inside information with you.
Returning to Work
Like many businesses in China, Seamaster returned to the office (or offices) yesterday. Mr. Chan's sharing of how Seamaster's employees are returning to work gives insight into where in China operations are returning to full business versus the places that are limited by the coronavirus outbreak and efforts to contain it.
In Xiamen, Fuzhou, Shanghai, Qingdao, and Dalian, where Seamaster's employees are doing a combination of working from home and returning to the office at flexible hours to avoid rush hour traffic, things are getting back to normal.
Things are not to that point yet in Shenzhen, Ningbo, and Tianjin. Mr Chan tells Universal Cargo government authorities and building management there "are exercising various preventive measures to contain the virus spread." For a company like Seamaster, this does not stop business as they have off-site access to company systems and are able to work from home. This does mean that production in factories in those areas is still very much affected.
Over in Hong Kong, people were back at work on January 29th, so disruption is much less there.
Goods Production in China
Production was already touched on a little bit above, with factories still closed in areas most affected by nCOV in China. However, the Seamaster letter had more to share with Universal Cargo on the subject:
"Due to extended holidays and anti-nCOV measures, many factories in China remain closed and will not resume operations until mid/late February. Even as operations resume, a slow ramp up in production and exports can be expected. In anticipation of reduced exports, airlines and ocean liners have adjusted their capacities."
Ocean Freight
The letter got more specific concerning ocean freight and its capacity around the epidemic in China.
"Capacity is expected to decline as carriers announce additional blank sailings," Seamaster said. "So far, more than 80 additional sailings have been voided post-Chinese New Year, with more expected to be announced in the near future. Some carriers and port terminals have also announced an extension of free demurrage and we expect others will follow."
If you've been following the news around nCOV, you've probably heard about cruise ships in quarantine, but ocean freight carriers are also dealing with quarantine rules with cargo ships.
"We have received advice from shipping lines on some emerging quarantine requirements imposed by
regulatory bodies," continued Seamaster, "either on crew members or vessels that have visited or are from China. While the scope of this requirement is not global, quarantine rules require 15 days of monitoring to ensure that the virus, if present, is not passed on further during discharge at port or change of crew members. Ships may need to slow steam or change route to meet minimum requirements."
Port Operations in China
With Seamaster's assurance, we can report that all ports in china, except Wuhan, are now operational. Of course, that's not to say that global trade moving along swimmingly in China….
Global Supply Chains
China is an enormous world hub for global trade. There's no way an event like what we've seen with nCOV could happen without its affects rippling out across the world. The Seamaster letter says that with all of the aforementioned things, "we are going to see a major disruption to global ocean supply chains. The steep spike
in idle capacity could result in equipment imbalance as freight movements back to Asia outstrip capacity. Market rates, space and equipment will be fluid in the months ahead."
Air Freight
Although Universal Cargo does provide air freight services, this blog tends to focus on ocean freight shipping more. That's because ocean shipping moves much, much more of the world's goods than air freight does. In fact, over 90% of world trade is carried by sea, according to the International Maritime Organization (IMO). However, air freight is increasing in popularity with the rise of online consumerism and expectations of quicker delivery of goods. nCOV is certainly affecting air freight.
As brought up earlier, Hong Kong is not being hit as hard, despite fears over and nearly 50 cases of nCOV. The Seamaster letter shares:
The HongKong Association of Freight Forwarders and Logistics (HAFFA) has advised that the
Hong Kong government's suspension of passenger clearance will not affect freight services between China and Hong Kong. Cross-border trucking between China and Hong Kong continues to run, but it is highly recommended that bookings are made at least 2 days in advance to ensure driver availability.

Airfreight rates are expected to increase drastically, as a number of major airlines have cancelled passenger and freighter flights to and from China, severely impacting capacity.
Despite Hong Kong not being hit as hard, airlines are still cancelling flights to there as well as China. Air freight is already quite a bit more expensive than ocean freight, generally speaking. The hikes in air freight should considerably affect demand in the sector, already hampered by fears over nCOV.