Going green may not be as trendy a topic as it once was, but the maritime shipping industry is still taking the movement very seriously. And when it comes to international shipping through ocean freight, serious advancements are being made.
Carbon dioxide or CO2 is the main greenhouse gas associated with global warming. Of course, people and animals release this gas when breathing, but when cars, trucks, planes, ships, factories, power plants etc. emit CO2 by burning fossil fuels, it becomes a pollutant.
According to National Geographic, "In the past 150 years, such activities have pumped enough carbon dioxide into the atmosphere to raise its levels higher than they have been for hundreds of thousands of years." [Update: National Geographic took down its webpage with this quote. Unfortunately, the claim is also impossible to prove. It is unknown whether that factored into National Geographic's decision to remove the page.]
The greenhouse effect or global warming caused by the large increase of CO2, along with other greenhouse gas pollutants, is creating a significant risk to Earth's people and animals. At the same time, people have come to rely on the technologies made possible through the burning of fossil fuels that create CO2 emissions.
This has led the world to seek solutions. It looks like part of the solution will be a surprise to many.
With the United Nations Climate Change Conference coming up in December, the International Chamber of Shipping (ICS) released a fact sheet called Delivering CO2 Emission Reductions: Shipping is Part of the Solution.
ICS boldly claims that part of the solution to climate change is ocean shipping:
Because [ocean] shipping is already the most carbon efficient mode of transport, and becoming more efficient all the time, it is an important part of the solution to climate change. If additional cargo can be moved by sea, instead of less efficient transport modes, this will actually lead to a reduction in the world's total CO2 emissions.
Since the ICS represents the global shipping industry, this claim of ocean shipping as a global warming solution may seem self-serving. However, there are solid facts to back up the claim.
In the below chart ICS provides in their fact sheet, container shipping is shown to be the lowest mode of transport in terms of CO2 emissions by very significant margins.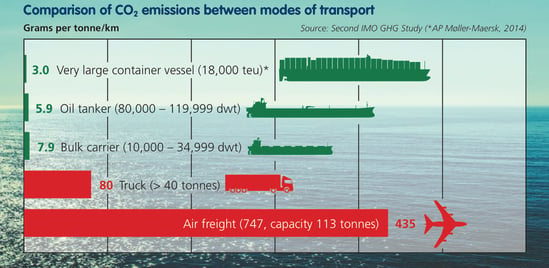 The ICS fact sheet lists the following achievements that have already been made in CO2 emission reductions when it comes to ocean shipping:
– 10% reduction in total CO2 (2007 – 2012)
– Carbon neutral growth
– Mandatory CO2 rules already in force globally
– 20% less CO2 per tonne/km than 2005
Then the fact sheet shows the advancements that are on the way:
– Ships built after 2025 will be 30% more efficient (mandatory IMO requirement)
– Bigger ships, better engines, cleaner fuels and smarter speed management
– More fuel efficient movement through water
(e.g. new hull and propeller designs, satellite assisted trim optimisation, renewable ancillary power)
– 50% CO2 reduction by 2050
Having already achieved 10% CO2 reduction between 2007 and 2012 while demand for world shipping increased is impressive and shows that the industry should be able to reach its 50% CO2 reduction goal while continuing to see growth in world trade.
"Ships transport about 90% of world trade, but now only account for 2.2% of the world's total CO2 emissions (compared to 2.8% in 2007)," ICS says in the fact sheet.
Adding confidence to the international shipping industry's ability to reduce CO2 emissions 50% by 2050, is how well the industry has managed CO2 emission reductions to this point. Beyond the 10% reduction mentioned above, the industry is ahead of schedule to achieve a 20% CO2  emission reduction in ships. This will be achieved this year, in 2015, when the long-established goal was by 2020, according to the fact sheet.
The ways ICS points out that the shipping industry will continue to lower CO2  emissions are new technologies, smart operational measures like speed management, and the use of clean fuels like LNG, which stands for Liquified Natural Gas.
ICS represents the global shipping industry as the global trade association for shipowners and operators, comprising national shipowners' associations from 37 countries and representing over 80% of the world merchant fleet.
I guess the message here is you can be part of the solution to global warming by importing and exporting via ocean freight. Universal Cargo can help you with that.