Crazy Pandemic Peak Season & Freight Rates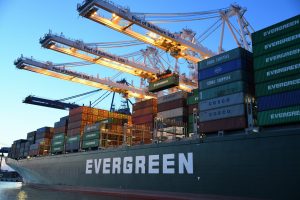 A month ago, Greg Miller reported in an American Shipper article that not only had freight rates finally stopped rising but they also dropped a bit. He posed the question, "Is this a new plateau or the start of a longer-term reversal as liner alliances bring more capacity back online?" I predicted a third option: freight rates would climb to even greater heights here in the traditional peak season. Boy, was I right.
Many predicted 2020 would not have a peak season at all because of economic downturn caused by the novel coronavirus pandemic. I predicted we would still have a peak season; however, I didn't realize it would be as big as it is right now.
Seeing Universal Cargo's shipment count spike by 82% in August from the month before was enough for me to believe the 2020 peak season is really happening. However, that was only anecdotal evidence; Universal Cargo could be an outlier in the international shipping industry. Last week, a new American Shipper article from Greg Miller confirmed that what I was seeing in Universal Cargo's freight forwarding business was not an anomaly – there is a peak season happening in the importing and exporting business, and it's strong.
Pandemic Strengthening Peak Season?
Ironically, the pandemic is part of why we're seeing such a strong peak season right now. Miller writes:
China-U.S. West Coast container rates continue their astonishing climb. Not because of too little vessel supply, but because of too much import demand. U.S. import demand that is not surging despite of coronavirus, but because of it.
That's actually how he starts his article titled "Trans-Pacific 'going crazy' as demand defies pandemic pessimists."
The two big factors supporting this claim of demand surging because of the pandemic are increased e-commerce and the importing of personal protective equipment, or PPE.
We've alluded to the increase in online shopping creating shipping demand in a few blogs, but Miller's article really explains that increase by quoting Nerijus Poskus, vice president and global head of ocean freight at digital freight forwarder Flexport, who calls the current dynamics unprecedented:
"Our clients are selling more. They're selling more online. And that's why they're shipping more into the U.S. Of the top 100 clients of Flexport, 80% of them are growing year-on-year and assumedly they're gaining market share," reported Poskus.

"People are still buying. Even unemployed people. They're getting government support so they still have money. They're no longer spending on restaurants, haircuts, gas and commuting. But they have the cash so they're just buying more things. And they're buying more things online.

"There are also many people leaving the cities, myself included. So, for example, I had to buy a lawnmower and all of the kinds of things for the home that I didn't need in the city. I believe there are many people like me."
It shouldn't be a surprise that online shopping is so strong given how well the economy was doing before the pandemic struck. It is no more surprising that the pandemic suddenly created an enormous demand for PPE. Poskus is quoted in the article as saying he thinks 5-10% of shipping volume is PPE.
Soaring Freight Rates
We all know that increased demand puts upward pressure on prices. Add to that decreased reliability causing shippers to pay for premium services, to the point of feeling like their cargo is being held ransom, in order to keep their shipments from being rolled to later sailings, and shippers are paying very high prices for their international shipping right now.
Indeed, According to Miller's article, freight rates we're seeing right now are record setting. To get a feel for how transatlantic rates are soaring, Miller writes that freight rates on the China-West Coast route were up 137% from March 1st. While China-East Coast shipping did not have freight rate increases to the same level, the route did see a significant bump of 36%. Poskus expects rates to continue to rise, according to the article.
Will Freight Rate Drops Happen?
The one prediction I made that hasn't come to fruition in all of this so far is that carriers won't be able to perfectly manage capacity throughout the peak season and until the end of the year, causing some rate volatility, especially during dips of volume, that creates moments of opportunity for shippers to get much lower rates.
I've said we'll see surges and drops in volume, and we've certainly seen surges. Those surges have caused carriers to add capacity to routes. Miller actually reported in his article that carriers have "reversed" the strategy of blank sailing that so marked the second quarter of the year that carriers were accused of price gouging through artificially dropping supply below demand:
"Most void sailings have now been reinstated," said Alphaliner in its weekly report. In addition, carriers have launched five new regular services, adding 35,000 twenty-foot equivalent units (TEUs) in weekly capacity. On top of that, carriers have deployed multiple "extra loaders" — additional one-off sailings.

Copenhagen-based Sea-Intelligence estimates that carriers have increased their Asia-West Coast third-quarter capacity by 13.1% year-on-year, marking "the strongest capacity growth in a decade."
This significant addition of capacity makes freight rates vulnerable to big drops should a sudden or unexpected dip in volume hit. Shippers should definitely keep an eye on the spot market. Of course, we'll be doing that for you here at Universal Cargo.
The last section of Miller's article focuses on theories and forecasts of when this shipping surge will end. "I don't think this is sustainable," Poskus in it. He thinks after the first week of October, things will slow down. Even if he's right and carriers are making the same prediction, would they be able to bring capacity back down in time to keep freight rates from crashing?
In the past, when carriers have made large increases to capacity, they have struggled to bring capacity back under control to match demand. They have gotten better at that over the last couple of years, after ocean shipping has firmly become controlled by carrier alliances. But that control over capacity should be tested by the end of the year.