Today's blog is a special, exclusive interview with ILWU member David A. Griffen.
The ILWU contract negotiations drag on while shippers, businesses, and international shipping industry professionals can just watch and wait, wondering what's happening.
Mr. Griffen has graciously agreed to share the perspective of the ILWU member on the talks and situation at the ports.
Highlights from the interview include expectations of soon resolution and Mr. Griffen's response to whether or not the ILWU is orchestrating slowdowns.
The below picture is a letter Mr. Griffen wrote to PMA President and CEO James McKenna which is immediately followed by the interview: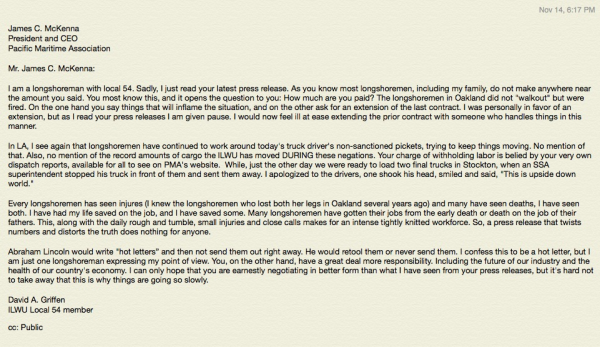 Q: How long have you been an ILWU Local 54 member?
A: Off and on since 1978, but full time last 10 years (3rd generation).
Q: What is your position?
A: Longshoreman and our Hall's PAC Chairman, currently running for LRC.

Q: Your letter says you were in favor of an extension. Did this seem to be true for a majority of union members you work with?
Yes. Originally most seemed to favor a extension, but now we feel PMA would never settle with an extension in place.

Q: Why, in your opinion, has no extension been granted?
A: In the past extensions have been granted when things were all but rapped up, as in 2008. Just not the case this time.

Q: What are the biggest concerns of the union members at West Coast ports?
A: Making sure that we are part of the new ways, mechanization, and that we are trained to do the new jobs, and not have them farmed out of our union and even state.

Q: Are slowdowns being orchestrated or used by the ILWU?
Slowdowns are not being orchestrated: everyone at my local (54) has been working flat out, but without new members it has become relentless. As for  myself, as I write to you I am bruised, battered, sore, and exhausted. But still, I feel very blessed to be working as a longshoreman. I also work with SF/Oakland members (local 10) on a regular basis, and they have told me that they are not slowing down.

Q: What would you like shippers and the public to know about ILWU union members?
A: That we do NOT make anywhere near what PMA has put out. It takes an average of 7 years (about 30% of work force) to achieve membership. In those 7 years, longshoreman are very lucky to make 30K a year (who show up to the hall twice a day, 7 days a week). Most full time members earn about 60K to 90K; which is great, but PMA is using steady workers (members that do not report to the Hall, about 5% of workers, dep on local) and giving you their average: The work is very fast paced and dangerous and we do the best we can, day and night, rain, sleet or snow. Safety is almost always sacrificed for production. Many of us are 2nd, 3rd, 4th, and 5th generation longshoremen, so we see this not as just a great job, but as a legacy worth fighting and dying for.
Longshoremen have a visceral hatred of strikes, lockouts, and nonproductive environments. During the 1971/72 strike: On Sunday my mom would make us ham and lima beans; Monday, leftover ham and lima beans; Tuesday, Bits of ham on lima beans: Wednesday, she would boil the ham bone and pore the juice on the lima beans; Thursday, just lima beans; Friday, fish (Catholic); Repeat. So, we love to work or feel we must, lots of guys work 7 or 10 shifts a week, just to die a year or two after retiring.
Q: What are the biggest safety concerns for longshoremen on the docks?
A: Each terminal and port has different safety issues. For example, the longshoreman who lost her legs (I had worked with her) in Oakland, the terminal operator refused to change the configuration of traffic flow as we had requested until after she lost her legs. We work at risk on a regular basis, so when we actually do raise a concern, it should be heeded. So, I would say that would be the biggest fix, just to take concerns seriously before people get hurt.
At my port, our busiest dock (dk 12), was built in the 1940's for the war and was meant to be temporary and only used for 5 years. That was over 70 years ago. It's a mess of a dock.
When a superintendent's (Ray T, I worked closely with on welding and cutting) vehicle went into the water in '09, there was no safety equipment (boat was locked and then wouldn't start) or procedures in place. A longshoremen had died that way the year before. Then finally something was done.
Q: What is your outlook on the ILWU contract negotiations?
A: We seem close to a conclusion, but then, I thought it would be done by Thanksgiving.
My few dealings with PMA have been strange and frustrating. One time, after being shorted on my vacation pay, I called PMA. They agreed I was correct and said they would fix the problem in a week. Many phone calls and many reversals of that first decision later, usually saying that they had never said i was correct and that my issue had been put into the "rejection area", I was paid. But the whole thing became a 6 month (started in February and ended in August) war of attrition for 200 bucks. But for me, money stopped being the issue after the 2nd week. So, I do feel for my ILWU leadership.

Q: Are there any additional words or messages you'd like to share?
A: I would say that there is no reason to automatically believe management over the workers, but time and again I have seen news accounts, affected industries accounts, blogs and etc. blindly believe and reprint whatever PMA or company officials say, which at times are wildly inaccurate.
Thank you very much for your time and sharing your perspective, Mr. Griffen.