Universal Cargo Management is giving you a quick and simple way to keep up with what's happening with Port Congestion Surcharges.
What follows is a summary of what's been happening with Port Congestion Surcharges. If you want to skip that and get right to the quick and easy tool for knowing the latest status of Port Congestion Surcharges from carriers, you can scroll down to the bottom of this blog.
The last few weeks have been a roller coaster of news about Port Congestion Surcharges.
First, carriers announced the implementation of feared Port Congestion Surcharges they had filed months ago in case union action slowed or shutdown the ports during the ILWU contract negotiations.
With these Port Congestion Surcharges often being over a thousand dollars, it was looking to be a major financial hardship on shippers who were already experiencing increased fees and delays on their imports and exports caused by congestion at West Coast ports, especially the Ports of Los Angeles and Long Beach.
It is no surprise the announcement of these large Port Congestion Surcharges caused a backlash from shippers, especially since the implementation announcement was that these large fees would be effective immediately imposed on shipments that had already been received by carriers and in some cases even already delivered to port.
The Federal Maritime Commission (FMC) received many complaints regarding the Port Congestion Surcharges and got involved.
FMC Chairman Mario Cordero was quoted in a Journal of Commerce article as saying, "The surcharges that carriers have announced do not apply, in our view, to cargo that's on the water already, much less cargo that's already in the ports," Cordero told JOC.com. "If the cargo is was already in transit, the surcharge would not be applicable."
Following a statement from the FMC, carriers postponed the implementation of the Port Congestion Surcharges.
While we wrote in our blog here UCM's that it was possible the Port Congestion Surcharges would never be implemented, we also emphasized the fact that this was a postponement, not a cancellation of the Port Congestion Surcharges.
It didn't take long for the carriers to again announce the implementation of the Port Congestion Surcharges. This time the carriers announced the implementation starting with shipments picked up on and after late November or early December dates.
Then the news on Port Congestion Surcharges flipped again as carriers once again announced the postponement of these large fees.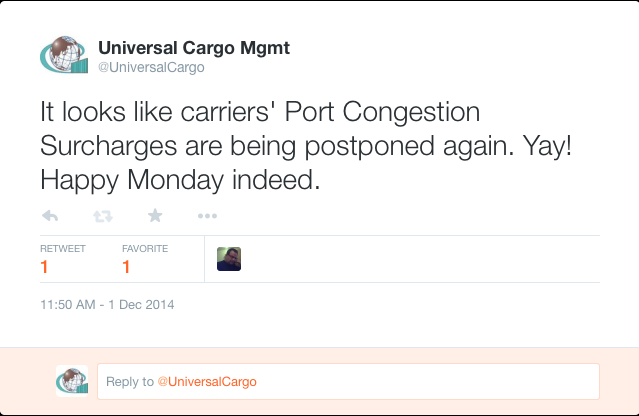 Now shippers are left wondering again if and when Port Congestion Surcharges will strike.
Universal Cargo Management has decided to make it easy on you. We receive announcements, including ones about Port Congestion Surcharges, from carriers. We've compiled a file listing carriers, their Port Congestion Surcharge amounts, and the latest on when they will be implemented.
We update this Port Congestion Surcharge file with the latest announcements from the carriers so you can check back here anytime to find out the latest information on Port Congestion Surcharges and when they may be implemented.
All you have to do is click on the Port Congestion Surcharge Summary button below: