Freight Rates Down Despite Trade War Up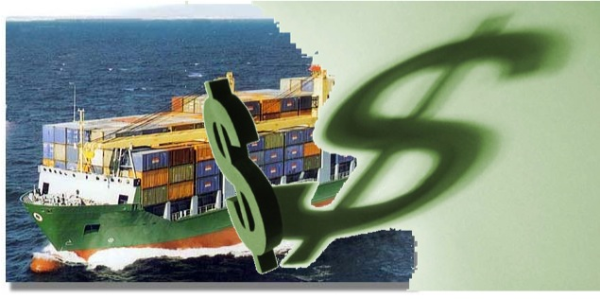 The trade war between the U.S. and China drags on without an end in sight. However, things are not all bad news for U.S. importers. Shippers who import from China got good news last week as Trump delayed the latest round of tariff hikes until after the peak season. But that's not all of the good news that came out of last week.
Peak season news continued on a good trend as freight rates actually dropped.
Peak season is a time of increased international shipping as businesses prepare for the big shopping holiday season. Normally, that means higher freight rates with the uptick in demand. This year, carriers have been doing a good job of utilizing blank sailings, rollovers, and removing ship capacity from major shipping lines to keep freight rates high. Something they've struggled with in recent years. However, transpacific shipping just saw a big drop in freight rates.
Alexander Whiteman reported in the Loadstar that last week saw "stark declines reported across US east and west coast routes, with rates dropping 4.4% and 7.2%, respectively."
Common Assumptions of Falling Peak Season Freight Rates
Freight rates falling during peak season would likely make someone think two things:
Demand is falling below expectations.
Carriers aren't doing well.
The obvious place to point a finger is at the ongoing trade war with China. Tariffs have certainly negatively affected the amount of goods being shipped between the U.S. and China.
Politically Influenced Spins on Tariffs & Trade War
As we're approaching an election year, there is heavy spin being put on all trade war and tariff related news. That spin includes predictions of the U.S. consumer likely paying much, much more for goods in the upcoming holiday season and year, which will cause an economic downturn or even recession for the U.S. There are also forecasters who have been saying this trade war will be disastrous for the international shipping industry and carriers. On the other hand, you have Trump saying China pays for all the tariffs and the effects on U.S. consumers are and will continue to be little to none.
Spins in both directions are too extreme. Which is closer to the truth?
Part of the argument that the trade war will hurt consumers is tariffs are cutting into imports from China, meaning fewer goods are being imported in the U.S. in general. Lower supply means higher prices, right? And obviously, going with that is less volume for ocean carriers to ship, which deeply hurts the already struggling shipping lines.
Actual Effects of Trade War So Far
Despite the above argument, there has not been a huge drop in U.S. imports. Instead, there has been a shift in sourcing, and despite last week's drop in freight rates, ocean carriers are doing quite well.
Major carriers, like Maersk, are reporting some very positive numbers for 2019 so far. Mike Wackett reported in a Loadstar article:
Maersk Group recorded an underlying net profit of $134m in the second quarter of the year, compared with just $15m in the same period last year, which the company attributes to an improved performance by its liner division.

"Q2 was a quarter of solid progress. Ebitda was up 17% and cash flow improved 86%, year on year, driven by continued recovery in Ocean," said chief executive Soren Skou.
Maersk actually says the trade war is quite manageable according to an article by Chris Dupin in American Shipper:
[Maersk CEO Søren Skou said,] "… the impact from the U.S.-China tariffs and trade tensions on global trade has been quite manageable for us, so far."

He said that global container trade was up about 2 percent in the first half of 2019. U.S. imports have slowed, but he said "the drag from tariffs has been less than expected."

He said U.S. imports from China have fallen about 7 percent in the first half of the year, but that Pacific trade grew 1 percent and total imports to the U.S. grew 2.5 percent in the first half of the year. He noted that sourcing patterns are changing, with imports of goods to the U.S. from outside of China grew at "close to double digits in the first half."

He noted that new sourcing locations can actually benefit Maersk because "they entail higher freight rates and new opportunities for us to sell logistics services."

Skou also said there is "quite some anecdotal evidence that tariffs are being circumvented to some extent by shipping stuff out of China to other destinations in Asia and then sending it on to the U.S."   

"European-related trade, where we are most exposed, had strong volume growth in the first half, around 5 percent, in part because of trade diversion resulting from the U.S.-China trade tensions."

He said the impact from tariffs is being moderated by several factors. He said consumer spending remains fairly robust, supported by good labor markets and consumer confidence. He also said the goods affected by tariffs represent only about 4 percent of U.S. consumer spending. He also said the strong dollar relative to the Chinese yuan has helped to blunt the impact of the tariffs. And he said Chinese exporters and U.S. importers have absorbed some of the increased costs through lower margins.
Projections of How Tariffs Will Impact Upcoming Year
All of the above from Maersk is not to say there are no negative impacts of the trade war. Dupin's article continues with more from Skou:
Looking forward, he said the 25 percent tariff hike in April 2018 on $250 billion of U.S. imports from China and the latest 10 percent tariff announced on $300 billion of U.S. imports from China, if implemented in full, could reduce global trade by up to 1 percent in the next year and further escalation could cause further slowing of the U.S. economy and be negative for Maersk.
Again, these are projections. These impacts could be far less than Maersk's CEO is predicting here. It should be remembered that Maersk is, probably obviously, against tariffs. Skou prefaced all of his above remarks with, "We don't believe that tariffs are good for the global economy and we do not welcome them." That could help paint Maersk's predictions about tariff negative.
Their previous projections were too negative, so the next ones could easily be the same. There's certainly no reason to think sourcing shifts won't continue to happen. 
If sourcing continues moving away from China as it has started to do, serious pressure could be put on China to get a trade deal done — even with Chinese manufacturing trying to skirt the tariffs by shipping through intermediate countries. Pressure on China to get a deal done is certainly President's Trump's hope in all this. That and increased U.S. manufacturing, creating more jobs and stimulating the economy.
Of course, Skou could be correct in his projections. If there is a strong enough negative impact through less global trade, higher prices, and economic downturn, that could hurt Trump in the upcoming election year.
Unfortunately, I don't think we'll really be able to see the whether the ultimate outcome of Trump's tariffs and this trade war is positive, negative, or a giant wash for several years.
Domestic Sourcing
In the meantime, sourcing is not only shifting to other countries. U.S. manufacturing could take advantage of decreased importing from China.
If you want to source and ship domestically, Universal Cargo can help you with that. Among our services as a freight forwarder has always been door to door shipping. Thus, we're used to shipping goods across the U.S., not just importing from other countries, and we can help your company with your domestic shipping.
If you already ship with us, just talk to your Account Executive/Manager about domestic shipping. If you're new to the Universal Cargo family, contact us and we'll be happy to quote you on your shipping needs.