Tariffs on Chinese Goods Postponed Till After Peak Season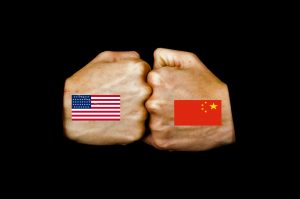 There's good news for U.S. retailers and shippers who import from China, and probably U.S. consumers too, as they prepare for the 2019 holiday season. Many, many items from list 4 of the Section 301 tariffs, which were scheduled to add an additional 10% tariffs on approximately $300 billion worth of Chinese imports, have been delayed from September 1st to December 15th, 2019.
Yes, that means relief from expected cost hikes during this year's international shipping peak season, which is rolling now in the months before the holidays hit. September is always a big peak season month.
The United States Trade Representative (USTR) made the announcement in a press release on Tuesday (August 13th, 2019).
… as part of USTR's public comment and hearing process, it was determined that the tariff should be delayed to December 15 for certain articles. Products in this group include, for example, cell phones, laptop computers, video game consoles, certain toys, computer monitors, and certain items of footwear and clothing.
The USTR press release included a list, labeled List 4B, of all the Chinese goods having their tariff hike date backed up to December 15th.
In an email, Chris Reynolds of Universal Cargo's house customs broker INLT, expanded on the details about the list, saying:
It includes chemicals, food, camping gear, blankets, baby items, sports equipment, watches, clocks, small appliances, wooden hangers, fireworks, and a wide variety of clothes and electronics, among other things. In total, the list covers more than 650 tariff lines.
Not all Chinese goods scheduled for the September 1st 10% tariff increase were delayed. The USTR also included a list labeled 4A of Chinese goods still subject to increased duties on that date, as originally announced back on May 17th, 2019.
However, there are a number of items that have been removed from that 4A list and not placed on the 4B list. These are products that will not have the 10% tariff hike applied to them at all. They "are being removed from the tariff list based on health, safety, national security and other factors and will not face additional tariffs of 10 percent," according to the USTR.
Reynolds shared a little more detail about the Chinese goods now excluded from the 10% tariff hike, which we'll now pass on to you, so you don't have to try to compare the new lists to the old ones to figure out how many and what kind of items are being excluded altogether:
Out of the nearly 4,000 tariff lines that were included in the proposed List 4 in May, only 25 items did not make the final version of either the September 1 or the December 15 lists. These tariff lines cover child car seats, cranes used to unload shipping containers, Bibles, shipping containers, and certain fish that are generally caught in U.S. waters but processed in China.
The Spin on the Tariff Delay
Several news outlets are spinning this tariff delay as Trump "blinking" or "showing weakness" that is now giving China the upper hand in the trade war.
In one such CNBC article, Kate Rooney wrote:
In backing off on China tariffs Tuesday, President Donald Trump showed just how much pain the U.S. could tolerate — and China may use that to its advantage, key voices on Wall Street say.
Others take that line of thought a step further, like Jeffry Bartash, who writes in a MarketWatch article, headlining that the tariff delay exposes a weak link in Trump's China trade strategy:
By delaying import tariffs on iPhones and other popular electronics made in China, the Trump administration has finally admitted that duties on foreign imports can hit the wallets of American businesses and consumers — and maybe even hurt the president's reelection chances.

For months White House officials have claimed China was paying almost the full cost of U.S. tariffs on hundreds of billions of dollars in largely industrial imports. Yet President Trump admitted on Tuesday when he postponed a new 10% tariff on some $150 billion in Chinese-made consumer goods that he was worried about the harm it would do during the holiday shopping season.
What Trump Said About Tariff Delay
So did President Trump admit "he was worried about the harm [tariffs] would do during the holiday season?
Here's what he said when talking to reporters on Tuesday about the tariff delay:
"We're doing this for Christmas season just in case the tariffs would have an impact on U.S. customers, which so far, they've had virtually none. The only impact there's been is we've collected almost 60 billion dollars from China, compliments of China. But just in case they might have an impact on people, what we've done is we've delayed it so they won't be relevant for the Christmas shopping season."
It is obvious the delay is to avoid price increases of products during the holiday season that the increased cost of importing goods would cause.
It makes sense to hold off on these tariff increases through the peak season to avoid the economic cost of increased goods during the big holiday season. Most believe a trade deal between the U.S. and China is not coming anytime soon, so why not wait until after the economically crucial peak season to hit with these tariffs?
As I listened to Trump's comments, I'm not sure about the accuracy of Trump's statement that there has been virtually no impact on U.S. customers so far. He may be right. Anecdotally, I haven't noticed an increase in goods when shopping, though I'm not the biggest shopper. I also haven't found data on price points rising yet; however, there are plenty of projections about how the prices of goods will go up from tariff increases.
The statement, however, that really gives me pause is Trump saying we've collected $60 billion from China through the tariffs he's implemented so far. That all of that money is compliments of China.
Tariffs are definitely impacting China. And sometimes tariffs are paid by the seller in China rather than the buyer in the U.S. For example, if a Delivery Duty Paid (DDP incoterm) deal type is used, then the seller pays the custom clearance duties. That is a common deal type; however, in many deal types the importer/buyer rather than the exporter/seller pays the duties.
Very often, tariffs are paid by the U.S. importer who buys the products. Furthermore, it's likely the cost of the sale in deals where the exporter/seller in China is paying these higher duties would increase because of the tariff hikes.
How Tariffs Are Hurting China
The biggest way tariffs hurt China is by sourcing being moved away from the country. China certainly remains the biggest manufacturing partner of the U.S.; however, U.S. importing has seen clear shifting away from China this year.
Greg Knowler reported in the Journal of Commerce (JOC):
US imports from China declined 5 percent in the first six months of the year against the same period in 2018, while imports from Vietnam were up 30.5 percent, according to data from PIERS, a JOC sister company within IHS Markit. US imports from Southeast Asia reached 1.6 million TEU in the January-June period, up almost 300,000 TEU, or 23.1 percent, over the first half of 2018.

China is by far the US' largest trading partner — 5.1 million TEU crossed the Pacific eastward in the first half of the year. Vietnam, long a favored alternative to manufacturing in China, exported 705,246 TEU to the US in the period.

Other Southeast Asia nations have also experienced robust growth in the first half compared with the same period in 2018. US imports from Thailand rose 19.6 percent, Malaysia 22 percent, Indonesia 11.5 percent, and Cambodia 38.8 percent.
So to lay out those changes to be easily seen and read, here are the U.S. import changes per country PIERS research found:
China down 5%
Vietname up 30.5%
Thailand up 19.6%
Malaysia up 22%
Indonesia up 11.5%
Cambodia up 38.8%
Universal Cargo is ready to help you continue importing from China or source from other countries. But not only that…
Domestic Sourcing
Sourcing doesn't only have to come from other countries. Likely one of Trump's biggest goals in hiking tariffs on China is to boost manufacturing of goods here in the U.S.
If you want to source and ship domestically, this is also something Universal Cargo can help you with. Among our services as a freight forwarder has always been door to door shipping. Thus, we're used to shipping goods across the U.S. and can help your company with your domestic shipping, not only your international shipping.
If you already ship with us, just talk to your Account Executive/Manager about domestic shipping. If you're new to the Universal Cargo family, contact us and we'll be happy to quote you on your shipping needs.