Guidelines & Tips to Be Published in Universal Cargo's Blog
Want to have an article you've written published in Universal Cargo's blog? This post will help you achieve that goal.
Check out this video covering our submission requirements:
Guidelines & Tips to Be Published in Universal Cargo's Blog
Benefits to Being Published in Universal Cargo's Blog
Every month Universal Cargo receives article submissions for publication in our blog. A week rarely passes without hopeful people contacting us with publication requests.
After spending years building our blog into a recognized, respected, high-Google-ranking source of information about the international shipping industry, we're happy to share the benefits of our hard work with you by publishing guest posts.
When we publish guest posts, the authors receive full credit for their work and we link the articles back to their authors' and their authors' companies' websites. The potential benefits of this include:
Exposure
Website Traffic
Increased Search Engine Optimization (SEO)
Requirements for Being Published in Universal Cargo's Blog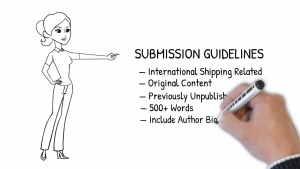 While we are happy to publish guest posts, we do not post just any submission. Unfortunately, we end up rejecting more articles than we publish because their writers simply fail to follow our guidelines.
Here are the requirements for an article submission for publication in Universal Cargo's blog. Articles must be:
International Shipping Related
Original Content
Previously Unpublished
500+ Words
Include an Author Bio
Universal Cargo is a freight forwarder based in the United States, so our blog is designed to provide value for U.S. importers and exporters.
Articles that are not relevant to our target audience of U.S. importers and exporters will not be considered for publication in our blog.
Tips for Getting Published in Universal Cargo's Blog
Just today, we received a submission article about helping caterers reduce food waste. This is like writing a horror screenplay full of graphic violence and nudity to Disney and expecting the company best known for Mickey Mouse and fairy tale cartoons to buy it and make it into a movie.
It doesn't matter how good an article about caterers and food waste is, it will not get posted in Universal Cargo's blog.
Let's not focus on won't be published here but what will help you get published in the blog.
It is not required, but we prefer submissions to include:
Related Pictures (from the public domain)
Author Headshot
If you do not provide a picture for your article, we'll find one that goes with it if we want to publish it. However, including a picture is recommended. Do make sure that any picture you include is one that you either own the rights to or is in the public domain.
Obviously, we're not going to dig up a picture of you to go with your author bio and will still publish your article without it, but the author bio section does look much nicer with your picture next to it.
Before you write an article, we suggest reading some of our blog posts.
It sounds obvious, but knowing the kinds of blogs we publish will help you write one.
You certainly don't need to try to copy our style of writing. We prefer to see your own unique style. But we want to see that style applied to the type of international shipping topics we post on.
Here are a couple ideas for coming up with your article's topic:
Do you have a hot take on an international shipping subject? Write it. Is there another angle to an international shipping story that you could write about? Do it! Is there an aspect of international shipping that you could write an in-depth article about? We love that!
What are some problems that need to be addressed in international shipping? What new technologies are affecting or will affect international shipping? Do you have well-educated predictions for the future of the industry? Analysis of big news items in the industry? Tips for people importing or exporting cargo? Dealing with customs clearance? Air freight? Ocean freight? How can businesses make more money importing or exporting goods?
There are countless directions you could go with your article. Just make it good. That means before you submit, reread, rewrite, and edit your article as needed.
We will do some editing before publishing in case you missed a typo or just need a little grammar help, but we will not publish low quality articles. Remember, what you write should provide value to our readers. That's what makes this a win-win for you and us.
To submit your article, email Universal Cargo's Marketing Coordinator: Jared@UniversalCargo.com
We look forward to reading your submissions.