Hanjin Sells Stake in Terminal at Port of Long Beach to MSC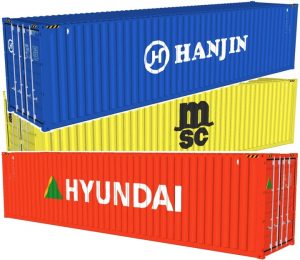 In another move of liquidation after bankruptcy, Hanjin is selling its stake in Total Terminals International (TTI) to Mediterranean Shipping Co (MSC).
Chris Dupin reports in an American Shipper article:
Hanjin Shipping has signed a deal to sell its stake in Total Terminals International (TTI) to Terminal Investment Ltd. (TIL), a company owned in substantial part by Mediterranean Shipping Co (MSC).

The deal was approved Tuesday by a Seoul District Court…
If this deal is also approved by U.S. authorities, it will give MSC complete control of the container terminal through TIL, as the company already owns the remainder of the shares in TTI.
Hyundai Merchant Marine (HMM) is also a player in the sale of the shares despite what superficial readings of headlines on the topic would lead one to believe.
At first glance, it might seem odd to read things like "… Hyundai Merchant Marine Co. had indicated that it would be willing to enter into a joint bid with MSC to acquire the terminals, but it dropped out of the process last week," as reported in a Transport Topics article, and then see Dupin's article highlight HMM as working with MSC on the deal:
Joe Cook, global marketing director for MSC, said Hanjin, TIL and Korean liner carrier Hyundai Merchant Marine "are progressing approvals for completion of a purchase and sale agreement related to the Hanjin interests in TTI. The parties expect that all approvals will be achieved by early January 2017. As previously reported, our bid can be considered to be joint with HMM and they will acquire an interest in the terminal too."
Statements like MSC's, saying this can be seen as a joint venture between the shipping companies, and the fact that it is a solo buying deal from MSC that is going through the approval process seem contradictory. But here's what's at play:
HMM's financial troubles have been well documented. In fact, this summer it looked like HMM was the more likely South Korean shipping company to file for bankruptcy before Hanjin collapsed. It would be quite the understatement to say HMM doesn't have the best credit. That caused the shipping company to drop out of the joint bid it was making with MSC to buy the shares of TTI.
That didn't mean HMM no longer wanted to acquire shares nor that MSC was not interested in working with the South Korean shipping company in the acquisition of the shares from Hanjin.
HMM's financial and credit situation simply changed the structure of how the companies are working together to acquire the container terminal shares.
In a Wall Street Journal article, In-Soo Nam shared HMM Chief Executive C.K. Yoo words to the news outlet on the subject:
"Considering our low credit ratings, we thought it would be better for MSC to make a solo bid. We agreed to buy a stake from MSC later."
The shipping company also clarified the situation with the Journal of Commerce (JOC), as highlighted in an article written by Turloch Mooney:
"HMM and MSC have agreed to join forces to acquire Hanjin Shipping's interests in TTI. Although MSC made a sole bid due to HMM's low credit rating, the shares of TTI will be jointly acquired," an HMM spokesperson told JOC.com.
It is clear that MSC is buying Hanjin's stake in TTI with the intention of selling some of those shares to HMM. What is not clear is how many shares MSC plans to sell to HMM. No one, however, would expect it to be more than a minority share.
Still, MSC could decide to keep the 100% share ownership if it so chose.
Most see Hanjin's selling of its stake in TTI as another step toward total liquidation rather than reorganization.
TTI not only has a terminal in the Port of Long Beach, but also in the Port of Seattle. Here is a little more about TTI from its profile on the company's website:
Total Terminals, established in 1991 is a full service marine terminal and stevedore operator along the U.S. West Coast. TTI operates two facilities in Long Beach and Seattle comprising a total of 460 acres of terminal acreage. Corporate headquarters for TTI is located in Long Beach, CA with satellite offices in Seal Beach, CA Chandler, AZ and Seattle, WA.